Steemit Crypto Academy Season 3 Week 3:-Break Retest Break (BRB) Strategy to Trade Continuation
One of my friend told me about this amazing initiative to educated people about trading and I can't wait to be a part of this amazing community. This is the first time when I am posting my assignment provided by Professor @cryptokraze and I enjoyed learning this strategy.
1 - What do you understand about the Concept of Break Retest Break Strategy? Give Chart Examples from Crypto Assets.
Break Retest Break Strategy is really an amazing strategy that is purely based on Supply and Demand or you can Support and Resistance. After some kind of consolidation when the price breaks particularly level ether support of resistance then it moves very fast in the direction of the breakout. In almost 90% of the cases, the price came back to touch the breakout level then move next leg however this is not wholegrain sometimes it moves very fast without even any Retest/pullback to the same breakout level.
This retest is also called ** the Last Kiss** and I am the person who loves when the breakout happens and after the retesting is crossing the breakout swing. Now I would like to tell you why this happens and what is the psychology behind it. When any breakout happens people get in FOMO and start buying this is especially for aggressive players but for the Safe players like me wait for the retest and ask for the discount from the price and it gives great confirmation once it goes in the direction of the breakout after the Retest.
I am the kind of person who is an Aggressive and Safe player too so what I used to do once the breakout happens I take the entry from my 33% of the amount and put the Stop Loss below the resistance/support level and once it is going in my direction after the Retest then I add another 66% and move my Stop Loss to the top of the swing.
This way I will not have any regret that I have lost the trade even in this case I can avoid big loss in case of Fakeout which mostly happens.
I would like to show you today's breakout in BTC and how beautifully it retested and went down. Well, in this case it came again to make double top which is again a part of Price Action but did not hit our sl.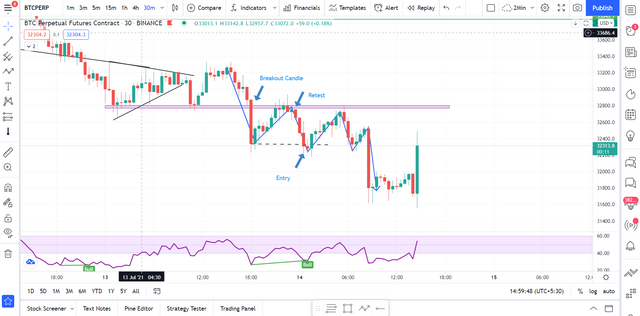 If you will see then here we easily got 1:1 Risk Reward Ration. It is a very simple yet very powerful technique.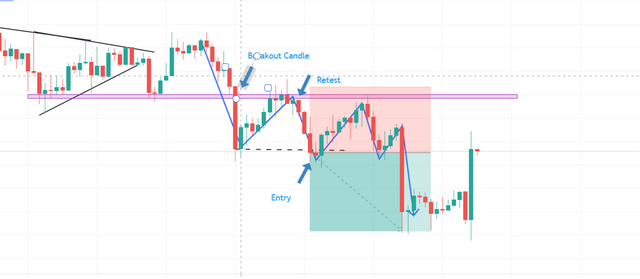 Let me show you more charts-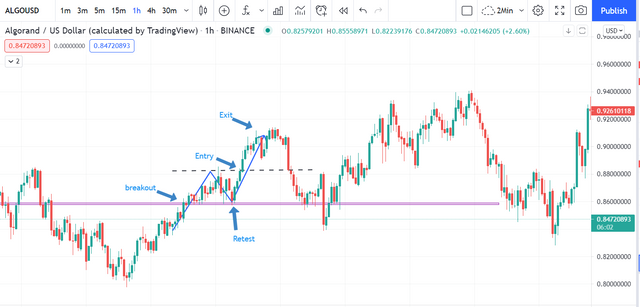 1 -2 - Mark important levels on Crypto Charts to trade BRB strategy. Do it for Both Buy and Sell Scenario.
Here I have marked the important levels of BTC like 28.5k, 31.5k, 32.4k, 32.8k, 33.35k, 34k, 35k etc. The entry triger once it successfully breaks level either upside or downside. We can enter safely after the Retest.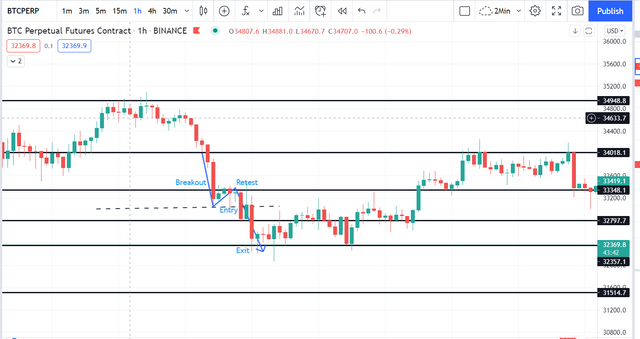 Sell Senario
On the right side you can see there is a breakout for the buying opportunity.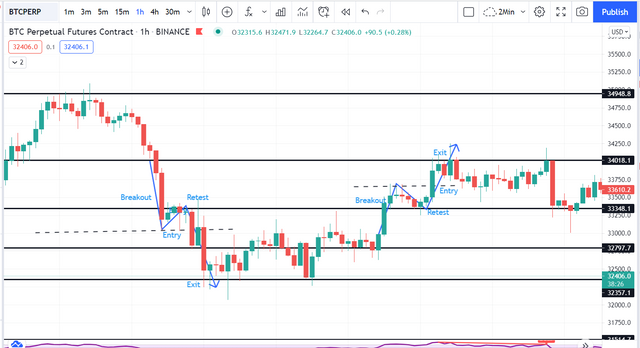 Buy Senario
3 - Explain Trade Entry and Exit Criteria for both Buy and Sell Positions on any Crypto Asset using any time frame of your choice (Screenshots Needed)
a) This is the chart of BNB on 4th July 1h timeframe it breaks an important level 290. Buy Scenario
We had a great opportunity to grab the momentum once it crosses the previous swing after the Retest and we got good RR here.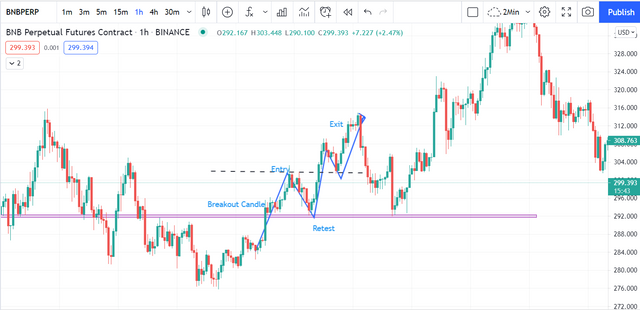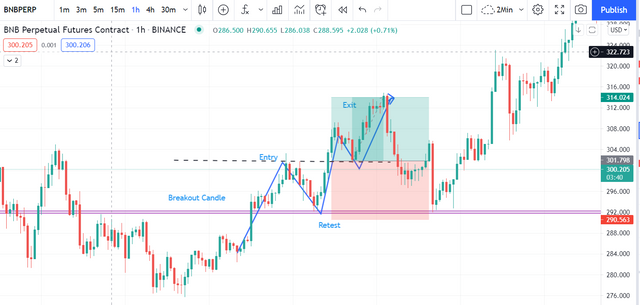 b) This is the chart of BNB on 22nd June. Sell Scenario
This was a selling opportunity and we can take entry at the dotted line once the candle breaks the previous swing low after the retest.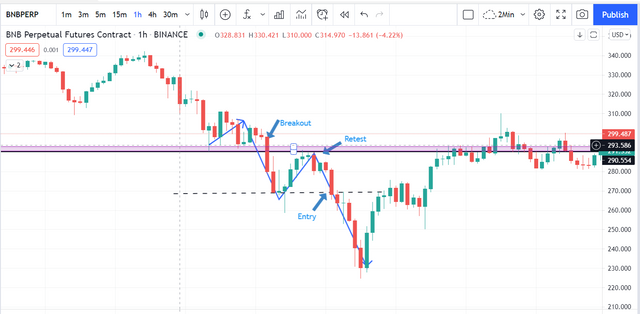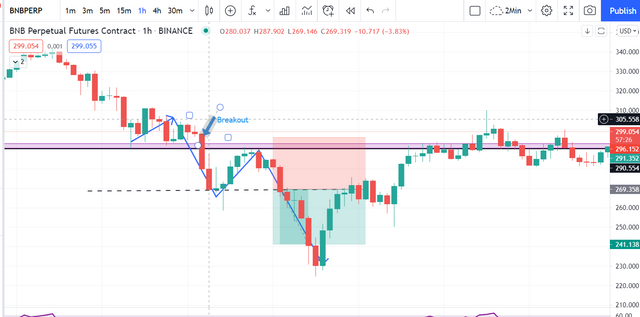 4 - Place 2 demo trades on crypto assets using BRB Strategy. You can use lower timeframe for these demo trades (Screenshots Needed)
I got a buying opportunity today in BNB when it beaks an important level of 300 and after the retest I just jumped into this trade.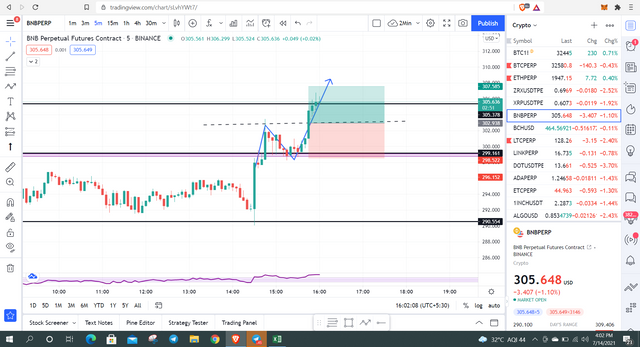 Here is the Real Trade. I am pretty sure this trade will give me at least 1:2.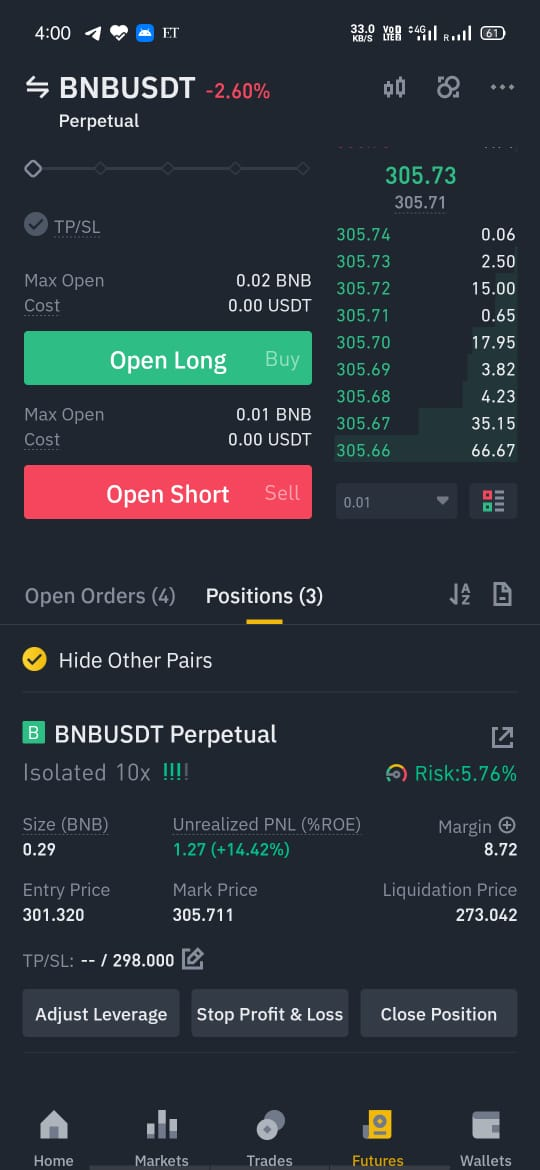 Whoo, I got the desired target. I was targeting only 1:2 but I got 1:3.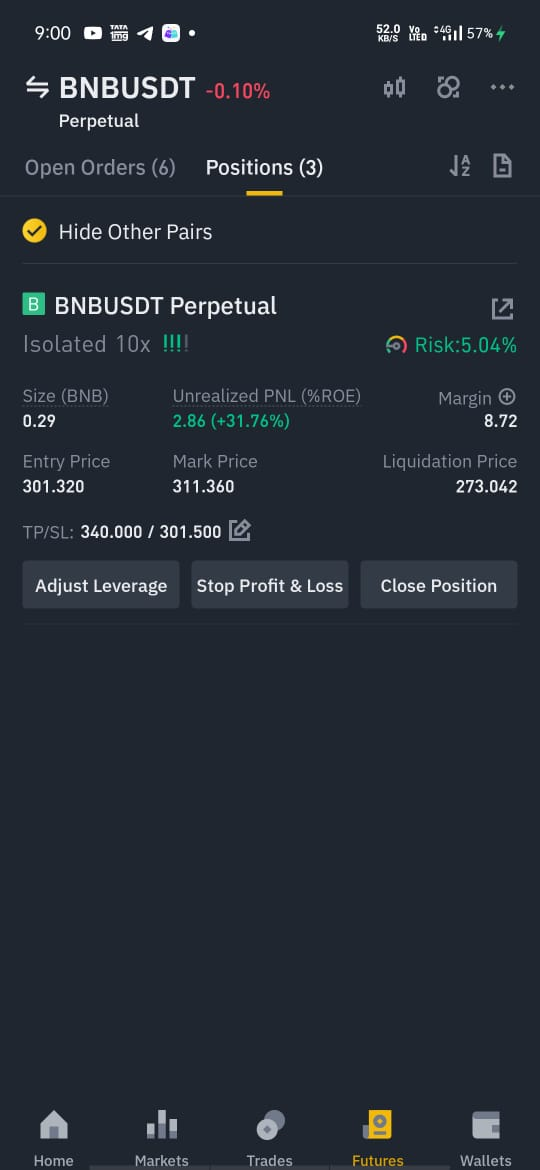 This is the second trade that I have taken with the help of a Paper trading plug-in. Initially it was in the profit then it turned into Stoploss.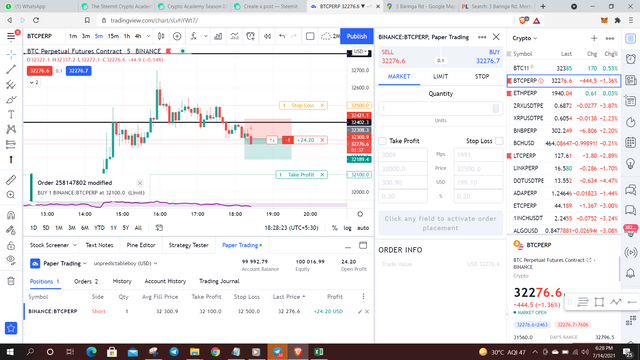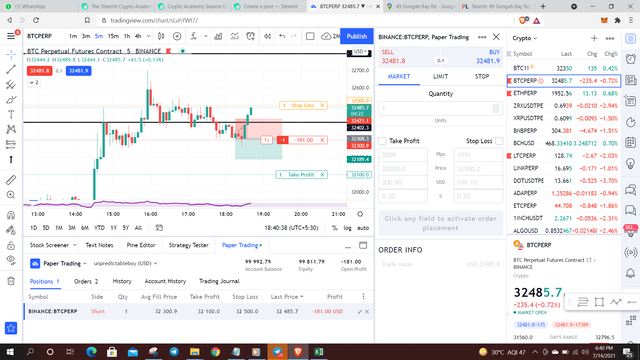 If you have any query then feel free to discuss with me in comment.
---
Don't get Stressed, Stay Blessed.
---