Steemit Crypto Academy Season 5 Beginners' course - Homework Post for Task 2: STEEM & TRON, presented by @akam-theresa
QUESTION!
1.What is PoB?
2.What does curation mean to you in Steem Blockchain?
3.What are the benefits of building SP?
4.How do you explain self-upvote as a good or bad social behavior & why?
5.Explore Coinmarketcap.com to indicate rank, STEEM price, and coinmarketcap of STEEM(screenshot required)?
6.What are the different tokens do you earn by socializing in Steem Blockchain?
7.How would you use your TRX earned in Steem Blockchain to optimize earning in Tron ecosystem?

Greeting's to distinguished members in the Crypto Academy world, I hope everyone is doing well.. irrespective of the homework post for @sapwood, I would share my proof-of-brain as required on this TASK 2.


INTRODUCTION
Steemit is a decentralized Blockchain through which anyone is entitled to share their content if registered and be rewarded with STEEM tokens. The platform is an Open-source and thus, you could monetize content just with the proof-of-brain (POB). Steem is one of the top blockchain that works in a peer-to-peer basis of transaction which is rationed on contrast forms cryptocurrency. STEEM, SBD and TRON!. Steem came to reality back then in year 2016 with the initiation of a decentralized application dApp steemit Inc as a top-notch Steem blockchain.
WHAT IS POB?
POB called proof-of-brain refer to the outlook of a written content presented by oneself. Proof of brain also helps you become independent insights in other to regulate content which appears appealing to the reader. In the steem- blockchain, proof of brain is seen as a process whereby distribution of creator and curator reward is realized through an upvote from a published content.
POB is a methodology of sharing contents reward pool in collaboration with the creator and curator of the content.
POB is applicable to all members of Steem Blockchain who engage in creating content for the reward distribution. For a post to be curated simply shows how striking, genuine and eyes catchy it could be and it value. However, crucial facts ie, content which is made or published by an author attaracts material reward pool only if is genuine and considered to the community.
WHAT DOES CURATION MEAN TO YOU IN STEEM BLOCKCHAIN?
Curation is refer to the process by which a post is upvoted and the rewards earn by such user who placed an upvote on the published post is known as curation reward. The rewards are paid in Steem power. Eg, I voted or curators upvoted a post, the rewards earn at the post payout will be split in percentages.
If the total upvote of a post is at $33.53 with $75% moving to the author who presented its content and perhaps, 25% is set out to curators that upvoted the post.
Curation reward is seen or can be achieved through a published content, commenting etc. Fundamentally, Steem rewards early curation of content albeit it is very elaborate when a post is been voted even before 30minutes of a published post. Reason, it may likely reduce your curation in essence that, the percentage out of the curator goes back to the author. Moreso, a post that is been voted as at its publication will be split. 100% of it will be gained by the author, so if you must gain better curation, you should allow a published post for 30 minutes upwards and equally benefits from the author's post payout of the content.
WHAT ARE THE BENEFITS OF BUILDING SP?
• Steem-power. The aspect of Steem blockchain shows a true definition of authentitative power one hold on the platform. Thus, powering up is one of the most crucial benefits of Steem power. When a holder of account powered up Steem. The person on the contrary investing or buying a stake which adds value to its account.
If you should earn a reward from curation, a higher upvote then you are entitle to make power up. With this, you would obtain a great upvote. Power up grow you account and equally valued one reputation on Steem. The more SP you hold, the more valuable you become on the Steemit chain.
• when you invest on Steem power you become stronger on your voting value which enable you upvote a post and with the mindset of is appreciable to the author. Albeit your voting value is directly on the same amount of Steem power you hold. How much your SP, determine how well built and added advantage your vote intensify.
• when you hold powerful steem power (SP), you have the grace of obtaining more curation rewards- In this procedure, you could earn SP through upvoting a quality and real content. The curation reward you earn will be paid to you Steem power at the post payout after 7 days of age. It is important to understand that, you don't only earn Cryptocurrency reward on steemit by blogging you equally earn curation which is more stronger as well.
• when you hold a stronger SP, delegating to any community spontaneously wouldn't be a challenge. Although delegating SP in the contrary decreases your voting power, so the Steem blockchain finds it incredible. Delegation is a way of lending your SP to other users. Delegation is always done to support Steem community project etc.
HOW DO YOU EXPLAIN SELF-VOTE AS A GOOD OR BAD SOCIAL BEHAVIOR & WHY?
Self-vote is really a bad habit one shouldn't engage on. The fact is that, you can't put on a sophisticated look and still admire it . Sometimes you may really not see what you say about yourself. So they is always need to allow others appreciate your work. In the Steemit blockchain, self vote is not good because your content shared wasn't meant for you to upvote, you can't rate yourself well. Self vote is an abuse, that make you self centered. However if you published a post and not been curated or upvoted could either be the post wasn't well presented, nor valuable. Therefore, a careful attention should be paid to the area needed to be corrected not by voting yourself. If caught, you can be sanction so is not advisable. Assuming every steemit user is actually doing a self-voting and a person holding 15% Steem power will equally obtain 15% of the lost reward.your post is not supposed to be appreciated by you. Self vote is selfishness.
EXPLORE COINMARKETCAP.COM TO INDICATE RANK, STEEM- PRICE, AND COINMARKETCAP of STEEM(SCREENSHOT REQUIRED)?
While exploring coinmarketcap, I first go to chrome put in the website 👉https://coinmarketcap.com then all necessary information needed popped up.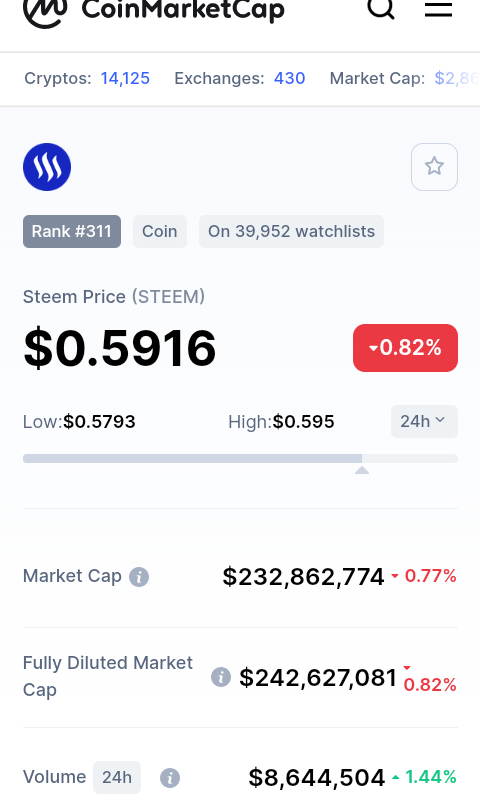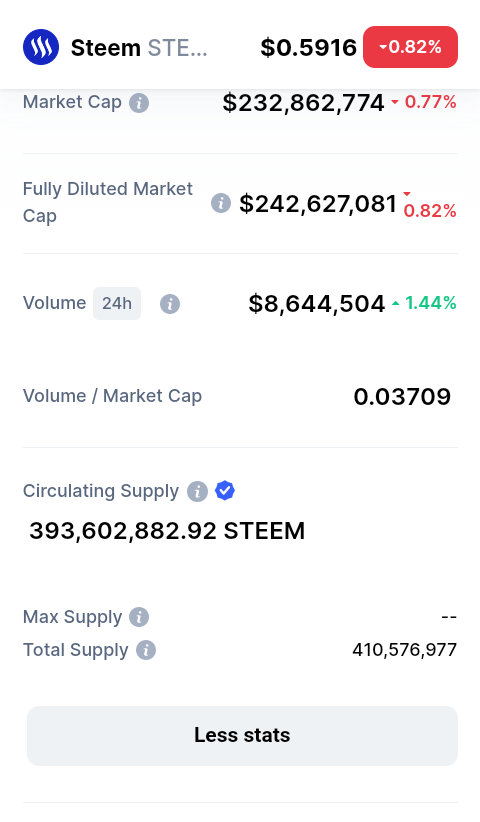 To make the above screenshot source more easier below you can find the information on tabler form.
Steem price
$0.5916
Rank
#311
Marketcap
$232,862,774
Fully diluted market
$242,627,081
Volume 24hrs
$8,644,504
Volume/market cap
0.03709
Calculating supply
393,602,882.92
WHAT ARE THE DIFFERENT TOKENS DO YOU EARN BY SOCIALIZING IN STEEM BLOCKCHAIN?
The different tokens which steemit rewards its user by socializing on the blockchain can be seen bellow 👇

STEEM
STEEM POWER
SBD
TRON
• STEEM- These refer to as a liquid currency which look alike with Bitcoin. Steem works the same way with Bitcoin. Albeit has a change of value. Steem can be traded, sold and equally be marketable. With STEEM, you can build your influence on the blockchain through power up. Steem is also used for power up to gain a high value of affect on the blockchain. You can obtain STEEM by participating in a contest and sellected as winner equally convert SBD to Steem.
• STEEM POWER- This is an authentitative power a user hold on the blockchain. In other words, Steem power is a long-term investment. You can not sell Steem power for some year. With this, you qualify to obtain more money due to the high stake of network you got on the blockchain. If powered down, your voting value depreciate equally reduce your ownership on the blockchain.
• SBD- Called Steem dollar refer to a stable currency which can be sold anytime, anyday. Steem dollar can be realized after creating an original and eyes catchy content which attaracts curator rewards. The rewards is usually calmed after seven days. Steem dollar is pegged with USD, 1 SBD-1 USD and can be converted to Steem to gain Steem power if powered up!.
• TRON- TRX is an added advantage to content creator. Tron is realized equally with steem power at each post payout. The TRX is a decentralized system of operation which runs on its own function of Cryptocurrency. The basic aim is host global entertainment on the cost of sharing content in a digitalized format.
HOW WOULD YOU USE YOUR TRX EARNED IN STEEM BLOCKCHAIN TO OPTIMIZE EARNING IN TRON ECOSYSTEM?
By staking- staking simply means a procedure where by fund is hold in a Cryptocurrency wallet in other to support the affairs of a blockchain network. With TRX, you can be rewarded for content contribution. TRX has connections to the whole Tron ecosystems. TRX can equally be sold but the price market is low unlike other tokens. TRON is as well generated after a published content reward has been claimed and is distributed to the number of Steem power you can redeem. Optimization of TRX can come through the importation of TRON account to manage and maintain TRX assets on a tronlink wallet which work in collaboration with the Tron system of operation.

CONCLUSION
I expressed my innermost appreciation to professor @sapwood for this lecture, POB. It is indeed a lecture that requires one sharing her opinion on the STEEM and TRON ECOSYSTEM!.