Steemit Crypto Academy || Season 3 week 6 || Crypto Scams and how to avoid them || By @ahsanjawed
Steemit Crypto Academy || Season 3 week 6 || Crypto Scams and how to avoid them || For Sir @yohan2on & @yousafharoonkhan By @ahsanjawed
---
---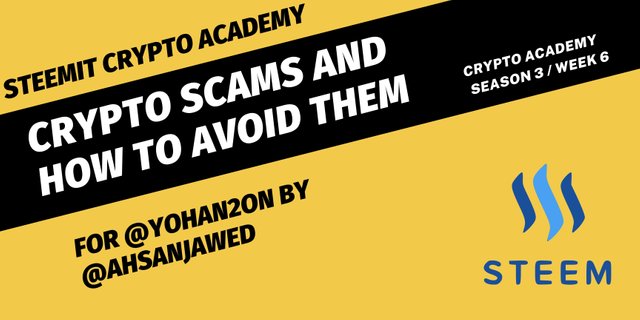 ---
---
So in Today's homework we will talk about Crypto scams and how we can avoid them. So let's get Start.
---
---
✨Question no: 01
✨What are Crypto scams?
Make your research on any Cryptocurrency scam. (Attach a few references to the news surrounding that scam crypto project)

---
---
✨Crypto Scams
✨Intro
It does not take long for you to realize that these transactions are hazardous when you engage in modern digital currency systems known as cryptocurrencies. And we don't speak of volatility in the market. Online scams are plentiful and trades of bitcoin are no exception. Be aware of the hazards when you evaluate and swap platforms for your bitcoin property. When looking at digital bitcoin companies and businesses, experts recommend making sure they're blockchain-powered, which means they retain exact transaction records.

According to figures from the Federal Trade Commission, America lost over $80,000 million in Bitcoin investment scams since October, increasing by 1000 percent over Autumn 2019. The FTC Persons aged 20 to 39 were affected most and more than 50% of the losses documented were recorded according to the FTC.


Source of this info
---
✨ Following are the common ways of Cryptocurrency Scams
---
✨Fake Websites :
---
You might still become a victim by browsing a phone website accidentally, even if you follow great instructions from somebody with a lot of expertise. A surprising number of websites were developed to seem like real startup companies. Think twice if the lock icon in the area of the URL bar does not mean security, and "https" will not show the site address. While the site seems to be the same as you thought you were visiting, a make payments platform may have been used to take you. For example, if you follow a link from a trustworthy website, but the attackers built a fake URL with zero instead of an "o." This program will certainly not take you to the bitcoin investment that you explored before.
---
✨Fake Applications :
---
Scammers also utilize Google Play and the Apple App Store to trump investors with accessible phone apps. While stakeholders may usually quickly identify and uninstall these telephone apps, this does not mean that applications in many respects do not affect them. Every investor should know the possibilities while Android users are at increased risk. Are misspellings obvious from the copy or name of the app? Is there an untrue look like a strange color or an incorrect logo in the branding? Please take note and consider downloading twice.
---
✨Social Media Mishaps :
---
---
✨Email Scams :
---
---
Sadly, some Internet users can utilize insecure computer platforms to mine or steal bitcoin. Learn how to be safe and secure in the new market before you start investing in cryptocurrencies.
---
---
✨ PlusToken scam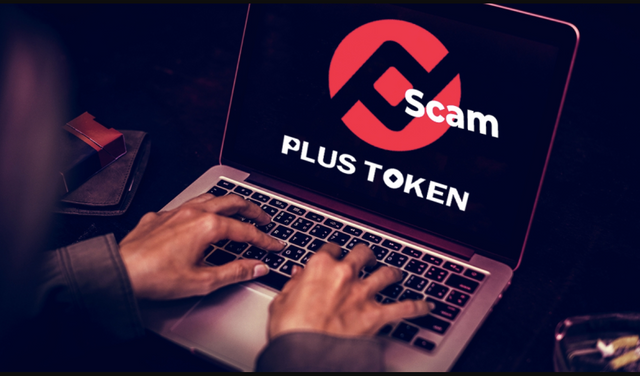 source
Chen Bo created PlusToken in early 2018, posing as a South Korean wallet and exchange. It enticed investors by promising rapid and guaranteed returns. In the two years that followed, Bo recruited many more people and expanded the scheme to include China, Cambodia, Malaysia, Vanuatu, and Vietnam.
In July 2020, the Chinese authorities put a halt to the fraud by detaining 109 PlusToken operators. Twenty-seven of them had executive roles at the con.
The court also issued fines on the 13 ranging from 120,000 yuan ($18,285) to 6 million yuan ($914,000), according to the publication. Chen Tao, one of Bo's associates, was sentenced to four years in jail. Tao was in charge of the unlawful profits' transfer and laundering.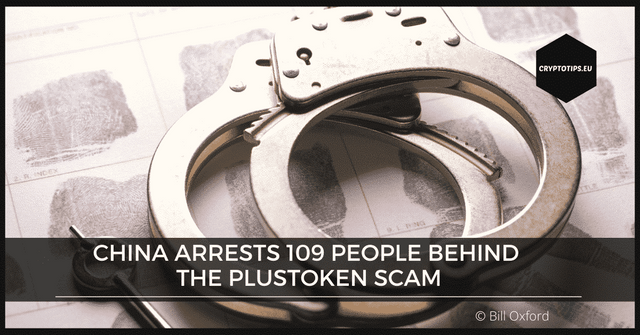 source
The Yancheng court recently ordered that the confiscated cash will be turned over to the National Treasury, as CoinGeek previously reported. 194,775 BTC, 487 million XRP, and 6 billion DOGE are among them. At current exchange rates, the confiscated digital currencies are worth $4.2 billion.
Cryptocurrency-based Ponzi scheme PlusToken was a high-yielding investment plan. Its main presence was in China and Korea. The fraud promised naive Asian clients a monthly return on investment ranging from 9% to 18%. They were unique from Bitconnect in that they concentrated on offline events and meetings to interact with potential investors. They were able to create a significant user base of investors in this manner, even outside of the cryptocurrency sector. Around the end of June 2019, the first difficulties began to surface. People were having difficulty withdrawing their funds from the platform. By blaming the miners, the PlusToken team sought to disguise the fact that they are going to leave the scheme.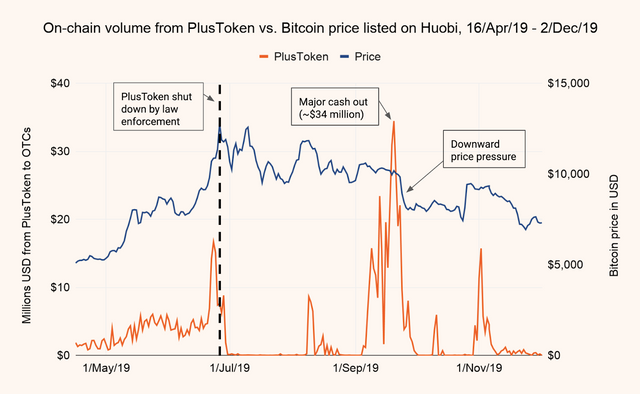 Source
One of the most prominent digital currency scams has resulted in sentences of up to 11 years in jail for the offenders.
---
---
---
---
✨Question no: 02
✨To what extent have Crypto scams affected the Crypto space?

---
---
Crypto Scams have had, and continue to have, a substantial impact on the crypto world.
Because of the numerous schemes and malicious activities occurring in the crypto industry, there is a negative attitude toward investing in cryptocurrencies, especially among those who have little or no knowledge of the crypto space and how it operates, which has slowed the acceptance and popularity of cryptocurrencies, particularly in third-world countries.
Scam is been found in many areas of the economy, and the area of crypto is one of them, as it is always worth frauds. We must be very cautious when it comes to investment. It continues to expand in popularity in the market and worldwide, despite all the crypto attacks.
Many incidents of cryptocurrencies in various countries and areas being bans or limited owing to out-of-control illegal activity, and because of the high level of anonymity and data protection potentials in blockchain systems, crypto criminals are almost untraced.
As you can see in the above question about crypto scam like Plustoken scam how it effect thousands of people Now it depend on as in what way how we take this scam effect on as.
---
---
✨Question no: 03
✨Will regulations in Crypto add value to the Crypto space?

---
---
The EU presently has mostly unregulated cryptocurrencies. This may cause consumers, including unintended or fraudulent losses of funds or involvement in so-called "pumping and dumping" operations which have the only objective of enhancing the wealth of a few rich people. Consequently, even though they do not address all hazards related to cryptocurrencies, the consumer protection provisions contained in the law are acceptable. The most essential consumer protection measures will thus remain personal knowledge and analysis.
To ensure that everything goes well, each area of human existence, including cryptocurrency, needs regulation. Cryptocurrency may be controlled by institutions such as the World Bank and other financial bodies that would help to reduce the many forms of crypto-market fraud. The launch of new ICOs might be restricted to institutions and individuals with strong personal reputations and sufficient qualifications. Because of these restrictions, investors may be certain that their money is secure. If the ICO project fails, the investors' money will be refunded to them.
Although the crypto industry will develop rapidly, several problems might damage the crypto firm when controlled.
The crypto-sector will be subject to a high rate of tax and, in the short term, crypto-currency and fiat-related currencies will be little or no differences, which leads many investors to return to fiat, as they're popular with and accepted more and less cryptography would be necessary.
Lastly, if states manage coins, they may lose the essential beauty of the technology blockchain such as security and confidentiality.
---
✨Conclution

---
---
Blockchain fraud is one of the most significant setbacks that the crypto-world now faces, and a campaign must be launched against it before it fully deters new arrivals from going out to crypto-space for fear of scamming. This leads to an extremely slow growth rate for the crypto market and the value of assets that will never grow as it should in a mature market.
People have also started to have severe bitcoin misgivings as a result of these frauds. A carefully controlled cryptographic area will help to reduce fraud and improve the quality of the cryptography sector. This increases the value of the coin.
---
---

---
---
Thank-you Sir @yohan2on For this HomeWork, I have learn alot by this Homework and i hope you like and appreciate it.
All the References of photos and Screenshots used in this post are Mentioned.