Steemit Crypto Academy Contest / S1W4 – Reviewing the Instability of the Crypto Market by @adnanasghar| 100% Power Up
Hello everyone, I'm glad to be participating in the third week of the engagement competition for the SteematCrypto Academy.
Let's start...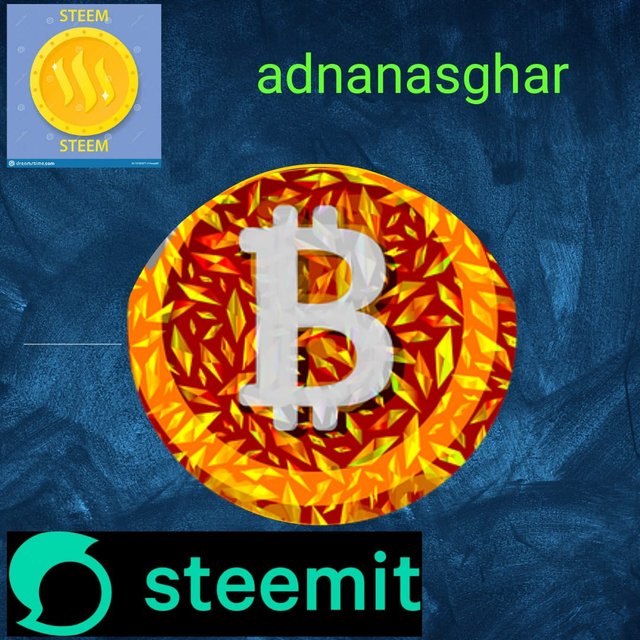 Especially in recent times, most cryptocurrency markets are experiencing a sharp decline. What do you think of this drop? Explain the reasons and how long do you think it will last?

What do you think of this drop?
• As we all know the cryptocurrency market is volatile and that is why it is always advisable to trade or invest in someone who can afford to lose because sometimes it just ends up with proper research or caution. Does not happen
• Fluctuations are mostly due to the rate of demand, supply and the psychology of traders which positively or negatively affects the market.
• The current decline in the prices of various cryptocurrencies is not surprising, as this is not the first time that this has happened. Following the CEO's announcement that Telsa would no longer accept bitcoin as a payment method due to environmental concerns.
• The above effect has only come to light after cryptocurrencies have just seen it as the best era of all time, beginning in 2020 and early 2021, thus pushing the bitcoin above $ 60k. Watching the movement of The positive effects of cryptocurrencies came as a result of public adoption by various well-known companies such as Amazon, Telsa, Microsoft, etc. But after the negative announcement of Tulsa and the Chinese government's regulation in mid-2021, a sharp decline that looked down to k 30k.
• After reading through the above, it will be easy for us to conclude that various activities such as news headlines, information and other activities related to cryptocurrency affect the psychology of traders and investors in such a massive sale or adoption. Which in turn affects the price.
• And with that being said, this current drop is no stranger as it should have been after the massive sale which is the result of consumer panic.

what is reason for the decline of Bitcoin ?
• As like you know that the Crypto Market going down and Up on condition of BTC. And we can't predict exactly what will happen next and what will happen next. As we are currently seeing, the crypto market is facing a sharp decline.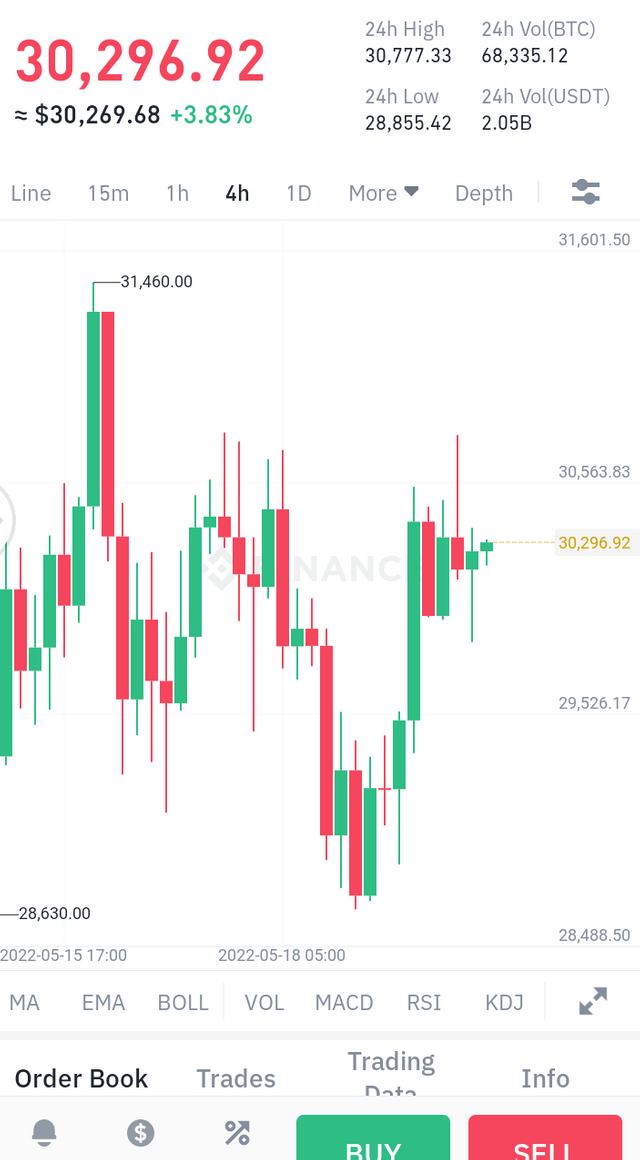 • There are many reasons for this decline in the crypto market. The biggest reason in my opinion is the war between Russia and Ukraine, yes you read that correctly it is the main reason for the decline in the crypto market. As it is clear that before the war the crypto market was stabbing itself and trying to increase its speed but when the war started again the crypto market lost its momentum and it was rejected.
• Because when there is such a war or any other serious situation, corrupt investors suddenly sell their assets and start withdrawing their money. Because these whales know that anything can happen during this war. And most investors in the affected countries start selling their assets because the war could shut down trade in their countries as it has recently.

How long do you think it will last?
Once upon a time in 2018 there was a crypto crash and it completely destroyed the entire market. As cryptocurrency boomed in 2017, so did BTC. But after this great boom, it crashed in 2018 and the mother of all bitcoin cryptocurrencies fell at a tremendous rate and in just one month it fell by about 65%.
The crypto market is always unpredictable due to high volatility. But in general, in my opinion, this market will continue to decline until the war between Russia and Ukraine continues. Because fear is everywhere and people are not buying cryptocurrency. Because the bullish trend is due to the high volume and the highest buying pressure. Therefore, when the war is completely over, the possibility of an accelerating trend will increase.
When the liquidity of Fiat currency increases and tapping stops then the decline in the crypto market will stop. In addition, the demise of Terraced (UST) has created fear and has put pressure on the crypto market to break even. And because of this, many people have lost the huge investment and savings they were making in the UST. But it is also certain that crypto will never crash at zero. Therefore, crypto crash can continue as long as the liquidity of fiat currency is not increased.
Now as we know that crypto has already crashed a lot so in my opinion if there is no news of FUD News or any other hacking or new attack with UST then in the market. It will increase and this trend will stop.

Market Example and Steem Ecosystem
Discussion about steem price
The Steam ecosystem is actually my favorite blockchain ecosystem and since the market is volatile, the Steam coin is also affected by this huge decline in the cryptocurrency market. Steam tokens range in price from $ 0.24 to 0.28. This is a huge dump in the price of steam tokens. Payment of posts is badly affected by market drop. Recently, I received a SC01 vote for SC32, but at the time of payment it was reduced by almost half, to only $ 19. Hey, this is really a critical situation but I hope to get better soon.
Steem price

SBD price

But I am no longer pressured by the state of the stem token because I know that the stem ecosystem is a very strong ecosystem that can never touch the earth. The price of steam had dropped several times in the past, but it recovered at the same rate. This thing really impresses me.
In my opinion, the future of Steam Blockchain is very bright and Steam Coin will be on the rise. As soon as the market recovers, the stem token will recover too soon. Now is the best time to invest in a steam ecosystem. I think this is the best time to increase your Steem Power (SP). We must manage to maximize our SP during this dump. I would like to inform my State Fellows that,

What is the relationship between the current instability and the decline of the Terra ecosystem and its luna currency?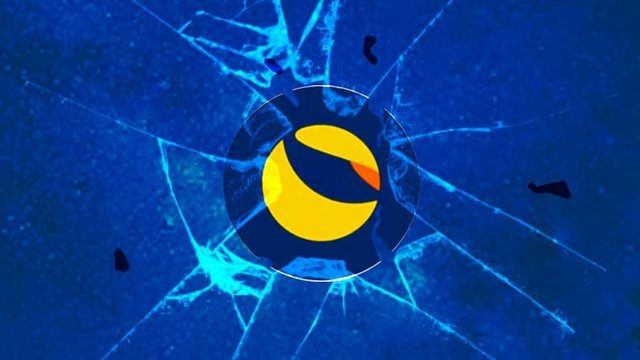 Source
Nowadays the Luna ecosystem is trending everywhere due to the crash of the Luna as well as the UST, because the blockchain was stopped.
The Terra US Dollar (UST) is a stable coin of the Terra Blockchain denominated in US dollars with a value of USD 1 and they have the Luna coin to maintain its value. If we burn a Luna coin worth Luna 1, we can get 1 UST.
Amounts of Luna in my wallet

The Terra US Dollar (UST) is a stable coin of the Terra Blockchain denominated in US dollars with a value of USD 1 and they have the Luna coin to maintain its value. If we burn a Luna coin worth Luna 1, we can get 1 UST.
Luna loses its value and many people lose their investment in Luna Coin. And because of this inclination and the fall in the Luna coin, its supply has increased from 1 billion coins to 6 trillion in just a few days, causing the Luna coin to fall.

Do you think it will pay off? If so, tell us how and when?
As I have discussed before and mentioned that the supply of Luna coins has increased from 1 billion coins to 6 trillion which is the worst thing about Luna coins. Due to this large supply, it seems impossible to bounce the Luna Coin back to its previous level. It is impossible for Luna Cock and UST to bounce back to $ 1.
If Luna go up to 1$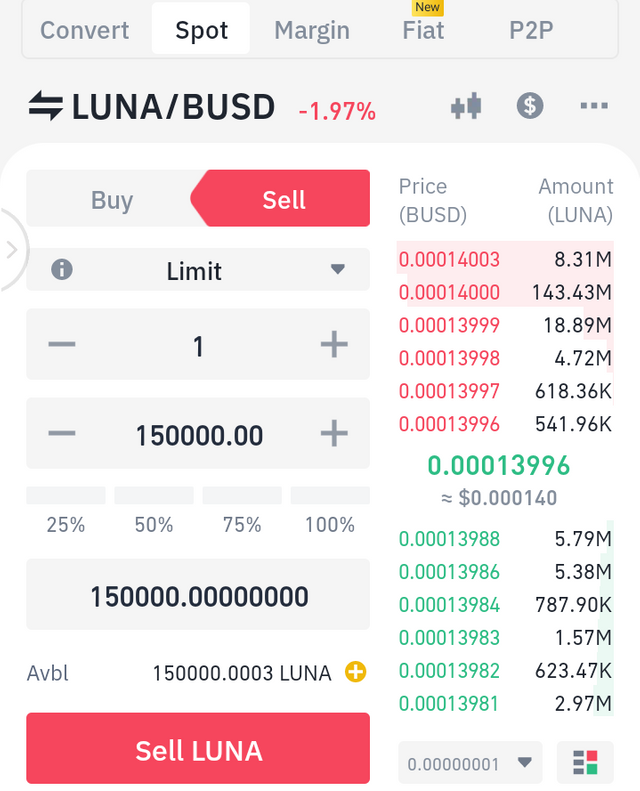 The reasons and arguments I see for Luna Coin are because investors in this project have already lost a lot of money. And they have lost the trust of investors. People are not crazy that they trust them again and lose their money unless they burn Luna coins.
And Luna needs huge funds to burn coins and the company lacks funds and cannot burn lenses. Luna cannot grow unless Luna's supply is reduced.

Conclusion
As we know cryptocurrency fluctuations are normal so this is not the first dump. Many times, we have seen dumps in the cryptocurrency market in the past. But we have also seen that this filth heals very quickly. Instead of being impatient and nervous, we can overcome this precarious situation in the market.
In fact, I think this is the best time to invest in cryptocurrencies, since the value of all coins has fallen from the average price many times over. We have to buy good coins now and keep them for a long time to make huge profits. The bitcoin can recover from this dump by stabilizing itself at a point and then adopting a certain upward direction to compensate for the loss. That way we can deal with market volatility.