How to Make Egg Sandwiches/ タマゴサンドの作り方- Learning English & Japanese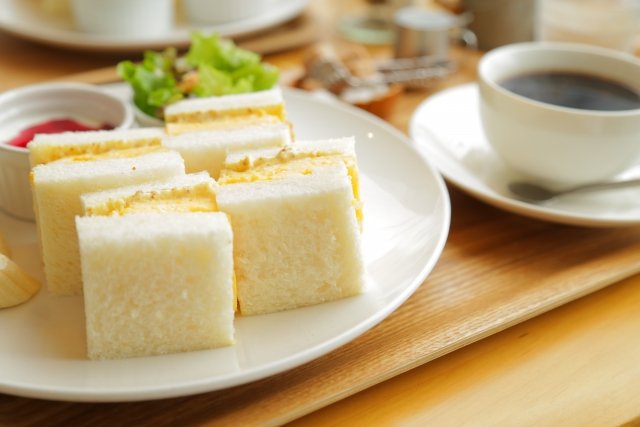 Today's topic of learning English and Japanese is egg sandwiches . 今日のトピックは、タマゴサンドです。
用意するもの
卵
食パン
バター
マヨネーズ
コショウ
お好みでハム、レタスなど
作り方
沸騰したら卵を入れて10分茹でる
卵を取り出し冷水に浸ける
殻をむいて卵をつぶす
マヨネーズ、コショウを加える
食パンにバターを塗る
卵とお好みでハムなどを挟んで完成
Ingredients
Eggs
Sliced bread
Butter
Mayonnaise
Pepper
Ham, Lettuce etc. as you like
Recipe
Cook eggs in boiling water for 10 min
Take and put it in cold water
Peel the shell of eggs and mush it
Add mayonnaise and butter
Spread butter on bread
Put the mushed egg and ham as you like
語彙(goi) / Vocabulary
お好みで(o kono mi de):as you like



ひらがな(hiragana)
ようい する もの
たまご
しょく ぱん
ばたー
まよねーず
こしょう
お この み で はむ 、 れたす など
つく り かた
1 . ふっとう し たら たまご を い れ て 10 ふん う でる
2 . たまご を と り だ し れいすい に つ ける
3 . から を むい て たまご を つぶす
4 . まよねーず 、 こしょう を くわ える
5 . しょく ぱん に ばたー を ぬ る
6 . たまご と お この み で はむ など を はさ ん で かんせい



ローマ字(romaji) / Roman character
youi suru mono
tamago
syoku pan
bata-
mayone-zu
kosyou
o kono mi de hamu 、 retasu nado
tuku ri kata
1 . huttou si tara tamago wo i re te 10 hun u deru
2 . tamago wo to ri da si reisui ni tu keru
3 . kara wo mui te tamago wo tubusu
4 . mayone-zu 、 kosyou wo kuwa eru
5 . syoku pan ni bata- wo nu ru
6 . tamago to o kono mi de hamu nado wo hasa n de kansei


日本語、英語で、文章がおかしいところはビシバシと指摘してくださいね。一緒に、楽しく英語や日本語を学んでいきましょう。
Please let me know, if you find any mistakes in my sentences in Japanese or English. Let's study English and Japanese with lots of fun together.