CONTEST// RANDOM PICTURES OF VEGETABLES 🥦🥒🥦🥒
Thanks to @janemorane for organizing this contest and @faithilyn for inviting me to participate. So... random pictures of vegetables, good one. Below are my pictures. 🥦🥒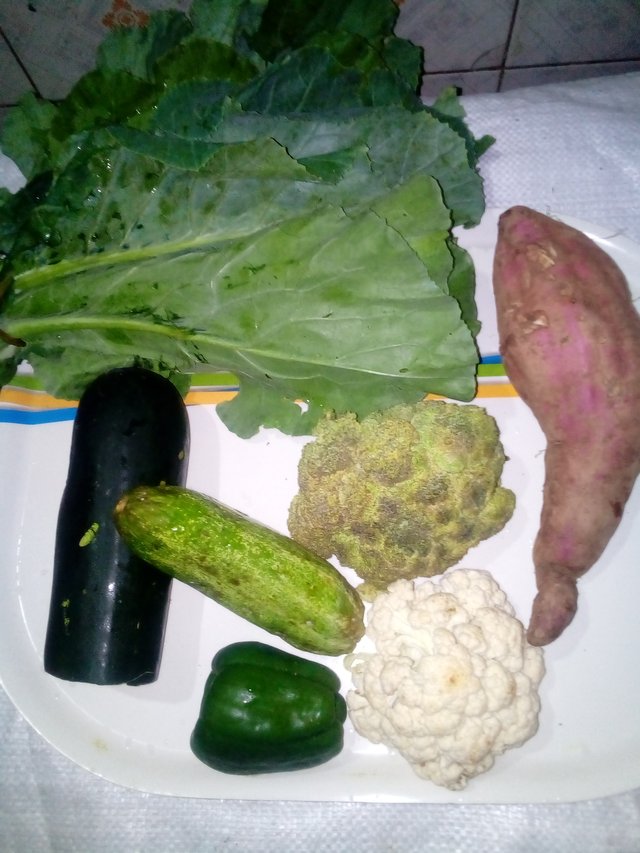 GREEN PAPERS
I use them for sauces and salads. They improve blood circulation and stimulate nerve endings.
BROCCOLI
Am not a huge fun of broccoli but my parents are. They love to eat it in all kinds of sauces, even in salads. It contains sulforaphane which is a compound that can prevent cancer growth.
CAULIFLOWER
Just like broccoli, cauliflower is very loved by the elders at home. Daily consumption provides one with vitamin C and vitamin K, potassium, calcium and iron. All of which are good for our health.
COURGETTES AND CUCUMBER
These go amazingly well with salads but they can also be eaten raw. COURGETTES provide useful amounts of immue-system boasting vitamin C and significant levels of potassium.
SPINACH
This is very loved veggie in our household. I personally love it too. It boasts antioxidants that reduce the risk of chronix diseases.
SWEET POTATOES
They are actually starchy root vegetables which enhance brain function, support the immune system and are highly nutritious.
I invite @kyara2, @cutieprossie and @brendakim to also participate.
Thank you.