Urdu community Contest / S2W3 – How Steemit Helped Me & My Family during the COVID-19 Pandemic by @jueco
Hello guys,
It is a privilege indeed to be among the participants of this week contest, what a wonderful contest this is and let the highest bidder win 😊.
The topic of this week contest is a very interesting one and it is just a way of showing gratitude to steemit for affecting our lives even when we seemed to be alone.
Please follow along as we begin this wonderful contest
COVID-19 WAS AN EPIDEMIC. WHAT WOULD YOU SAY ABOUT IT? EXPLAIN IN YOUR OWN WORDS.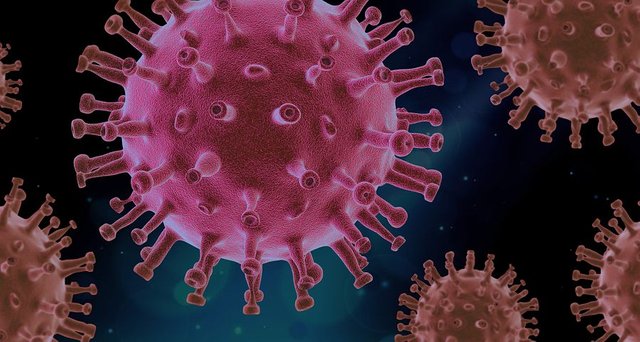 Source
Before I proceed, I'll love to explain briefly what an epidemic is.
An epidemic can be explained to be a rapid spread of disease to a large number of individuals in a particular area over a given period of time.
During my course of research, I came across another related term known as pandemic.
Many individuals misunderstand the difference between a pandemic and an epidemic.
A pandemic can be explained as an epidemic of diseases that has rapidly spread over a very wide area (probably across country, continent or even across the globe) and have affected large number of individuals.
So it won't be out of place to also call covid19 a pandemic because it actually began as a pandemic.
When covid19 errupted, it spread across countries and different continents and it affected a large number of people, little wonder the only way it could be contained was through the ignition of a lockdown.
As time passed by, the cure of covid19 was discovered and it number of infected patient decreased drastically and as such, it can be referred to as an epidemic.
Covid19 is short name for an infectious disease known as Corona virus that errupted in the late 2019 and escalated in 2020.
It is a disease that was caused by a virus known as SAR cov-2 and it was initially discovered in China.
Some of the symptoms of covid19 are headache, cough, fever etc.
The outbreak of covid19 was a very big shock to me, although it started like a play.
I was in school when covid19 was discovered and then I didn't see it as something serious, not until my school had to pause it academic activities.
It still continued like joke until my country has to embark on series of lockdown, believe me it was not a funny experience.
We couldn't engage in our regular activities anymore, even our business was on hold.
Imagine seeing your friends and you can't even shake hands with them.
The covid19 pandemic affected everyone, old and young, male and female, rich and poor.
It is not an incident I wish to experience again.
WHAT DIFFICULTIES DID YOU PERSONALLY ENCOUNTER DURING COVID-19?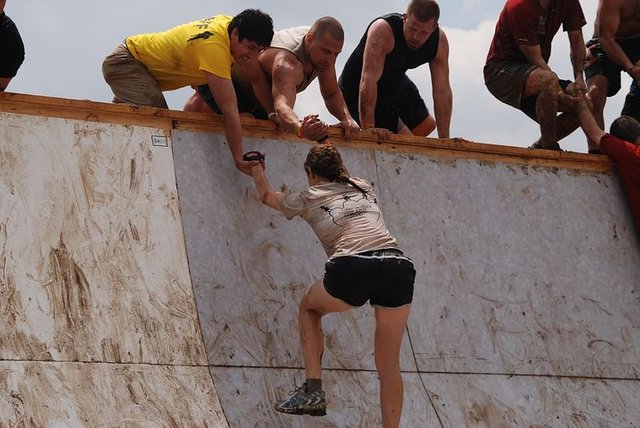 Source
Like I earlier said, covid19 affected everyone and I was not excluded. It affected me in so many ways and some of them are:
Covid19 placed a restriction to my freedom of movement.
Every human has this inbuilt desire to enjoy freedom of movement.
With the outbreak of covid19, I couldn't go out, I couldn't search for a job since all offices were on hold.
I couldn't go to church, even to visit my friends was a problem.
Another effect that covid19 had on me is that I came to realise that the more less busy an individual is, the more he craves for food, and this is where the problem lies.
There was a little amount of food available but the quest for food was great, this is a feeling that I had to fight severally, it wasn't easy, it was like fighting against nature.
Another way that the pandemic affected me was the long queue I usually face at the banks and supermarket.
Due to the pandemic, there's usually a long queue at the bank, supermarket and malls, these queues usually discourage me from going to the bank.
HOW STEEMIT BLOCKCHAIN HELPED YOU DURING COVID-19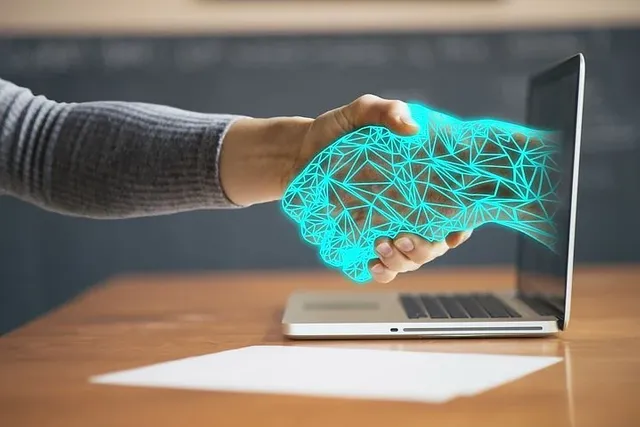 Source
The covid19 erra was a very tough one to pass through and I sincerely appreciate what steemit did for me.
During the covid19 erra, I was a farmer and since my movement was being restricted, I couldn't go to the farm to work, neither could I go to the market to sell our products.
It was then that the Importance of steemit came to play.
With steemit, I didn't have to leave my home, I could write,post and earn right from the comfort of my home, although I wasn't earning much due to the fact that I was still a newbie then.
Since I wasn't in school, no more friends, even on social media, every one was busy looking for money to feed, but then steemit came to my aid again, I made cool friends on steemit platform.
The person of @swaylee @srrebullient and many others. I even made friends with people outside my country, a person of @phlexygee.
While others were crying about covid19, it was as if the Almighty sent steemit to comfort me.
Another way steemit helped me during covid19 was that, some of my neighbors began venturing into fraud just to feed, and now many of them are in jail, some have been killed.
If not for steemit, probably I would have been in jail with them, steemit really performed miracle in my life.
HOW MANY PEOPLE IN YOUR HOUSEHOLD WERE AFFECTED BY COVID-19 DISEASE AND WHAT WAS THE CONDITION?
The covid19 disease affected the whole world no doubt, it led to the loss of lives of many in almost all countries.
Covid19 affected everyone directly or indirectly and I give thanks to the Almighty that I and my family weren't affected directly by the pandemic.
And indirectly, no human can say he was affected by covid19.
It affected my parents in the sense that they couldn't go to work anymore, their income stopped coming and we had to survive on the family's savings.
My Dad couldn't go to work, my mum couldn't sell her farm produce and we the children were just at home doing nothing.
We couldn't go to learn a trade, we couldn't work, all we did was to stay safe and pray for those affected.
Sometimes, I thought of removing a year from my age since it was almost a waste to me 😀.
HOW DID STEEMIT KEEP YOU BUSY OR RELY ON INFORMATION WHEN YOU WERE HOME LOCKED DURING COVID-19?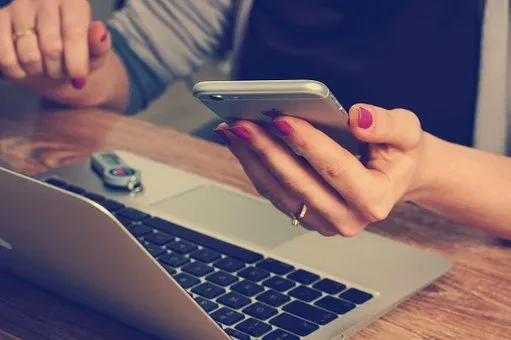 Source
Truth be told, during the pandemic, steemit really kept me busy because I always turned up to steemit to get first hand news on the effect of the pandemic in other countries.
I wasn't really concerned about the pandemic in my country Nigeria because I know that the number of death cases I have been hearing are rumors.
I received first hand information from a medical committee that I should stay away from the hospital for that period, that every hospital are in search of any sick individual so they could quarantine them.
With that information, I only began to care about those outside Nigeria, funny enough, I never met anyone that knows anyone that knows anybody that was directly affected by the virus 😀, funny right? That's how my country is.
So like I earlier said, I only came to steemit to get news on the well-being of my fellow steemians in other countries.
Plus, I wasn't really active during that period as I was in search of quick money, but I really thank steemit for being there for me.
DID YOU SELL STEEMIT EARNING DURING COVID-19 TO REDUCE OR ELIMINATE THE PROBLEMS YOU FACE IN YOUR DAILY LIFE?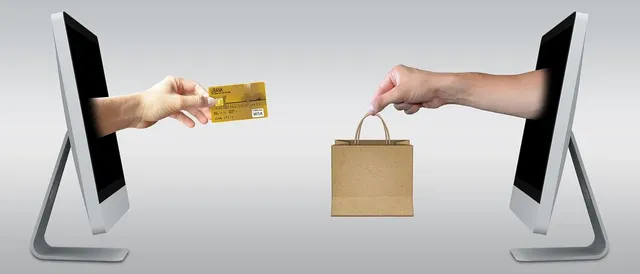 Source
Even if I were to say no to this question, it would be obvious that I am telling a lie.
Steemit was my only means of survival then, I couldn't ask my parents for anything as I could see the situation of things at hand.
Yes, I sold some steems to support myself during this pandemic and then there was no rule as the #club status and 1 steem was equaling close to a dollar then.
This really assisted me, it was indeed a work paid off, as the more I earn the more I made quality post.
And I sincerely appreciate the steemit team for their tireless efforts I'm supporting us during those critical period.

DID STEEMIT HELP OTHER PEOPLE BESIDES YOU IN YOUR COUNTRY, CITY DURING COVID-19 GLOBAL EPIDEMIC?
Definitely, steemit helped a lot of people in my country during the covid19 erra.
Infact, steemit was our only source of income then, many Nigerians became bloggers and constantly made quality post.
Many qualified for the academy and earned passively and even my family Benefited from steemit.
Although not all my family are bloggers but my siblings are bloggers too on steemit and this helped reduced the financial responsibility of my parents as we the children began sorting some bills ourselves.
Our parents were proud of us that we were earning legally at such age.
YOU INFORMED PEOPLE ABOUT STEEMIT DURING COVID-19 SO THAT THEY TOO CAN GET OUT OF TROUBLE BY JOINING STEEMIT?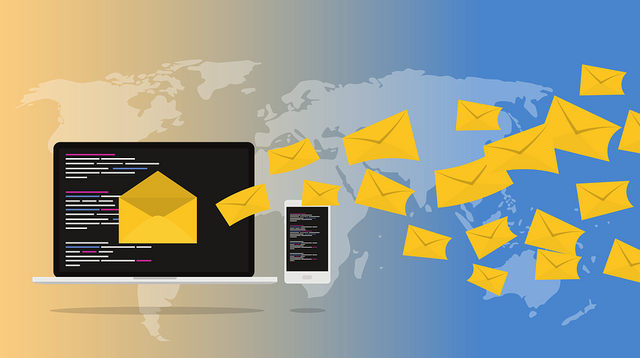 Source
Although I was the shy type but there's definitely no way I wouldn't inform people about steemit.
I didn't speak to strangers about steemit but all my friends knew about steemit, many joined while some refused as they were determined to engage in fraudulent activity, they became the organizer of Ponzi scheme and many of them loss to it.
Then when everything was getting better, I joined a steem promotion team that was sponsored by @steemalive community and I used this opportunity to invite many to steemit and I am happy I did. And also I am still inviting more people to steemit.

WHAT DIFFICULTIES , MAJOR ISSUES, DID YOU FACE DURING Covid-19's TERRIBLE DISEASE AND HOW DID STEEMIT IMPROVE, SUPPORT AND help IN YOUR life DURING Covid-19 and OTHER PEOPLE AROUND YOUR CITY OR COUNTRY. (WRITE OWN EXPERIENCE) ?
Aside from the financial aspect, the pandemic affected me psychologically and emotionally.
It affected me emotionally I'm the sense that I couldn't get close to my friends anymore, some close friends refused to shake hands, let alone hug.
This really affected me and psychologically, I began to think that it was the end of the world, there were some things I still planned on doing, there were some relationship I still planned on fixing, then I asked myself if this is how it will all end.
Truth be told, I was down .
SHARE YOUR SELFIE HOLDING THE PAPER WITH THE TEXT I LOVE YOU STEEMIT FOR HELPING ME DURING COVID-19 AND DATE THE PURPOSE OF THIS SELFIE IS THAT WE CAN PAY A GREAT TRIBUTE TO STEEMIT FOR HELPING US DURING COVID-19.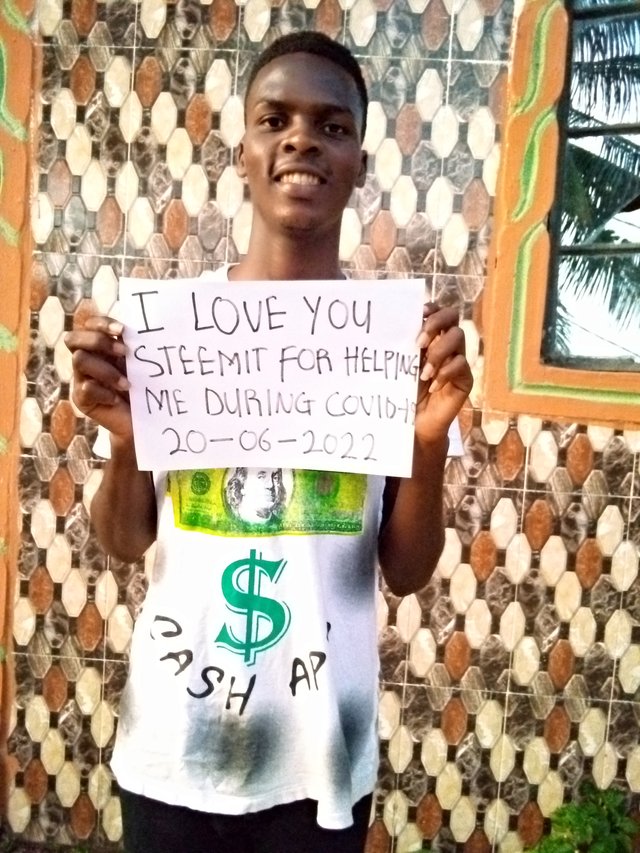 I Know the image above is not enough to say thank you to steemit for everything it has done to me and how it has helped my family and I during the pandemic.
And because of the help I received from steemit, I hereby vow to be forever grateful to steemit and to remain loyal and obedient.
CONCLUSION
Steemit has really been of help to me right from when I joined up to this day.
It has helped me increased my knowledge, meet new friends and gain financial stability
Thank you very much steemit for being there for me, I appreciate and will forever be grateful
I hereby invite @amjosh9 @weasell and @matoo445 to participate in this encouraging contest