THE DIARY GAME|02.28.2021| Your Fairy Godmother!
I am glad I'm busy today. In the morning, I attended the Christening of our three-month-old neighborhood. My role is I'm the godmother, meaning, my presence is important. It's a Philippine culture where the godmother is responsible for his/her godchild during her/his festivities like birthdays, Christmas celebrations, and when they meet wherever. I grew up in a protestant influence which some groups do not celebrate a Christening that differs us from them. Today is my first experience.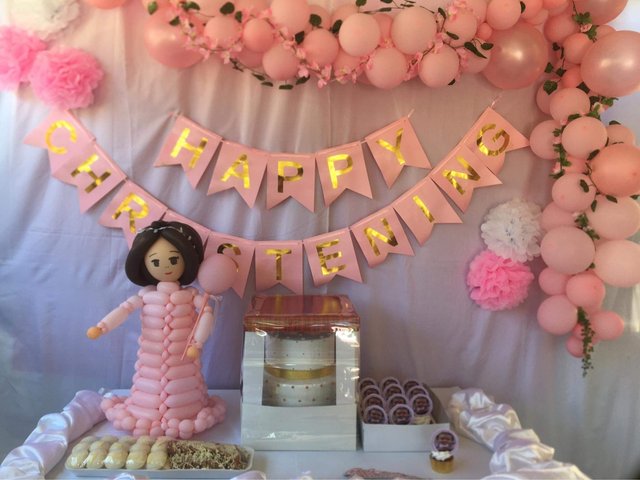 This is a pinched twist balloon presentation at the Christening. This creativity is made by my friend.
I looked like a pregnant woman after eating a whole plate of lechon, it was satisfying! In our country, it's common to see a roasted pig or lechon baboy on the table in fest.The party seems so boring without it. When a relative asks what are the menus and you reply, "no Lechon baboy," they say okay! But when you say there is a lechon, expect them to react like, "wow, what a grandiose celebration!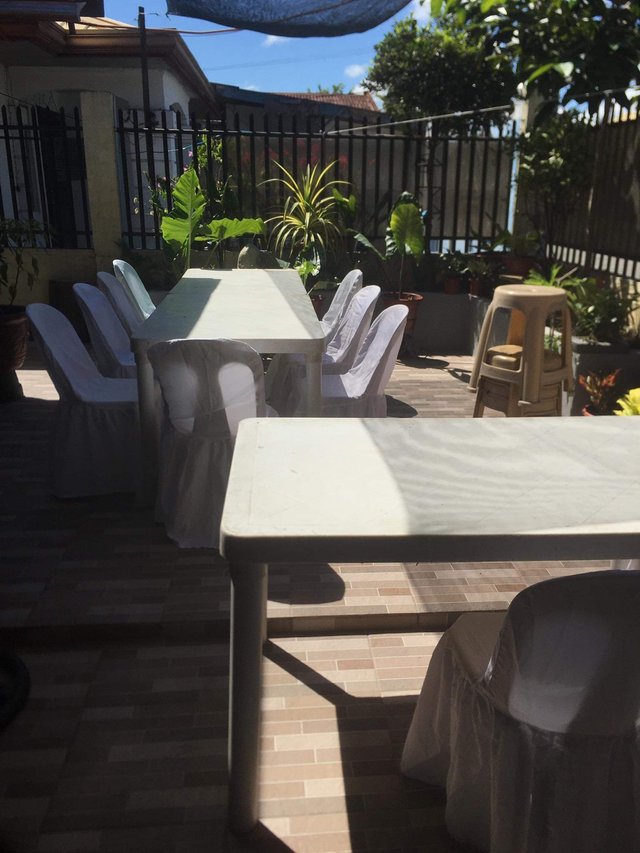 I also ate beefsteak, chicken lollipop, and salad! In the picture, foods aren't displayed yet because we waited for the other visitors to arrive and it was early morning!
Before I went back home, our neighbor gave me a pasalubong for my dogs. We call it bh to be shortened or bringhouse in English. It's the food given by the homeowner to their visitors even we ate at the party. LOL. Of course, it makes me happy when I have something to bring for my dogs.
So, there are four Filipino cultures I mentioned such as:
Your godchild is your responsibility as a godmother occasionally and whenever you meet. The godchild should bless your hands as a sign of respect.
Lechon baboy is a traditional food during feasts.
The party guests can bring a bh from the occasion.
Pasalubong
It was a joyful morning today. In the afternoon, I taught my sister in her modules that are four subjects such as art, physical education, Filipino, and Values Education. Her most favorite of all is art. She loves drawing but the Internet is a distraction. She is a procrastinated student when my nephew plays Minecraft on Youtube.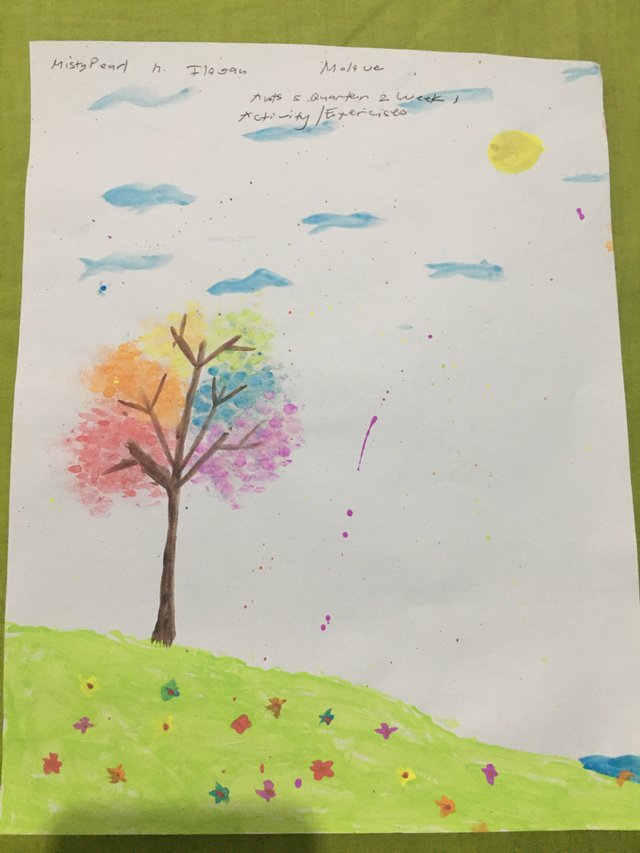 This is my little sister's drawing. The task written to her module is complimenting colors.
Dealing with a lazy student is a challenging task. If the students can't answer the quiz, it is frustrating for the instructor. I can surely ask, "Is my teaching not enough?"
I guess every sibling and parent nowadays wish that all people are vaccinated with COVID so they can just send their students to school face-to-face instead of modules.