STEEM PROMO EVENT: I have allocated Rp 4,802,000 (48 SBD) for Registering 93+ new steemit accounts for ACT-MRI Volunteers
100% Payout to support the event and @steem.amal's next program
---

The real positive impacts of the STEEM FOR BETTER LIFE program in the field is more people started to ask what steemit is, how steem.amal rise the funding, how the steemit give banefit, where the money come from and what blockchain is. One of the steem.amal goal that set earlier in the log frame is to influent more people to join the steemit and attract the investor into steemit.
That is the reason why the steem.amal team actively campaign the true meaning of the STEEM FOR BETTER LIFE, they enlight them to discover more about the power of the steemit community. Finally, they asked how to have a steemit account and to join steemSEA community.
As the steem.amal program manager I took initiative to invite them and some other steemian who can help them to register new account, not only open the new account but also show them how to grow on the steem blockchain.
Within a week of the announcement of fully facilitated fasting break fiesta for opening new account, there are 93+ ACT-MRI Volunteers have been confirmed to participate in a new account registration. The even will be hold on April 18th at 13.30 - 19.30 (Western Indonesia Time)
Event: Steem promotion
Venue: MIN 1 Kuta Blang Lhokseumawe
Date/time: Sunday, April 18th/13.30-19.30
Location: https://w3w.co/rebounders.indifference.quad
Google map: 54MP+G7 Kuta Blang, Kota Lhokseumawe, Aceh
The budget calculation is as below: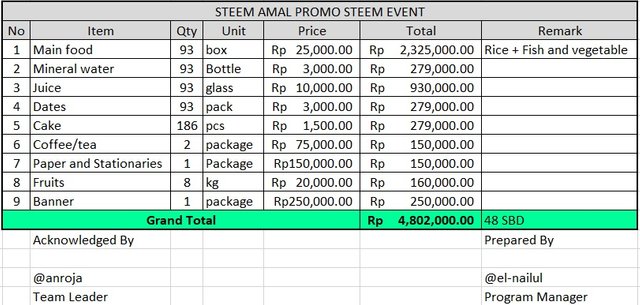 The budget is fully covered by myself (el-nailul)
The schedule of the event is as below:
The next steem.amal's programs that will be discussed in the meeting are:
Steem Promotion on National News Paper
Water and Sanitation Program in Seunuddon
Wheelchair program for paralyzed patients (assessment has been done for one candidate)
Emergency Response Budget
And any related @steem.amal program including any possibility of the inviting investors into steemSEA (steemit)
Should you have any input and suggestion please feel free to comment
CC;
@steemcurator01
@anroja
@radjasalman
@ayijufridar
@green07
@heriadi
@klen.civil
@irawandedy
@miftahuddin
@nazarul
@muzack1
@arie.steem
@curiesea
@alexandria-riski
@nm007
@firyfaiz
Please follow health protocol for attending the event
With my best regard
El-nailul
STEEM FOR BETTER LIFE PROGRAM MANAGER