Survey of Universitas Malikussaleh Students for Ruslan's Wheelchair Assistance in Aceh Timur |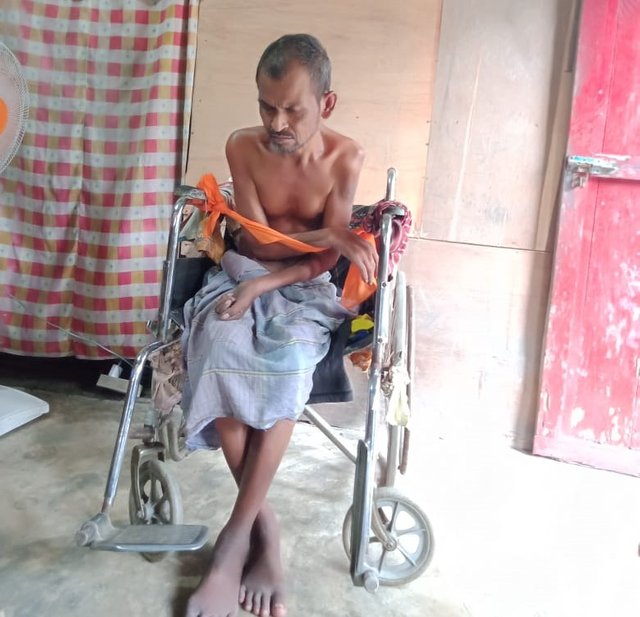 ---
The students of Universitas Malikussaleh who are doing real work lectures (KKN) in Nicah Awe Village, Simpang Ulim District, East Aceh, conducted a survey on the feasibility of providing wheelchair assistance from the @steem.amal community. In addition to returning to the homes of prospective wheelchair beneficiaries, students who are members of Group 169 also contacted the local village head.
In accordance with the previous assessment, students from Group 169, led by Riski Fatahillah, visited the house of Ruslan Jalil (49) in Nicah Awe Village, East Aceh Regency, some time ago. This is the second time that Riski and friends have come to distribute aid to Ruslan's family. "We went down to the location to collect data on the administrative completeness needed to get assistance," said Riski, Tuesday (11/9/2021).
The search results of Group 169 student, Ruslan Jalil, had suffered a stroke for 16 years. According to his wife, Nuridah (41 years old), Ruslan suffered a slow stroke for 16 years until he finally became paralyzed. "All her needs must now be served because she can't move," said Nuridah about her husband's condition.
Since suffering a stroke, Ruslan has been unable to work so his children cannot continue their education. His first child, Muhammad Maulidin, dropped out of school and could not finish high school. Now Maulidin is the family's support by working in a rice stall.
To support her family, she also works as a washer in someone's house. However, the mother of three cannot work too hard because her hands still often hurt after an accident. In addition, she also has to divide the time to take care of her husband. In the end, the family lived on the help of local residents.
The mediocre income even to meet their primary needs makes them unable to replace wheelchairs that have been used for 16 years. The results of the survey of Group 169 students, most of the wheelchairs were rusty and difficult to push because the wheels were damaged.
The head of Nicah Awe Village, Ibrahim, said that Ruslan Jalil's family really deserved to be helped to get a proper wheelchair. So far, apart from living on the help of their first child, who works in a rice stall, the Ruslan family also relies on the meager income of Pupils as a washerwoman. "Never mind buying a wheelchair, just to meet basic needs, they are still heavy," said Ibrahim.
Group 169 member, Anggun Mai Safitri, added that apart from wheelchair assistance, Ruslan Jalil's family also deserves assistance with various other main needs such as nutritious food. "At least, occasionally Pak Ruslan and his family get enough nutrition," said Anggun.
Under the guidance of a field supervisor (DPL), Muhammad Ali, M.Si, Group 169 consists of Mhd Tarmizi, Muhammad Hafidzuddin, Riski Ananda Maulana, Anggun Mai Safitri, Intan Nurul 'Ala, Fitria, Nurmasyithah, Nanda
Mahfuzdah, and Yutia Ningsih.
Contacted separately, Ali expressed his joy if the Steem Amal community could help wheelchair Ruslan Jalil. "We hope that the assistance can be distributed and we are ready to bridge the gap with Pak Ruslan's family," said the lecturer of the Communication Studies Study Program, Malikussaleh University. [Ayi Jufridar]
---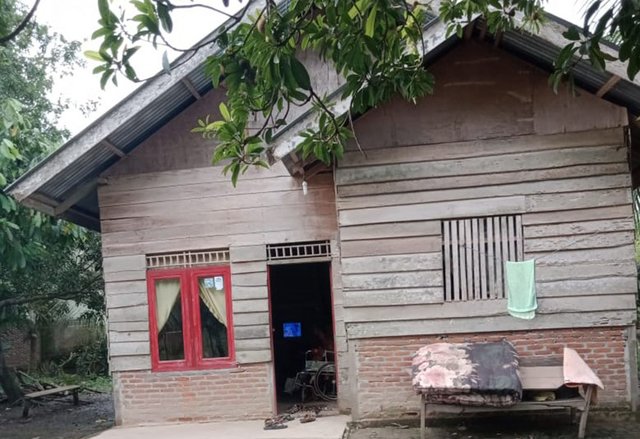 ---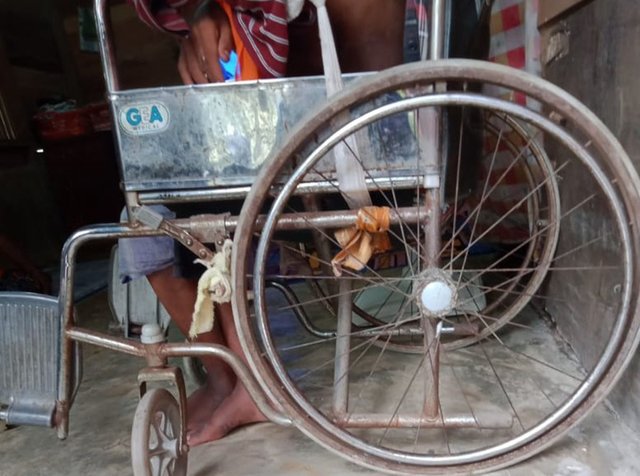 ---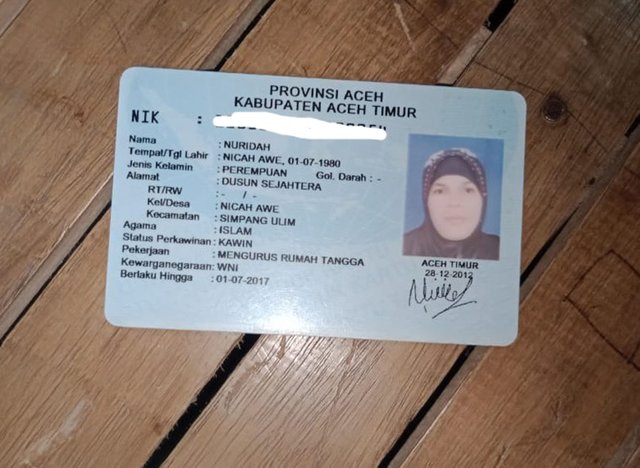 ---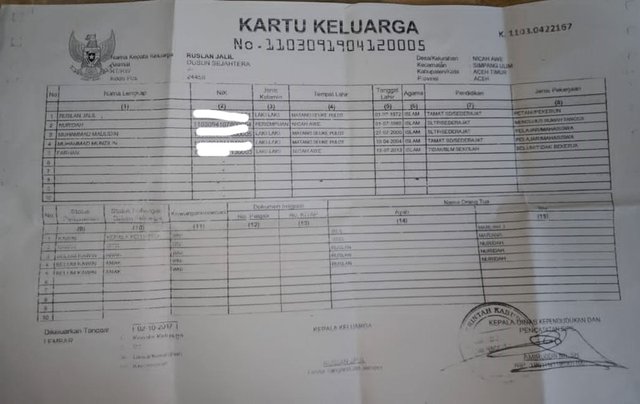 ---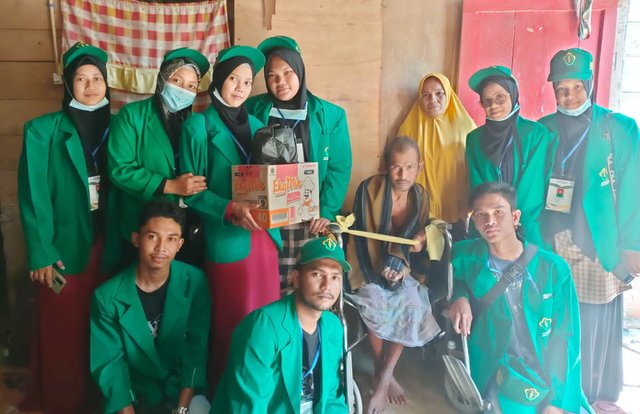 ---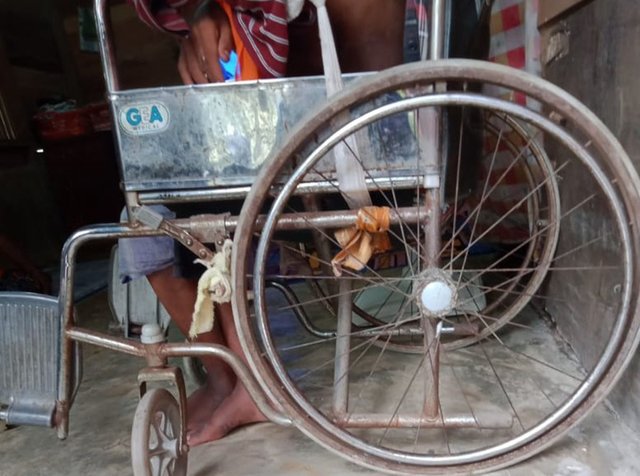 ---
Hasil Survei Mahasiswa Unimal untuk Steem Amal
Mahasiswa Universitas Malikussaleh yang sedang melakukan kuliah kerja nyata (KKN) di Desa Nicah Awe Kecamatan Simpang Ulim, Aceh Timur, melakukan survei terhadap kelayakan pemberian bantuan kursi roda dari komunitas @steem.amal. Selain kembali mendatangi rumah calon penerima bantuan kursi roda, mahasiswa yang tergabung dalam Kelompok 169 juga menghubungi kepala desa setempat.
Sesuai dengan asesmen sebelumnya, mahasiswa Kelompok 169 yang diketuai Riski Fatahillah, mendatangi rumah Ruslan Jalil (49) di Desa Nicah Awe Kabupaten Aceh Timur, beberapa waktu lalu. Ini merupakan kedatangan kedua setelah sebelumnya Riski dkk ikut menyalurkan bantuan kepada keluarga Ruslan. "Kami turun ke lokasi untuk untuk mendata kembali kelengkapan adminitrasi yang dibutuhkan untuk mendapatkan bantuan," ungkap Riski, Selasa (9/11/2021).
Hasil penelusuran mahasiswa Kelompok 169, Ruslan Jalil sudah menderita stroke selama 16 tahun. Menurut istrinya, Nuridah (41 tahun), Ruslan menderita stroke secara perlahan selama 16 tahun sampai akhirnya mengalami kelumpuhan. "Seluruh keperluannya kini harus dilayani karena tidak bisa bergerak," ungkap Nuridah mengenai kondisi suaminya.
Sejak menderita stroke, Ruslan tidak bisa bekerja sehingga anak-anaknya tidak bisa melanjutkan pendidikan. Anak pertamanya, Muhammad Maulidin, putus sekolah dan tidak bisa menamatkan SMA. Kini Maulidin menjadi tumpuan keluarga dengan bekerja di sebuah warung nasi.
Untuk menghidupi keluarga, Muridah juga bekerja sebagai tukang cuci di rumah orang. Namun, ibu tiga anak tersebut tidak bisa bekerja terlalu keras sebab tangannya masih sering nyeri setelah kecelakaan. Selain itu, ia juga harus membagi waktu untuk merawat suaminya. Akhirnya, keluarga itu hidup dari bantuan warga setempat.
Penghasilan yang pas-pasan bahkan untuk memenuhi kebutuhan primer membuat mereka tidak mampu menggantikan kursi roda yang sudah 16 tahun dipakai. Hasil survei mahasiswa Kelompok 169, sebagian besar dari kursi roda tersebut sudah berkarat dan sulit untuk didorong karena roda-rodanya rusak.
Kepala Desa Nicah Awe, Ibrahim, menyebutkan keluarga Ruslan Jalil memang sangat layak dibantu untuk mendapatkan kursi roda yang layak. Selama ini, selain hidup dari bantuan anak pertamanya yang bekerja di warung nasi, keluarga Ruslan juga mengandalkan penghasilan dari Muridah yang tidak seberapa sebagai tukang cuci. "Jangankan untuk membeli kursi roda, untuk mencukupi kebutuhan mendasar saja, mereka masih berat," ungkap Ibrahim.
Anggota Kelompok 169, Anggun Mai Safitri, menambahkan selain bantuan kursi roda, keluarga Ruslan Jalil juga sangat layak dibantu berbagai kebutuhan utama lainnya seperti makanan bergizi. "Minimal, sesekali Pak Ruslan sekeluarga mendapatkan nutrisi yang cukup," ujar Anggun.
Berada di bawah binaan dosen pembimbing lapangan (DPL), Muhammad Ali, M.Si, Kelompok 169 beranggotakan Mhd Tarmizi, Muhammad Hafidzuddin, Riski Ananda Maulana, Anggun Mai Safitri, Intan Nurul 'Ala, Fitria, Nurmasyithah, Nanda
Mahfuzdah, dan Yutia Ningsih.
Dihubungi terpisah, Ali mengungkapkan kegembiraannya jika komunitas Steem Amal bisa membantu kursi roda bagi Ruslan Jalil. "Kami berharap bantuan tersebut bisa disalurkan dan kami siap menjembatani dengan keluarga Pak Ruslan," ujar dosen Prodi Ilmu Komunikasi Universitas Malikussaleh.[Ayi Jufridar]
Data calon penerima bantuan:
N a m a : Ruslan Jalil (49)
Pekerjaan : -
Istri : Muridah
Anak : tiga orang
CC:
etc.
---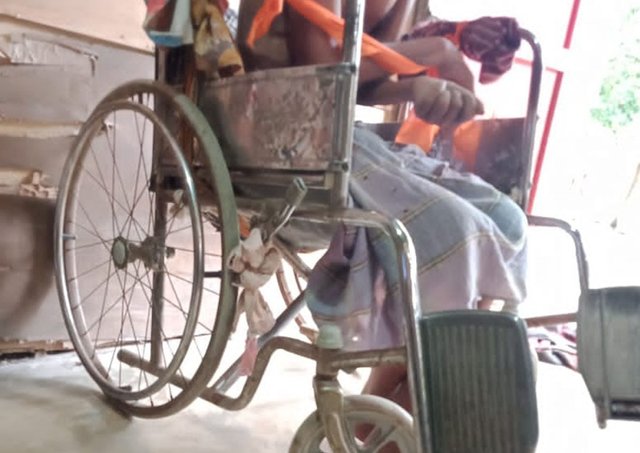 ---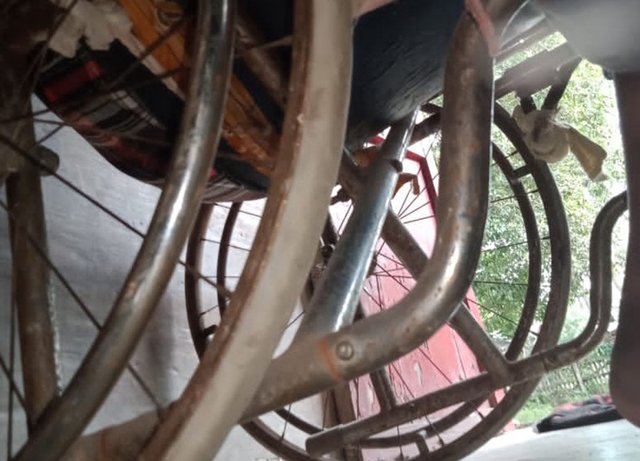 ---