An Auto-DCA service UPVU Earn has been launched!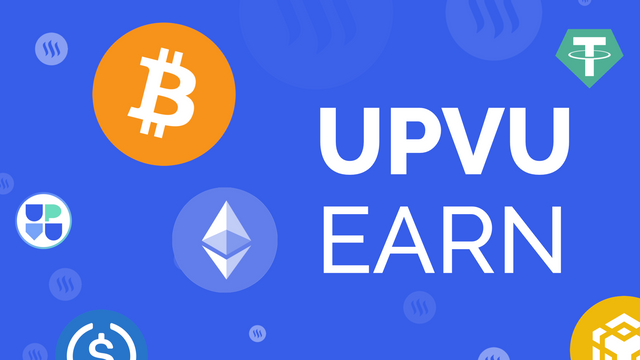 Today we are very excited to announce the launch of UPVU Earn, an automated DCA investing service for Steemians! UPVU Earn will be the starting point for connecting other public blockchain networks and creating additional utility beyond upvoting to STEEM tokens.
UPVU Earn is designed to be really EASY and SIMPLE to use, just like all the services we have developed so far. Let me introduce you to what UPVU Earn is and how to use it.
What is UPVU Earn?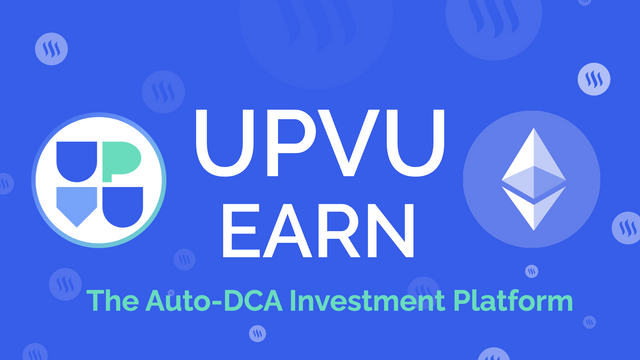 It is an automatic DCA service that allows SteemPower holders to collect various types of cryptocurrencies(tokens) with daily rewards (author rewards + curation rewards) generated on the Steem blockchain. Start investing in STEEM as well as other tokens automatically through SteemPower delegation + Metamask wallet registration only!
We will initially start with an ETH investment service based on Arbitrum, a layer 2 scaling solution for Ethereum, and various options such as BTC, Stablecoin (USDT) and etc. will be added.
What is DCA?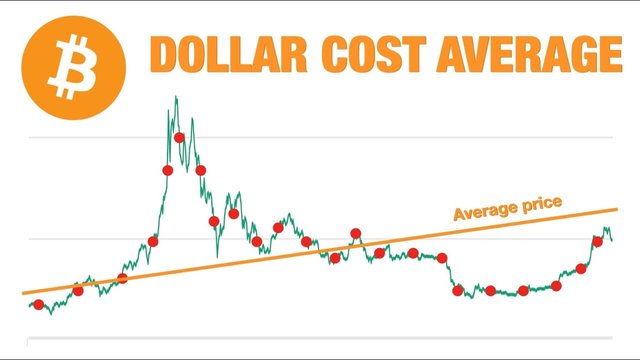 <source : Dollar-Cost Averaging (DCA) — How profitable is this strategy really?
>
Dollar cost averaging refers to the practice of investing fixed amounts at regular intervals (for instance, $20 every week). This is a strategy used by investors that wish to reduce the influence of volatility over their investment and, therefore, reduce their risk exposure.
Background
UPVU Earn started with a very simple idea.
"How much of BTC and ETH are in your investment portfolio?"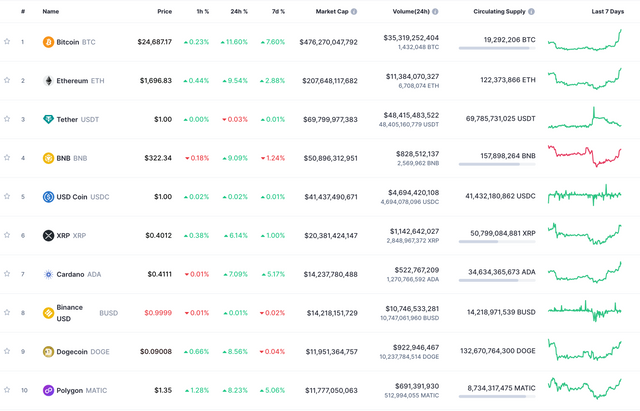 Most crypto investors are well aware that they should invest in Bitcoin (BTC) and Ethereum (ETH), but in reality most of them do not.
Even if you listen to Bitcoin or Ethereum and jump into crypto, you will pursue a higher rate of return, and as a result, you will have more hands on major alt coins or shit coins, and even if you have been in crypto for several years, the proportion of BTC or ETH is 10 There are many people who are not even 10%.
In order for the Steem community to grow again and the Steem ecosystem to prosper, Steemians must eventually build a good portfolio, make successful investments, and provide generous support to Steem-based projects. It goes without saying that STEEM should gain new momentum by providing additional utilities beyond posting and upvoting.
We hope that Steemian will become smarter and be able to invest more sensitively to trends. And we want to make more STEEM staked and create more utility for STEEM.
How to use UPVU Earn
As with all the services we have developed so far, it is designed to be really EASY and SIMPLE to use.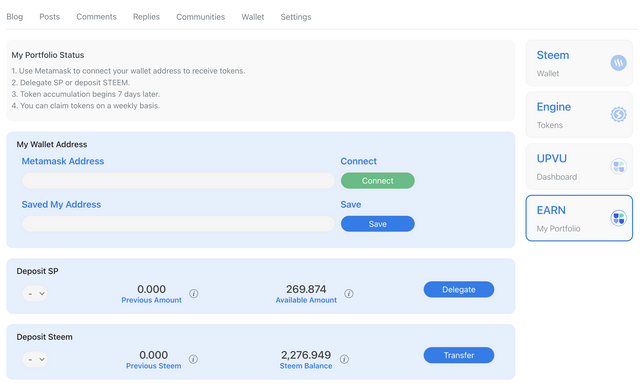 First, log in to https://upvu.org/ and then access your [WALLET] - [EARN]. Alternatively, you can access it directly by entering your account name in the link below.
To use UPVU Earn, you need to connect to the desktop browser with Arbitrum One (Ethereum Layer2) network added and Metamask installed. (Only for the first time for account linking)
Please proceed in the following order.
(1) Log in to Metamask where the wallet to receive tokens is added.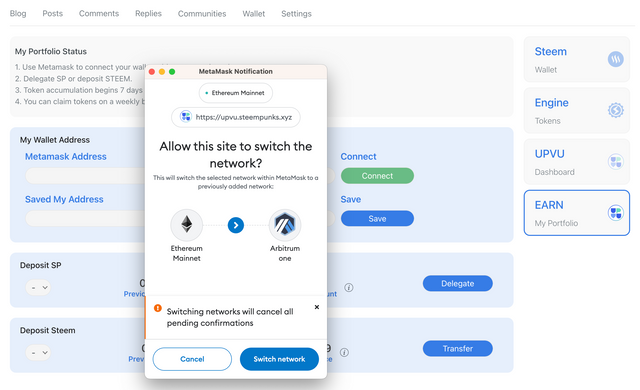 (2) Click the green-colored [Connect] button.
If it is set to a network other than Arbitrum, click the [Switch network] button to change the network and add a new network.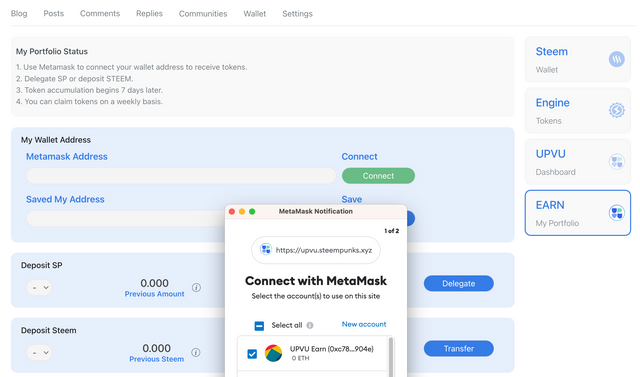 (3) Please connect Metamask to UPVU Earn.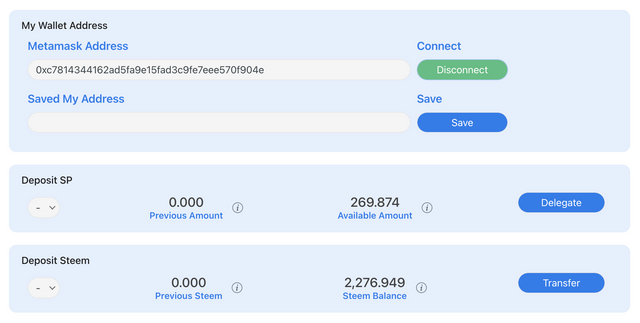 (4) If Metamask is properly connected, your wallet address will appear in Metamask Address.

(5) Click the [Save] button to save your wallet address.

(6) Select which tokens you would like to collect.
Initially, only ETH can be selected, and other coins will be added later.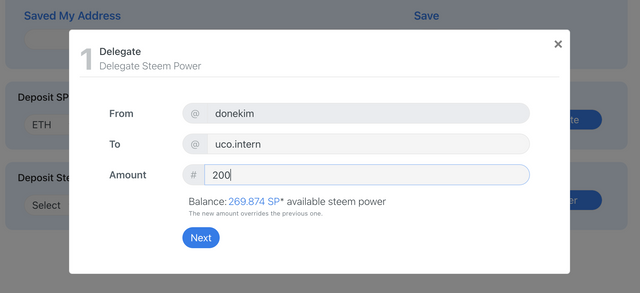 (7) If you want to delegate, click the [Delegate] button and enter the desired amount. (The account name to be delegated is automatically entered)
[NOTE] You can delegate from a minimum of 1,000 SP+.
Please note that rewards will not be paid if you withdraw the delegation within 7 days of starting the delegation.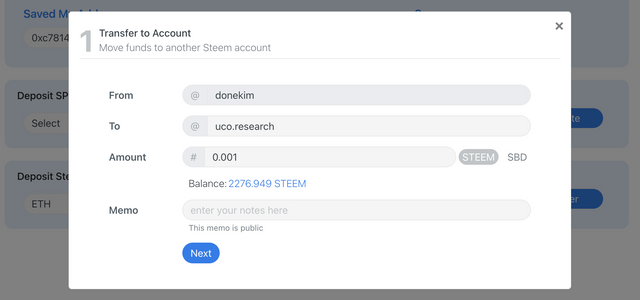 (8) If you want to deposit STEEM immediately, click the Transfer button and enter the desired amount (the account name to receive is automatically entered)
After delegating the SP, you do nothing further. All you have to do is check the status of the UPVU Earn portfolio and make regular claims. (Of course, an automatic claim feature is already in development and will be added soon)
Since rewards on the Steem blockchain occur 7 days later, token accumulation history can be checked 7 days after delegation. (Please refer to the example image below)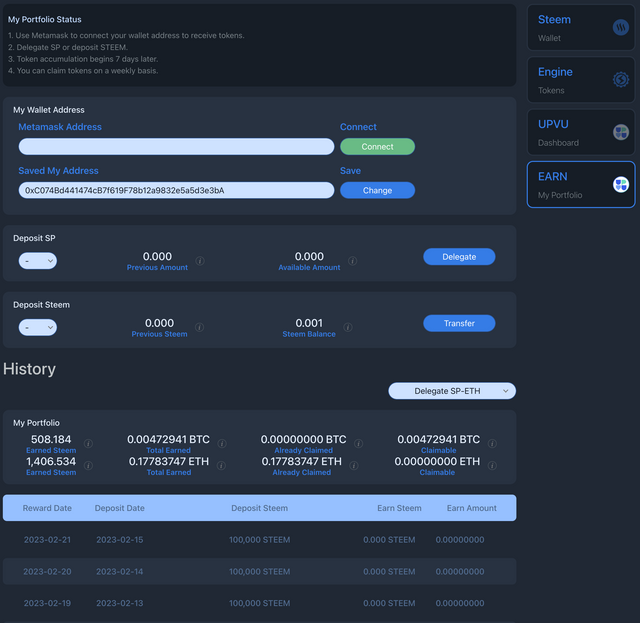 UPVU Earn FAQs
Q1. Can I participate automatically if I am delegating my SP to @upvu?
➡️ ✅ No. UPVU Earn is a separate service regardless of whether you have delegated to @upvu or not.
Q2. If I delegate my SP and upload post, will I get an upvote?
➡️ ✅ UPVU Earn has nothing to do with posting or upvoting. All you have to do is (1) register the Metamask wallet you want to receive ETH and (2) delegate your SP (or deposit STEEM).
Q3. Isn't UPVU Earn giving people no reason to post on Steemit?
➡️ ✅ Compared to UPVU or other voting pools when renting and writing, Upviewer's rate of return is relatively lower. There are transaction fees, transmission fees, service fees, etc., and the value of labor called writing should not fade.
Q4. Can I use my wallet address on exchange
➡️ ✅ No. You must not use the exchange's wallet address. So, UPVU Earn is set to register the wallet that owns the private key through Metamask when registering the wallet.
Q6. Can I send the ETH collected in Arbitrum directly to exchange?
➡️ ✅ Currently, major global exchanges such as Binance, Bybit, Huobi, and OKX support deposits and withdrawals on the Arbitrum Network.
Q7. Why is UPVU Earn using Arbitrum?
➡️ ✅ Arbitrum has very low transaction fees (around $0.05 per transaction), and Arbitrum-based DApp tokens have good market price trends, so there are many opportunities to invest in Dapp Tokens. And an airdrop of ARBI tokens is also scheduled. We hope that more users will take advantage of the airdrop opportunity.
Q8. Can I participate in UPVU Earn with a small amount?
➡️ ✅ Anyone with at least 1,000 SP can participate. (The transfer fee of ETH is covered by us.)
Q9. Are there any plans to support other networks?
➡️ ✅ We will start with Arbitrum Network, but we will add various chains such as Optimism, zkSync, BNB Chain (BSC), StarkNet, and Lightning Network if necessary.
Q10. I'm currently delegating my SP to @upvu. Can I receive curation rewards in ETH?
➡️ ✅ The option for users who have currently delegated SP to @upvu to receive curation rewards in BTC or ETH instead of STEEM or UPVU tokens will be released during the Phase 2 update. Users need time to adapt to the wallet usage of other blockchain networks, and it takes time to secure a certain level of liquidity on their own due to fee issues.
Q11. Is there a maximum or minimum limit on the amount of delegates?
➡️ ✅ You can participate from at least 1,000 SP. However, there is no limit on the maximum number of delegates.
Q12. Can I claim the accumulated ETH at any time?
➡️ ✅ If your accumulated ETH is over $10, you can claim once a week.
If you have any questions while using this, please feel free to leave a comment!
Steem On!
UPVU Team
Cc: @steemitblog, @steemcurator01, @steemcurator02 @steemchiller @justyy @symbionts @steem.history @dlike @future.witness @maiyude @rnt1 @protoss20 @bangla.witness @xpilar.witness @italygame @marcosdk @boylikegirl.wit @alexmove.witness @steemit-market @pennsif.witness @cotina @inwi @smt-wherein @ety001