Bumblebees in spring. / Frühlingshummeln.
English

Hello dear readers, while I am dreaming (so far in vain) of a blockchain-based blogging place where people manually upvote what they like, which isn't destroyed by arbitrary downvotes and which actually works (e.g. in the sense that pictures can be uploaded without problems), my hard drive is almost bursting because it's so full of pictures that I think are too beautiful not to use them to give pleasure to other people.
So, in case you like woolly, colorful bumblebees, just have some fun with the following photos! :)
Deutsch

Hallo liebe Leser, während ich (bisher vergeblich) von einem blockchainbasierten Blogging-Ort träume, wo Menschen manuell das upvoten, was ihnen gefällt, wo nicht willkürlich drauflos geflaggt wird und der überdies tatsächlich funktioniert (z. B. in dem Sinne, dass sich problemlos Bilder hochladen lassen), platzt meine Festplatte fast, weil sie so voll mit Bildern ist, die m. E. zu schön sind, um nicht auch anderen Menschen Freude bereiten zu können.
Falls ihr also wollige, farbenfrohe Hummeln mögt, habt einfach etwas Spaß mit den nun folgenden Fotos! :)
---
| | |
| --- | --- |
| In this and the following photo you can see a 'European honey bee' (Apis mellifera).. | Auf diesem und dem folgenden Foto seht ihr eine 'Westliche Honigbiene' (Apis mellifera). |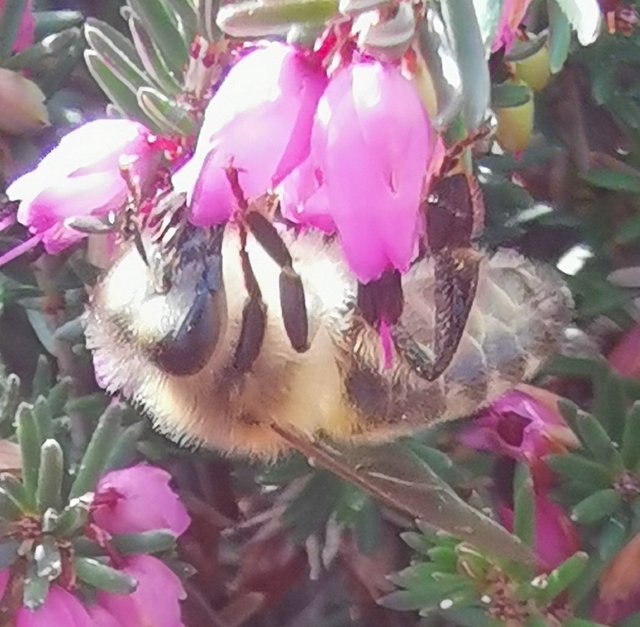 ---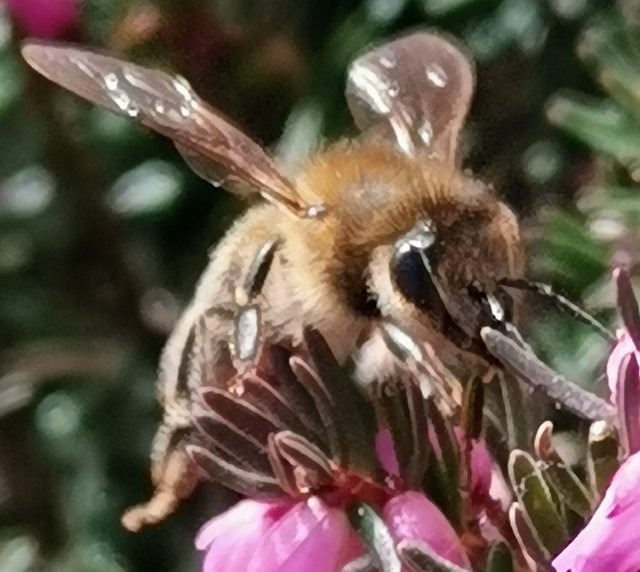 ---
| | |
| --- | --- |
| Not only honey bees, but also 'buff-tailed bumblebees' (Bombus terrestris) are attracted to our heather. | Aber nicht nur Honigbienen, sondern auch 'Dunkle Erdhummeln' (Bombus terrestris) fühlen sich zu unserem Heidekraut hingezogen. |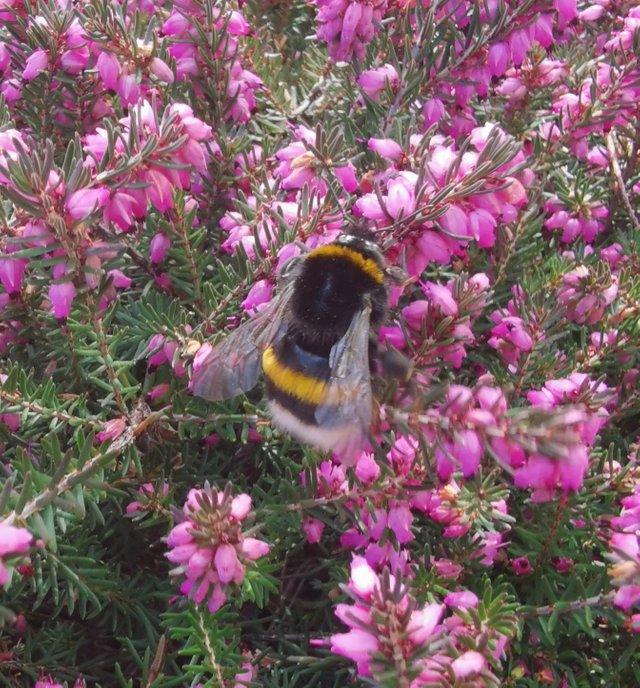 ---
| | |
| --- | --- |
| Here a specimen nibbles on an early flowering iris. | Hier nascht ein Exemplar an einer früh blühenden Iris. |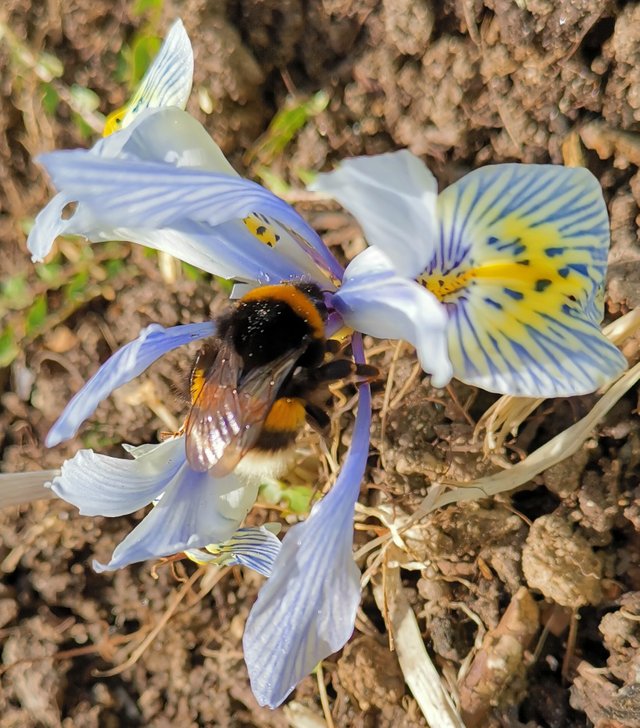 ---
| | |
| --- | --- |
| The rather large bumblebees flying around at this time of year are queens in search of nests. | Bei den zu dieser Jahreszeit herumfliegenden ziemlich großen Hummeln handelt es sich um auf Nestsuche befindliche Königinnen. |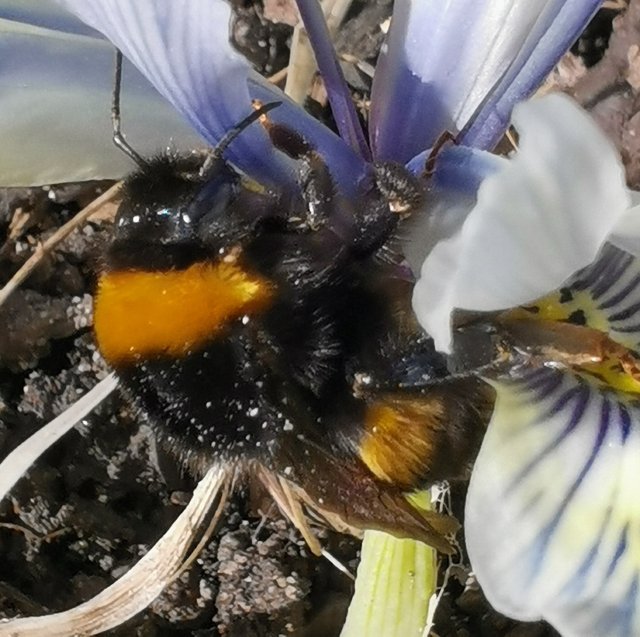 ---
| | |
| --- | --- |
| In some of the following photos, you can clearly see the numerous bumblebee mites clinging to the bumblebees' fur to be transported to new nests where they feed on wax and pollen. | Auf einigen der folgenden Fotos sind die zahlreichen Hummelmilben gut zu erkennen, die sich im Pelz der Hummeln festklammern, um sich zu neuen Nestern transportieren zu lassen, wo sie sich von Wachs und Pollen ernähren. |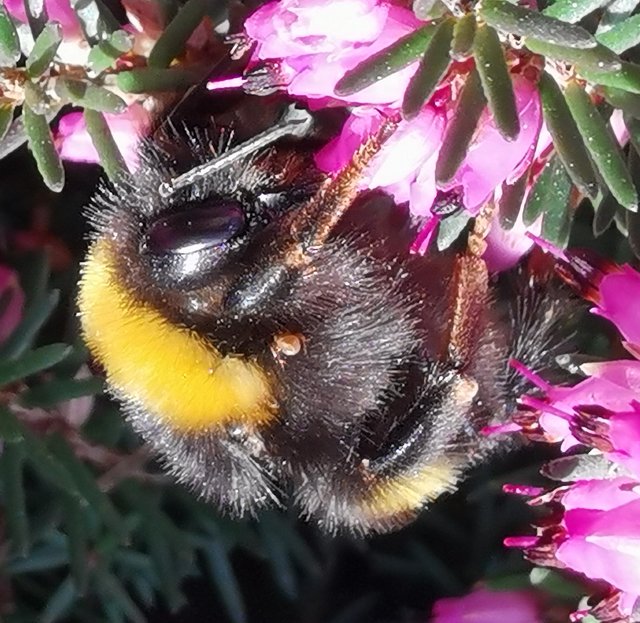 ---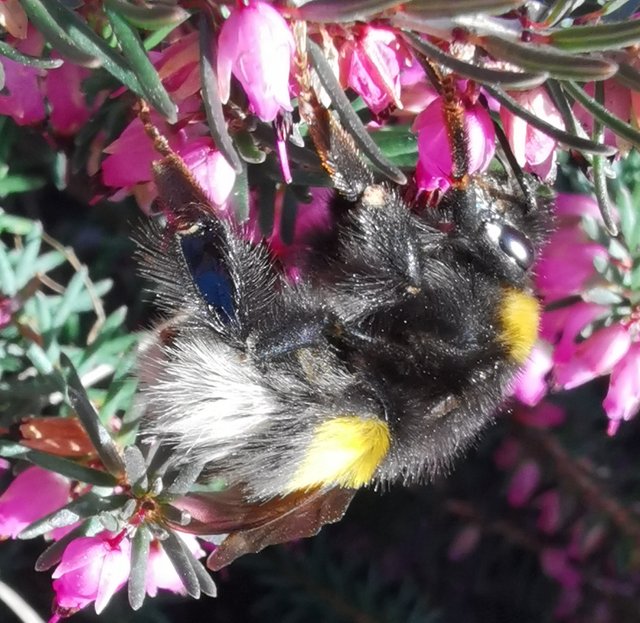 ---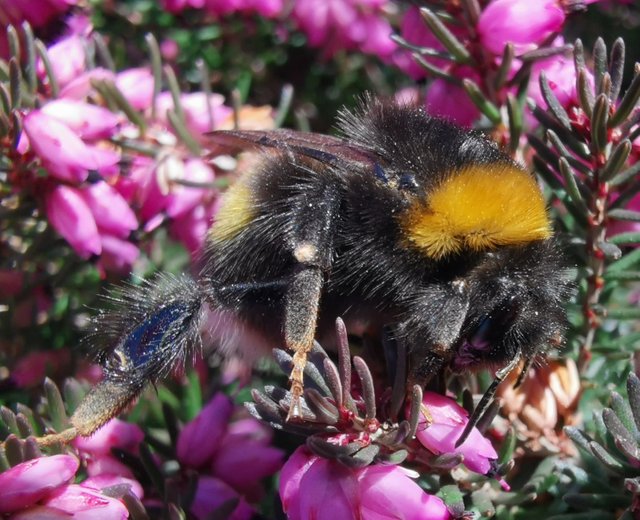 ---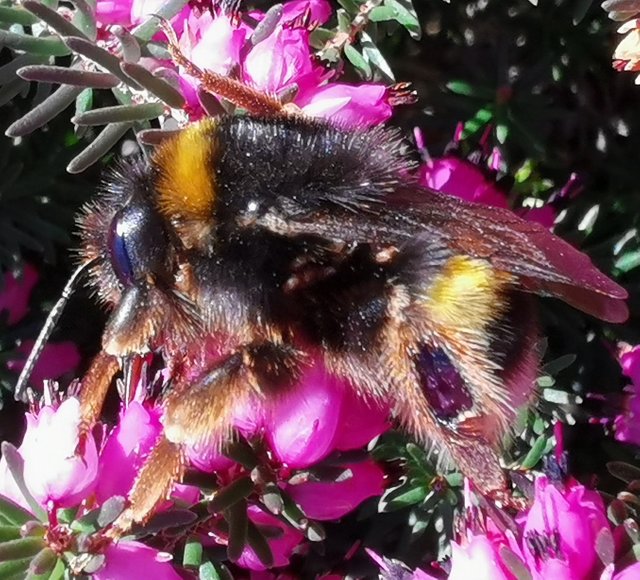 ---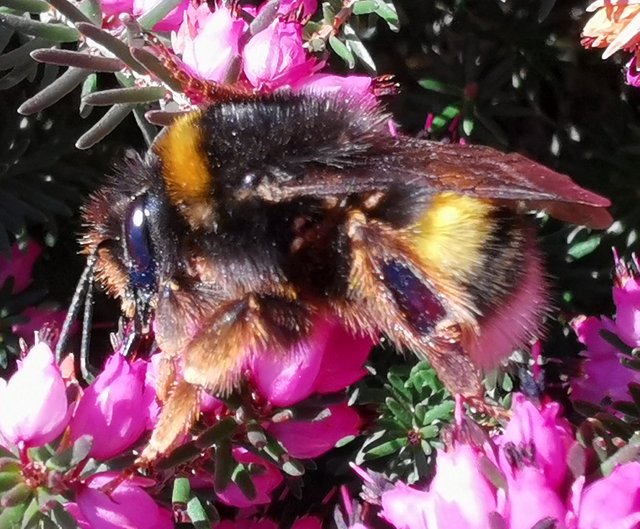 ---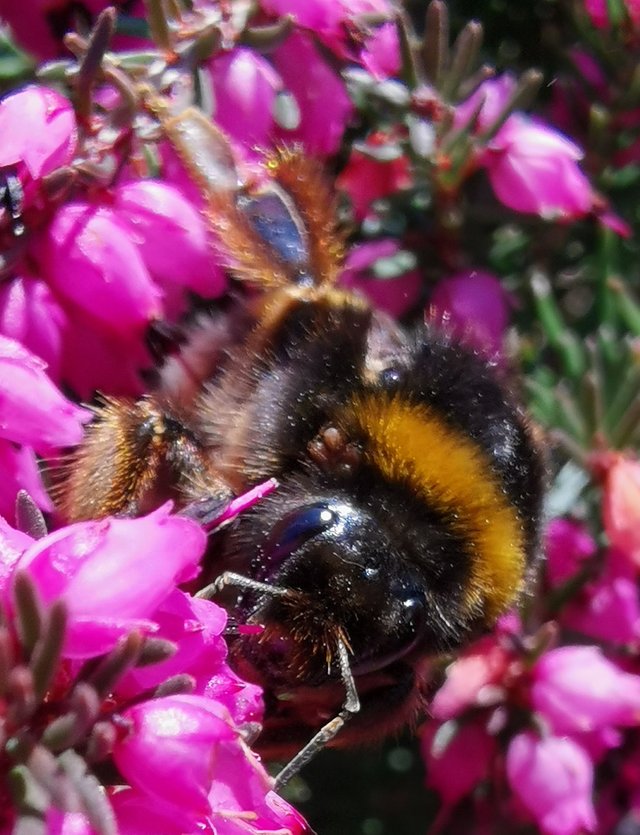 ---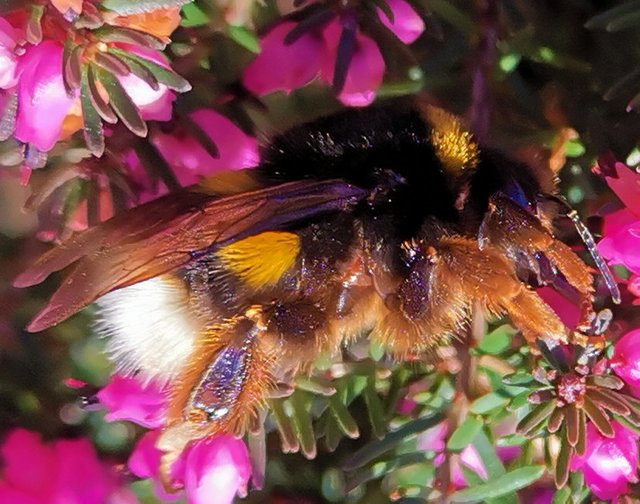 ---