BRIDGES THAT CONNECT NETWORKS AND EXPAND THE WORLD OF DEFI.
Hello friends, I hope your week is increasing in positive energies just as Ethereum is going.
---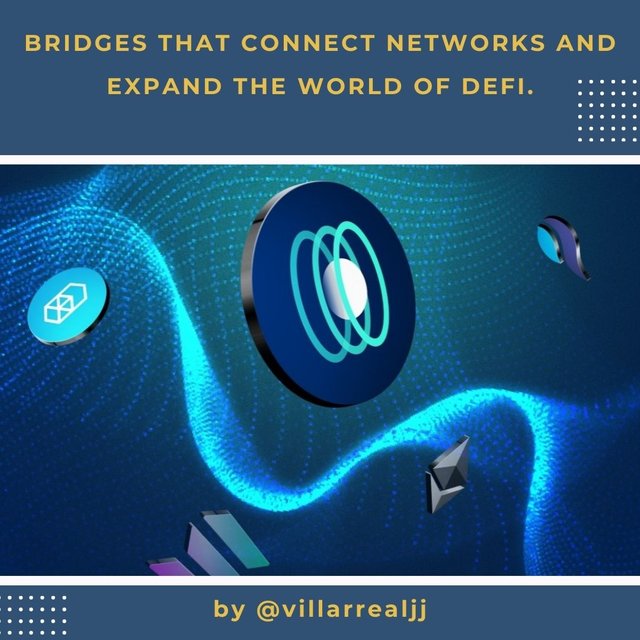 EDIT WITH CANVA
This time I want to comment on a very interesting topic for all of us who make life as crypto investors either in common activities involving the world of cryptocurrencies or as bloggers in some blockchain or even as a gamer in some play to earn.
---
It is common knowledge that the main networks for transactions are ethereum, smartchain, tron or polygon. More and more networks are joining the world of crypto-trading, giving crypto-investors more alternatives to choose from.
But it is also known that these networks can only operate among themselves, we can not cross from one network to another, only exchanges who manage multiple networks are the ones that allow us to work with one network or another.
Currently there are also bridges that allow us to exchange a currency from one network for another currency from a different network without the need to use an Exchange.
These bridges are becoming more and more common, such as the bridge we can see in nutbox to exchange the TSP token for STM or vice versa.
---
With all of the above I want to show you a talk between specialists in the area who held a virtual conference and talked about it.
---

---
The debate took place at a DeFi Conference panel with the participation of Jack Lu, founder and CEO of Wanchain; Alex Melikhov, founder and CEO of Equilibrum; John Patrick Mullin, co-founder of MANTRA DAO and SOMA.finance; and Dylan Dewdney, CEO of Kylin Network. The moderator was Nelson Merchan Jr., CEO of Light Node Media.
---
By way of introduction to the talk, all participants agreed on the importance of interoperability of networks for decentralized finance . In this sense, Jack Lu affirmed that a "common protocol" is necessary - and "is being worked" to achieve it - to be able to share information such as data and assets among the various public channels that exist. The barriers these chains pose is that they have different "languages" and cannot "talk" to each other.
For example, Alex Melikhov stressed the importance of the Ethereum network, "which is here to stay," and the need for other networks to connect with it and with each other in the same way. "Interoperability is really going to add value to these blockchains," he added.
---
How can this lack of interoperability be resolved in the future? Melikhov said that at Equilibrum, the company he runs, they are working on building "bridges" to link various blockchains in a way that could represent a "break" in the DeFi sector.
---
However, both John Mullin and Dylan Dewdney claimed that DeFi is still in an "early stage", or even in a testnet stage , according to the latter . As its development continues, decentralized finance "is going to become massive," they argued.
A first sign of this increased adoption has come from the business world. As reported by CriptoNoticias, the interest of institutional investors motivated digital investment managers such as Grayscale to launch exchange-traded funds that include cryptocurrencies.
---
However, there are still those who look askance at these new investment platforms , according to the speakers at the DeFi Conference. "After several years of multiple tests on DeFi, we know there are hackers out there, so it is going to take time for people to really trust these applications," said Jack Lu SOURCE.
---