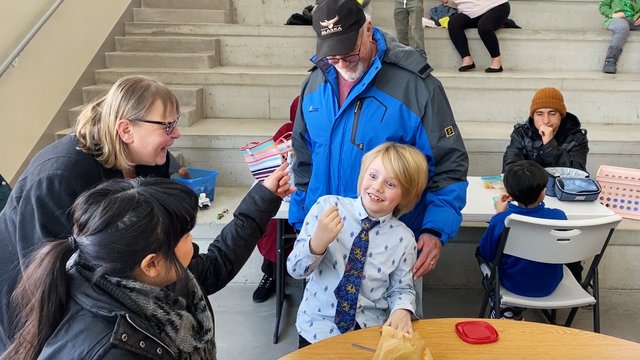 It's February and we're about half way through the month. Happy Valentine's Day to everyone just waking up. It's been a while since I've done a freewrite. Today was relentlessly busy. @bonni and my stepdad arrived in Minneapolis this morning, shortly after I dropped @guthrie off at school. For weeks, we've been keeping this trip a secret to the child. His school had an event today called "Lunch With A Loved One", where parents could come in and have lunch with their student. It just so happened that his grandparents' trip fell on the same day, so while he sat there eating, we surprised him with his Mimi and Grandpa. I got it all on film.
For the best week, my parents will be staying with us. My mom hasn't been here since last November, but Grandpa Hal hasn't been out in Minneapolis for almost three years. @guthrie loves them so much and eats all the attention they're able to give him. Typically, after they leave, he's extremely clingy showing signs of how spoiled he was. Today, after picking him up, we all went to our favorite Vietnamese restaurant, the back to @caffetto. @bonni loves the lattes and Grandpa polished off not one, but two mochas. I played @tarotbyfergus in a few games of MTG, then we came home for Family Fun Night and watched Indiana Jones.
There's a lot going on. As some of you know, I'm a Media Producer and visual artist at @eos.detroit. Tomorrow, Voice launches. I try not to think of it as a Steemit competitor, even though in reality, I know it is. I'm not near as tribal as some, and I think that's because in my heart, I know I'm Steemit through and through. Steemit was my gateway drug to blockchain, and the friendships I've made here, will last a lifetime. I'm curious about Voice. I want to see where they go. I'd love another outlet to earn something, anything for my art. We'll see. I have to finish some artwork for the launch tomorrow.
I mentioned on Twitter that when STEEM hits $0.25, I'm going to do a new Steemian vs. The Bear comic. That happened today, and as I write this, STEEM is closing in on $0.30. With Hive, Communities, and SMT's, I really think STEEM is one of the most undervalued currencies in the world. I hope people start realizing that. Man, if you've followed my silly Steemian vs. The Bear comics, how good is it going to feel to see our hometown protagonist finally getting some offense now that the winds are finally changing. I'll be hanging out with @roadscape in a few weeks, so maybe he can help me with the narrative.
This was just a quick check in. I wanted to post something, just to stay active. I'm going to try and do that during the evenings, even while my parents are visiting. Daily blog posts are good for my routine and my routine keeps me in order, mentally, creatively and psychologically. The rest of this week, I'm going to attempt to balance family time, work, editing, and the ongoing commitments I have to @coppercoins since our funding was reached. I want to get these comics in the mail soon. Thanks for reading and following me here on Steemit/@threespeak! Good night!
---
▶️ 3Speak