Why The Silk Road Case Matters to our Freedoms - An Interview with Lyn Ulbricht
---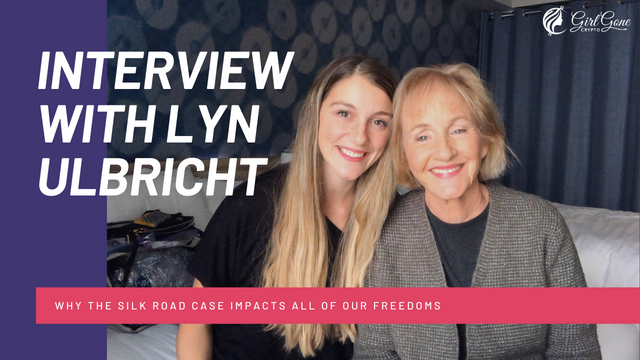 Hi Steem Family!
I had the awesome opportunity to be Lyn Ulbricht's roomate for World Crypto Con, but also to sit down and record a chat in our room about the Silk Road Case and how she has been fighting for her son, Ross Ulbricht's, freedom. This was actually the very first interview I ever did on my Girl Gone Crypto Channel and is arguably still the most important.
I realized that I don't have a good decentralized version of this video and with all the shadow banning and removing of videos on YouTube (there has been more issues this week) - it would be a real shame to lose this video.
Big thanks to @threespeak for offering a great solution for me to share my videos in a decentralized way where it can't get removed or shadow banned!
In this interview with Lyn Ulbricht, we quickly cover what the Silk Road is, and the story of Ross' sentencing - but we then move into discussing why his case matters - and why every American should care about the outcome.
Lyn and I discuss the eroding freedoms and how our criminal justice system has let us down. The fact is - if this can happen to Ross (a non-violent first-time offender) then it could happen to anyone.
"We're not supposed to be prisoned or condemned to die for our philosophical or political beliefs in the United States. This is not supposed to happen here."
Lyn also goes over in detail how the Silk Road case violates the 1st, 4th, 5th and 6th amendments.
I hope you enjoy my chat with Lyn!
Sign the Petition and Follow Their Efforts
https://freeross.org
https://www.facebook.com/freerossulbricht/
https://twitter.com/free_ross
https://twitter.com/realrossu
Sign the petition here:
https://www.change.org/p/freerosspetition-we-seek-potus-s-clemency-for-ross-ulbricht-serving-double-life-for-a-website-realdonaldtrump-free-ross
XO, Lea







Girl Gone Crypto Community
Steem Sister Show Community
FinallyFriday Community

---
▶️ 3Speak