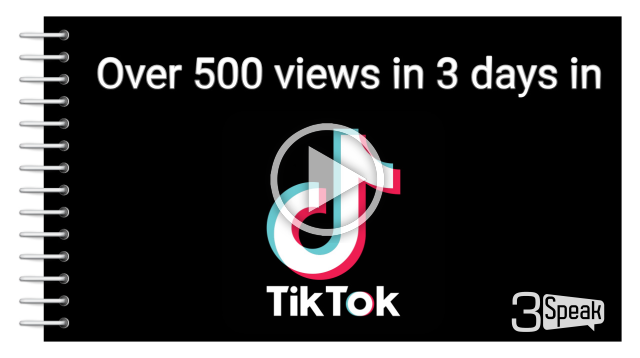 ---
In this video I shared how many views I've got from uploading videos on TikTok even without promoting them.
I never had such result being new in a platform.
I know that TikTok is hated by some other social media and maybe some politician. Maybe some steemians as well. I dont really know.
I'm maybe risking myself for steem and sharing a lot about TikTok, but I see it really a platform that's having a big potential to promote steem. Because they are supporting all types of content just like steem do. But they have crazy success and even actors and singers and a lot of powerful internet marketers are there.
I'll do my best to promote steem in TikTok, I just joined recently and I want to grow my followers there and to not start promoting right after joining. But, I advice you to join the service. Let's promote steem there.
---
Even @dexpartacus joined me there and I hope he will start soon to record videos there.
Thanks also to @xpilar who is willing to give upvotes to those who will join my movement.
You can also check here what I did and I'm still doing to promote steem.
Follow me in other social media and let me know how to find you so, I will follow back as well :
---
Facebook group , Twitter, Quora, Reddit, Youtube, Instagram, TikTok
Check also the traffic I generate in twitter to promote steem there :

Over 45k impressions, that mean those maybe all people who've seen my posts about steem.
---
▶️ 3Speak