178. Today in 1920s Turkey: 23 February 1928 (Advertisement for "Revolutionary" Forthcoming Issue)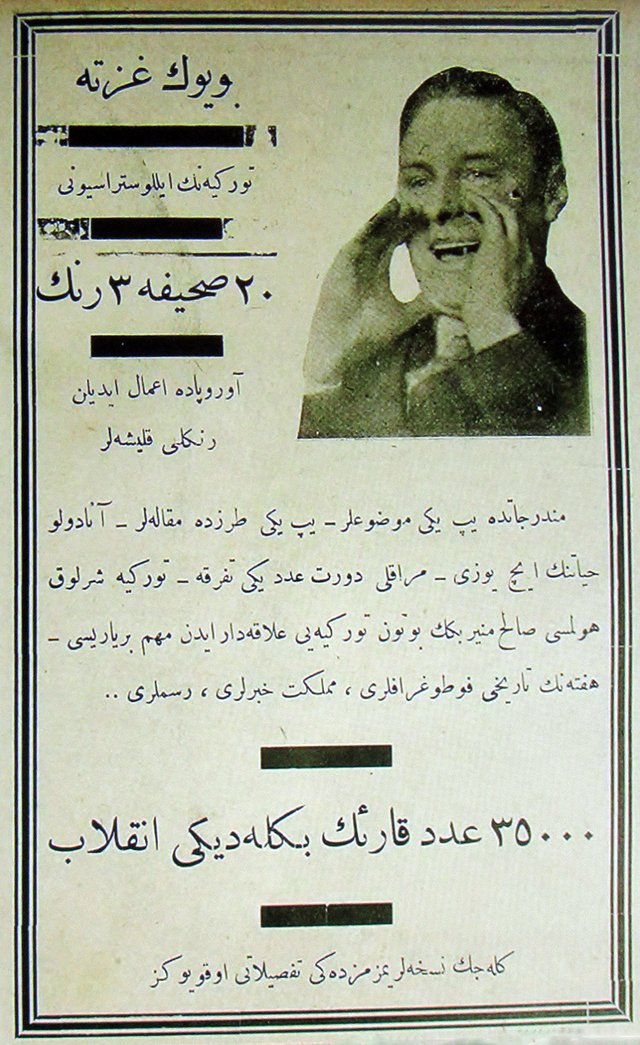 (Advertisement, Büyük Gazete or "The Great Gazette," 23 February 1928, no. 70, page 14.)
Türkçe
Büyük Gazete
Türkiye'nin L'Illustration'u
20 sahife 3 renk
Avrupa'da imal edilen renkli klişeler
Mündericatta yepyeni tarzda makaleler – Anadolu hayatının iç yüzü – Meraklı dört adet yeni tefrika – Türkiye Şerlok Holms'u Salih Münir Bey'in bütün Türkiye'yi alakadar eden mühim bir yazısı – Haftanın tarihi fotoğrafları, memleket haberleri, resimleri…
35000 adet karin beklediği inkilap
Gelecek nüshalarımızdaki tafsilatı okuyunuz
English
The Great Gazette
Turkey's L'Illustration
20 pages 3 colors
Color clichés produced in Europe
Totally new style of articles in its content – Inside life in Anatolia – Curious new installments to four (series) – An important essay that concerns all of Turkey by the Sherlock Holmes of Turkey, Salih Münir Bey– The week's historical photographs, news from around the country, and pictures…
The revolution that 35,000 readers have been awaiting
Read the full explanation in our next issue.
Comments:
Büyük Gazete or "The Great Gazette" was a weekly digest that was published in Istanbul and enjoyed a nation-wide circulation of 35,000 readers. The magazine was richly illustrated and always featured an attractive picture on its front cover to command the attention of buyers/readers and included at least one image per page. This is why the magazine proclaims itself to be "Turkey's L'Illustration"—a famous French illustrated gazette published in Paris. Many periodicals of the 1920s would run advertisements for their own publication or sister papers among their content and Büyük Gazete was no exception. The present advertisement announces the following week's issue with a combination of both image and informative text. The imagery consists of a photograph of a man from the bust up with his hands cupped to his mouth as he shouts out, presumably to the reader. This ad spans almost the entire length of the page and as such, is immediately noticeable.
The ad's text wraps is generously spaced and wraps around the image and in this way, is easily visible and legible. It includes different sized typeface, some in bold, arranged in lines that are separated by thick dividers. The text enumerates the many noteworthy attributes of the upcoming issue. Most striking among the cited specs is the revelation that the next issue will feature colored pictures produced in Europe. Indeed, all earlier issues, including the present one, had utilized only black ink. Similarly, the ad notifies readers of bonus content: instead of the standard 16 pages, the next issue will be 20 pages, that's a 25% increase! The announcement also includes a list of forthcoming stories. It is, however, careful not to give away too much information! Much like a shameless teaser for the evening news or click-bait headlines on the web, bits like "An important essay that concerns all of Turkey by the Sherlock Holmes of Turkey, Salih Münir Bey" claim that there is vital information coming right up… while still withholding the details of said critical information. The teasers, the imagery, and promised bonus features are some of the mechanisms by which commercial demand and desire is created and through which money is made.
Like what you see? Follow the "Today in 1920s Turkey" Steemit account @yasemin-gencer, or follow me on Twitter to receive notifications for new posts @1920sTurkey.