175. Today in 1920s Turkey: 13 January 1926 (Newspaper Reporters Should Not Write Lies)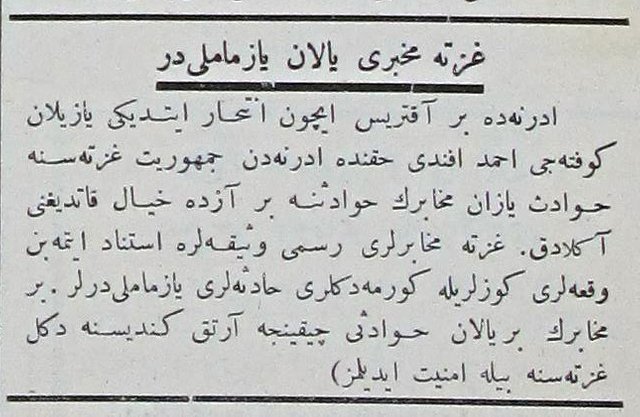 (Short blurb, Karagöz, 13 January 1926, no. 1860, page 4.)
Türkçe
Gazete Muhabiri Yalan Yazmamalıdır
Edirne'de bir aktris için intihar ettiği yazılan güfteci Ahmed Efendi hakkında Edirne'den Cumhuriyet gazetesine havadis yazan muhabirin havadisine biraz da hayal kattığını anladık. Gazete muhabirleri resmi vesikalara istinad etmeyen vakaları gözleriyle görmedikleri hadiseleri yazmamalıdırlar. Bir muhabirin bir yalan havadisi çıkınca artık kendisine değil gazetesine bile ehemmiyet edilmez.
English
A Newspaper Reporter Should Not Write Lies
We understand that a reporter from Edirne writing news for the newspaper "The Republic" added a bit of imagination into his story written about the lyricist, Ahmed Efendi who committed suicide for an actress in Edirne. Newspaper reporters should not write about events that they have not seen with their (own) eyes (or) that do not rely on official documents. Once false news comes from a journalist, neither he nor his newspaper can carry (any) significance.
Comments:
Content about journalism and the publishing business always interests me. The snippet offers a rather vague account of a "misinformed" news story that was embellished by its reporter and then printed by a prominent newspaper, Cumhuriyet (The Republic). The brief summary of the event is followed by a scolding which functions to dissuade (through shaming) other potential offenders from committing similar acts of dishonesty. As far as journalistic integrity is concerned, both the reporter and newspaper bear the responsibility for spreading factually incorrect information. This note draws our attention to the importance of reliability, trust, and reputation—all of which can be damaged, permanently, with such acts of carelessness. Indeed, since there are various rivalries and other industry dynamics between publishing houses and their respective news organs, the Turkish press is keen on airing this kind of dirty laundry and keeping each other honest and upholding journalistic standards, within certain parameters.
Like what you see? Follow the "Today in 1920s Turkey" Steemit account @yasemin-gencer or follow me on Twitter to receive notifications for new posts @1920sTurkey.