Japanese Store Network
Japanese traders choose to shop around because if renting a small shop will increase the cost and impact the increase in the price of their merchandise. After being able to collect money from the merchandise, they usually open a shop, known as the Japanese Store.
"Called the Japanese Store because the store manager is Japanese. The term is commonly used and this mention distinguishes it from stores run by Chinese immigrants or others, "said Meta historian Sekar Puji Astuti.
This is what Tsutsumibayashi lived. To raise capital, he trades around with young men he invites from Japan. They live disciplined and potluck with a kettle and cups, and eat rice once a day.
After enough capital, Tsutsumibayashi opened a shop under the name of Nanyo Shokai (Southern Ocean Shop) based in Semarang. In 1912, its trade network was able to open branches in nine places such as Batavia, Bandung, Cilacap, Purworejo, and Blitar. Between 1916-1918, he opened a warehouse to stock stockpiles from Tokyo, opened a subsidiary of the export-import business of crops, and bought a land area of ​​3000 hectares. At that time, the company's assets reached 15 million yen with 38 Japanese stores incorporated in Nanyo Shokai.
"Nanyo store at that time could be said one example of a successful Japanese shop in Java," said Meta. Merchandise sold in Nanyo Shokai are ceramics, medicines, fabrics, and textile products.
Another network, Kaneko Kaneko's Kaneko Shop, spreads in almost every small town of Central Java, even its branches are in Makassar and Manado. Kenko Kenji's father-in-law, Sawabe Masao, owns Fuji Yoko, Japan's largest store in Yogyakarta and its branch in Surakarta is popular among aristocrats. Other Japanese shopkeepers include Otomo Shintaro (Otomo Shop / Otomo Shoten in Tegal), Tamaki Choichi (Daruma Shop in Jakarta), Kida Eiji (Kida Shop in Bandung), and Nakagawa Anjiro (Okazaki Shoten Shop in Malang).
According to Nawiyanto in the Sunrise and Bamboo Curtain: Japanese-Chinese Trade Competition, it is very likely that there was an increase in Japanese population in the Indies due to the growth of Japanese shops on the island of Java. In 1914 there were 74 shopkeepers and 144 Japanese working as shop keepers, while 56 were trading around. In 1933 Japanese shopkeepers increased to 543 people in Java, mostly in Central Java and East Java.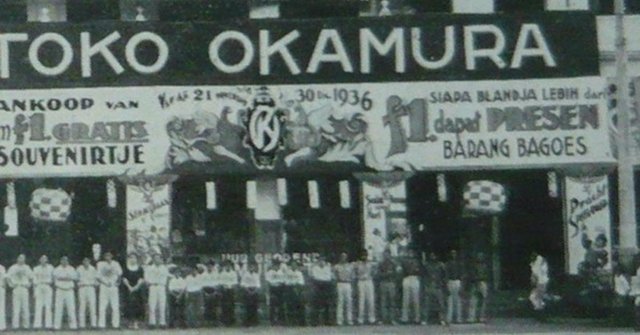 Toko Okamura di Kramat 4 Batavia. Source
"The 1935 colonial report reveals that Japanese shops continue to mushroom all over the island," Nawiyanto wrote.
Until the early 1940s, according to Meta, the chain of Japanese stores grew quite rapidly. This led to the establishment of the Japan Society Association (Nihonjinkai) in 1913 in Batavia. This year there are 296 associate members who are mostly Japanese store owners or managers.