St. Edwin Of Northumbria And His Chief Men Converted To Christianity On 12 April, 627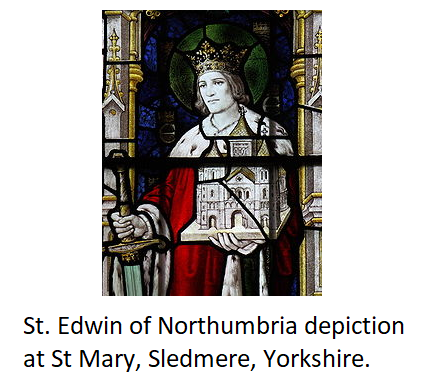 SOURCE
Edwin (c. 586 – 12 October 632/633) was the king of Deira (Celtic kingdom in Northern England) and Bernicia (Anglo-Saxon kingdom in what is now southeastern Scotland and North East England) – which later became known as Northumbria – from about 616 until his death. He was venerated – after his death – as a saint by some.
His half-Merovingian Queen and the letters from Pope Boniface V could have played a role to his conversion to Christianity. He and his chief men were baptised on 12 April, 627.
His renown comes largely from Bede's writing from a Christian perspective. Bede also recounts Edwin's baptism and says that Edwin's zeal led to the conversion of Eorpwald.
REFERENCES
Edwin of Northumbria