Insatiable Kennedy "Among his mistresses were Hollywood stars, and strippers, and spies"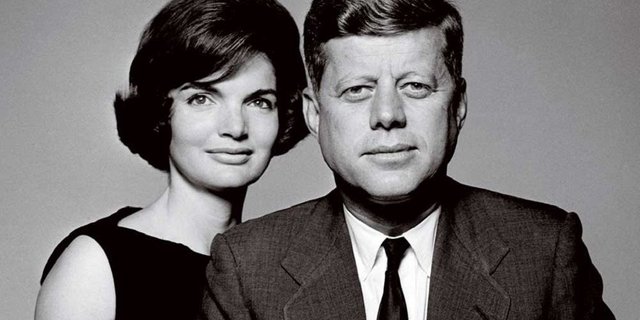 "Do not ask what your country can do for you, ask what you can do for the country" - these are famous words from the inaugural speech of the new US President John F. Kennedy. Mind, charm and tricks he had not taken away. It is not strange that he quickly became one of the most beloved politicians. Especially among women ...
reciprocated women
"Kennedy slept with almost every person who ever wore a skirt," said FBI Chief John Edgar Hoover (1895-1972). US Senator George Smamers (1913-2007) stated that no woman could feel safe in front of the president. It doesn't matter who they were: wives, daughters, mothers or screen stars. Women simply adored the gallant, intelligent and influential John Fitzgerald Kennedy (1917-1963). He answered them in return.
Without sex fell into depression
"In the streets of Washington a cabriolet rushes with the roof down, there is a cheerful young man with hair growing in the wind. He can choose any of the beautiful and elegant women of the city or the neighborhood." That is how the American press described the life of a young congressman Kennedy. This is not entirely true. "I get depressed if I manage to seduce a woman less than once every three days," John told his close friend. In addition, he complained that without regular sex he had a headache. However, he understands that if he wants to achieve something in politics, he must calm down. In 1951, the 22-year-old beauty Jacqueline Bouvier (1929-1994) suddenly appears in his life. Oh miracle! Young Lovelace falls in love for real!
Instead of flowers, presented a book
During a party in the Georgetown elite district of Washington, John is sitting on the sofa next to Jacqueline. This young lady charmed politics. "She was physically attractive, intelligent and charming, even though she came out of a respected Catholic family," American historian Robert Dallek lists its merits. Perfect partner. "He called me once from a bar and invited me to the cinema. He did not belong to the type of men who bring chocolates and flowers, he gave me a book." John joined with her not only for political reasons - he really was in love with her. When she appeared, he flourished. "It was visible in his eyes, he looked at her and watched what she was doing every minute. Jacqueline really interested him, which could not be said about other women," said his friend John Charles E. Spadling (1918-1999) .
Two lone icebergs
Many friends discouraged Jackie from romance with a famous womanizer. "You can flirt with him, but this is not the person whom a woman can invite home and present to her mother." But Jacqueline is in love. "We were like two lonely icebergs with our inner life. Each of us felt that the other was very similar, and that we had a lot in common," Jacqueline later recalled.
Happy couple...
Catholic Church in Newport, September 12, 1953 - hundreds of invited guests. The whole country, the whole world will speak about this wedding! Everyone is watching the 36-year-old Kennedy and his 23-year-old darling walking toward the altar. She looks beautiful - dressed in a dress of ivory silk and taffeta, holding a bouquet of pink and white orchids in her hands. The groom shines with happiness. Not only by the fact that he marries the beautiful Jacqueline, but also by the fact that he was recently elected senator in the US state of Massachusetts. He expects a wonderful political career. "Finally, I know exactly what ecstasy is," John sends a telegram from his Mexican honeymoon to Acapulco on the Pacific coast to his parents. "Jackie will remain in my heart forever. Thanks to mom and dad that I deserve her."
... just outside
Behind the smiles that the young couple do not regret for the public, lurking excitement. Jackie is very hard on the novels of her husband. He is cheating on her wherever he can. "Jackie was not ready for such humiliations that fell on her when she was alone at parties after Jack disappeared with a pretty girl," wrote Kennedy's friend Lem Billings (1916-1981). But the discontent of his wife, of course, are not the reason for John to stop his love affairs. In the summer of 1956, when Jackie was already pregnant, he set sail on a yacht to the Mediterranean Sea. During the cruise, she refuses to have a female society, new girls appear on every wharf ... During the entertainment she receives a message that Jackie had a miscarriage. "Divorce will have disastrous consequences for your presidential ambitions," his friends warned. Only after these words will he return home to his wife. Two years later, he will say to his brother Edward (1932-2009) at his wedding: "Being married does not mean that you have to be faithful to your wife."
People worship the first lady
In the October 1960 presidential election, Kennedy defeats rival from the Republican camp of Richard Nixon (1913-1994).
Clever and beautiful Jacqueline quickly found the love of Americans, who affectionately called her Jackie. Together with her, the White House is entering a new style of furnishing, clothing and festive feasts. The first lady became a symbol of elegance and style. Simple dresses without sleeves, white gloves, short coats, pearls and big round glasses - legends still tell about her style, which was ahead of time.
Every time President Kennedy appears in public without his wife, everyone asks about her. Kennedy himself, during a trip to France at the end of April 1961, joked about this: "I am a man who accompanies Jacqueline Kennedy during her trip to France."
White House as a place of debauchery
John's interest in women as president has not diminished at all, on the contrary. Novels for Kennedy have always been a form of entertainment, moreover, they helped to reduce the constant tension that accompanied him.
Although Jacqueline in public and looked pleased, she arranged for her husband more than one scene. To no avail. Kennedy's mistresses included Pamela Tomei, his spokesperson, and other women from the White House, especially the secretaries and interns. Famous Hollywood beauties will also be in his hands, for example, the charming Marilyn Monroe, Audrey Hepburn or his star Marlene Dietrich, 16 years older. He did not disdain even strippers and prostitutes.
Runaway Lovers
There was a passionate affair with Mariela Novotna. She claimed that she was the niece of the President of the Czechoslovak Socialist Republic Antonin Novotny (1904-1975) and worked as a prostitute and stripper. "Mariella was beautiful as a mermaid, had thin thallia and in bed she can be described as a sexy athlete," one of her friends said about her and added: "She knew all the secrets of sex, and most importantly, could offer them." Mariella quickly came to the attention of the FBI. After being accused of pimping, she was sent to Great Britain, where she continued to engage in prostitution and made many British ministers happy. At the end of her life, she claimed that she worked for the British secret service and her mission was to discredit Kennedy. Until today, it is unknown - is it true. In February 1983, she was found dead in her bedroom, and her diaries of that time disappeared without a trace. However, this was not the only mistress who was suspected of contacting the secret services. At the presidential parties near the pool and their continuations, the love of the president was also dealt with by the dark-haired beauty Helene Romech. "It was the best sex I've ever had," Kennedy said. Helen, most likely, shared secrets from her bedroom in the White House with the East German Stasi. Therefore, the FBI tried to make it quickly leave the United States.
Don't take off dresses
"If someone shoots me out of the window, I can't do anything. So why be afraid?" Kennedy said these words to his wife on an airplane on his way to Dallas on October 22, 1963, where he flew as part of the presidential campaign before the next year's elections. After a few hours, three rifle shots cut short his life. "They killed my husband! They shot him in the head!" - screamed shocked Jacqueline.
She refuses to change her bloody dress with the words: "I want everyone to see what they did to Jack."