Read the intro on Old Christmas traditions here.
In North Carolina's Outer Banks, there is a legend of a wild bull, who terrorized the town of Rodanthe. Eventually, this legend spread across the barrier islands and became an iconic part of Old Christmas celebrations here. First everyone would get together in the afternoon and roast oysters, eating their fill and filling a bushel basket that would be taken home by one lucky family. After sundown, a chicken and pastry feast would ensue, followed by music and dancing. Later, after all the revelry, Santa would appear and hand out gifts, but Old Buck was the real star.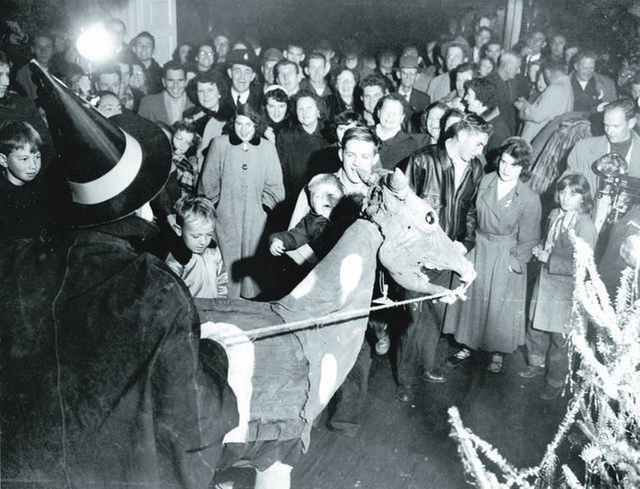 After the music gets going and folks are all dancing, the ghost of Old Buck (really a man in a costume) would come barreling in, ready to crash the party like in the tales. Since at least the 1940's Old Buck has been making appearances at Old Christmas feasts, where he dances and runs amok. An uproar ensues, with revelers being chased and in turn chasing the mad bull down. Everyone wants to be the one who finally tackles Old Buck to the ground!
Here is the only video I could find...it seems that Old Christmas celebrations might not be as raucous as they once were in Rodanthe!