History of a Motorcycle Brand: Yamaha Motor Co.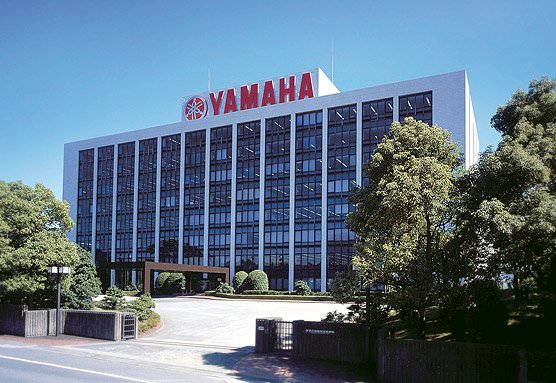 On November 7, 1953, a confidential directive was given to the executive officers of Nippon Gakki, the forerunner of YMC, by President Genichi Kawakami. The directive instructed the company to produce a prototype motorcycle engine. This required working with some five or six types of engines and selecting one from that group to develop into a product. The goal was to launch full-scale production in one year.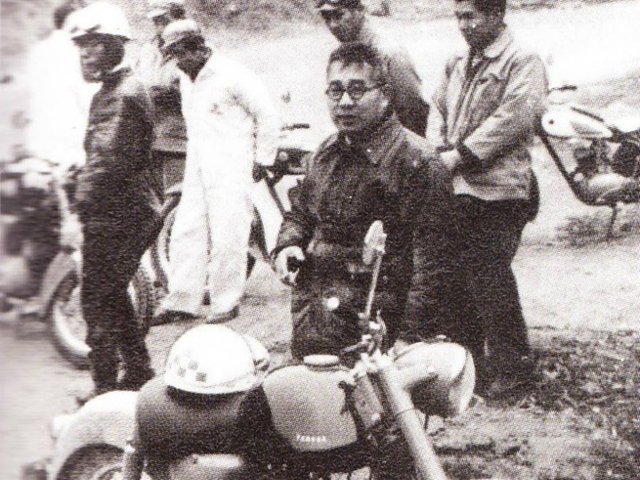 Founder of Yamaha Motor Company, Genichi Kawakami
In the 1950's when Japan was first embarking on the road to recovery, there were countless companies entering the motorcycle industry. At one point, the number of companies swelled to 204. However, a shakeout had already begun by the time President Kawakami suggested producing motorcycles, and there were some doubts in the company about whether it would really be possible to be successful entering the market so late in the game.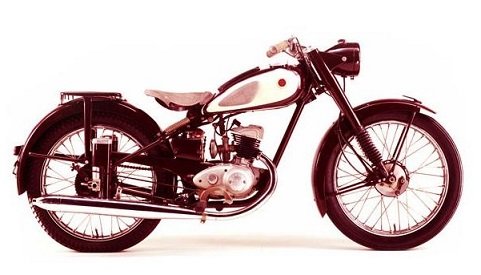 Yamaha's First Motorcycle, YA-1
The Japanese name for YA-1 was 'Aka-tombo', meaning dragonfly.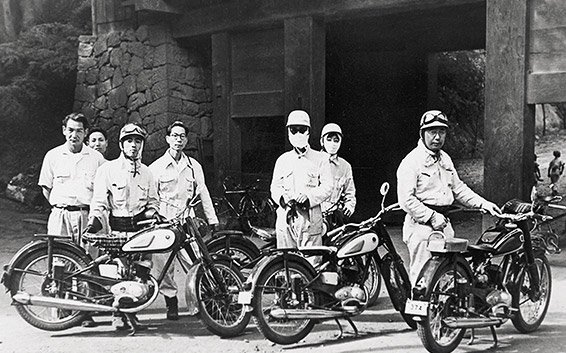 YA1 driving test, which also served as an inspection of the Asama course
With a 30 million yen initial capital, 274 employees and two single-storey wooden factory buildings that could produce 200 motorcycles per month, this young and inexperienced company dared to stand up to their opponents and this was a challenge that molded the company's struggle spirit. Yamaha's first race with YA-1 was Fuji Ascent Race (Fuji Mountain Climbing Race). They won it. Since then, Yamaha have progressed from one struggle to the next with a team spirit, sharing the triumphs and failures.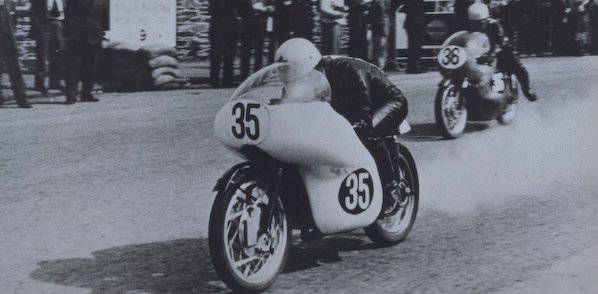 Yamaha Team First Participation in Isle of Man TT Race - 1961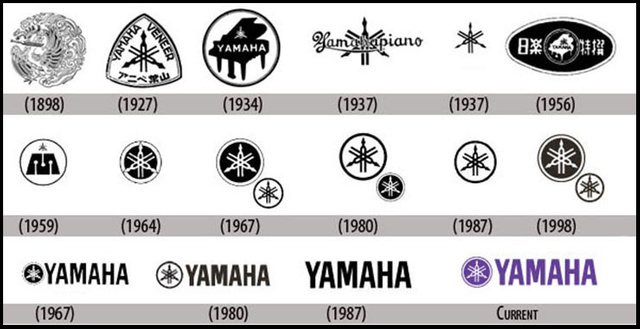 Historical Yamaha Logos
Chronological Order of Famous Yamaha Motorcycles
1955: During World War II, Genichi Kawami, president of the company, realized that a cheap transportation vehicle was needed to rebuild Japan (more than the piano)! Yamaha's first motor product was the YA-1 Motorcycle. This was a 125cc, two-stroke, single-cylinder street motorcycle modeled after the DKW RT125 (just like BSA Bantam and Harley-Davidson Hummer.) The Yamaha YA-1, nicknamed "Red Dragonfly" .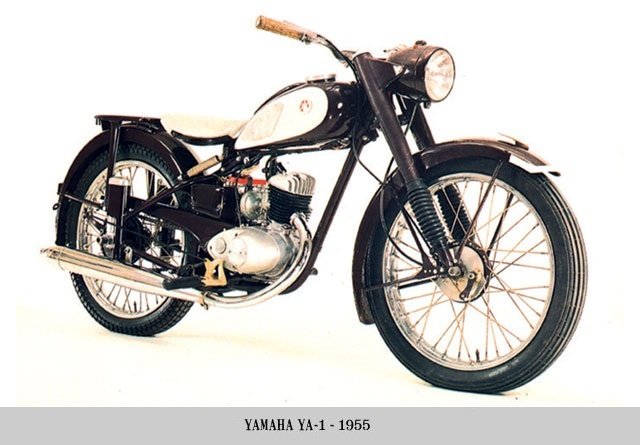 1957: The 250cc twin cylinder YD-1 was the development of another German motorcycle named Adler.
1958: The first Yamaha motorcycles in America were sold by Cooper Motors, an independent distributor. Modeller, YD-1 (250cc, two-stroke, double-cylinder street motorcycle) and MF-1 (50cc, two-stroke, single-cylinder easy rideable street motorcycle).
1959: The YDS-1 was using an improved YD-1 engine in a double-slide chassis (previous version had a pressed steel backbone). The YDS-1 has designed the design of two 20-year-old sporty Yamaha two-stroke-twin-cylinder motorcycles in front.
1964: Phil Read earned Yamaha's first World Championship at 250cc.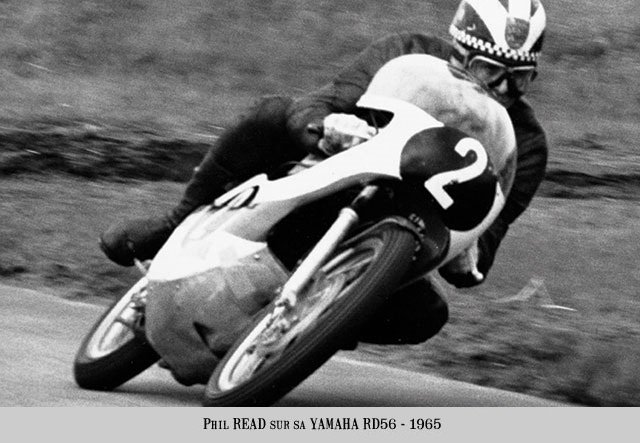 1968: The DT-1 Enduro, the world's first dual-purpose motorcycle, was introduced in May.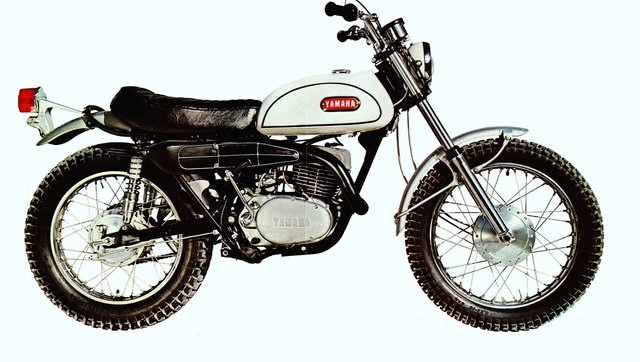 DT-1 Enduro
1970: Yamaha's first four-cycle motorcycle model, the XS-1 (650cc vertical twin cylinder), was introduced.
1976: The legend XT500 was born. This great terrain motorcycle bang the final nail to the coffin of the old English saying. "Even the Japanese can make a better 500 single cylinders!" In the fourth year of production, the XT500 won the first Paris-Dakar rally.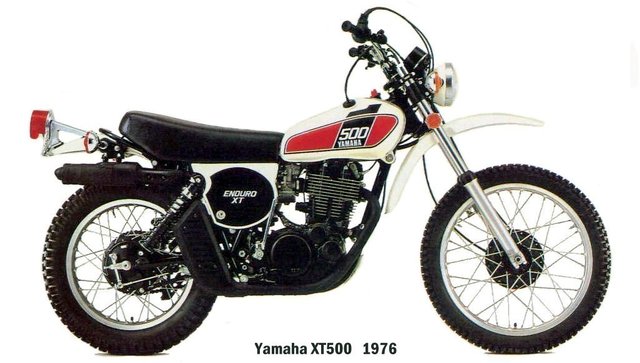 1985: V-Max 1200 muscle-bike entered the streets. With a claimed power of 145 hp, it set a new motorcycle standard.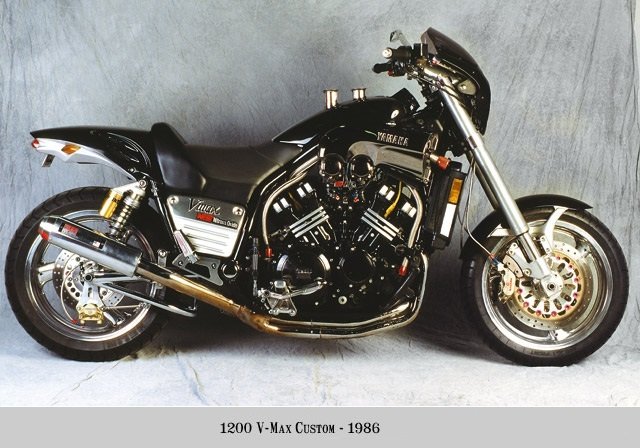 1993: The aggressive GTS1000 hit the market with electronic fuel injection, and a hub-centered steering wheel designed by James Parker. Consumers had difficulty in recognizing innovation and are opposed to high prices.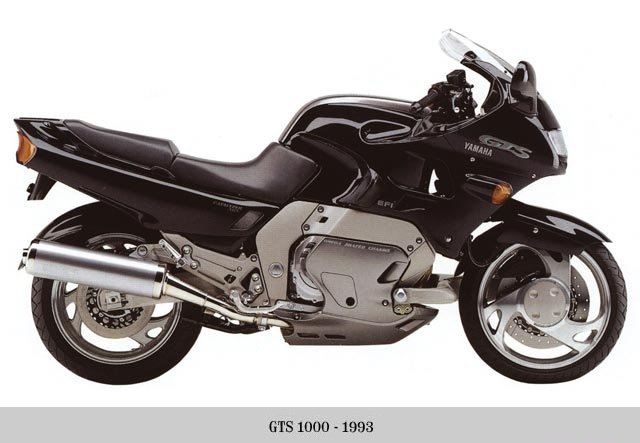 1996: Yamaha introduces its first Star model with 1300cc V-4 Royal Star.
1998: The YZ400D four-stroke motocross is introduced. This was the first mass production four-cylinder motocross model. Doug Henry won a AMA Outdoor Motocross Championship with it when the bike was a prototype in the development phase. When the production model was sold to the public, the two-stroke 250cc bikes were sentenced to death.
1999: YZF-R6 introduced.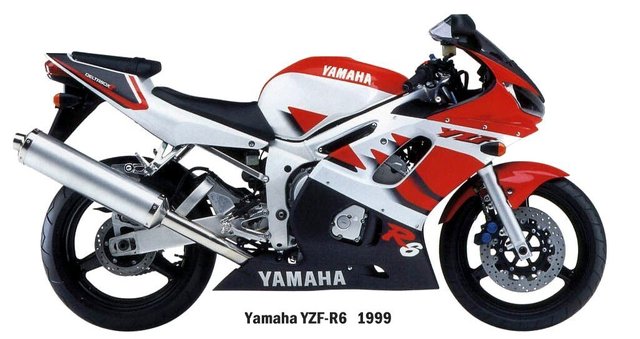 2009: With an incredible development phase of more than 20 years, Vmax finally has a 1700cc V-4 engine, with a claimed 200 hp power.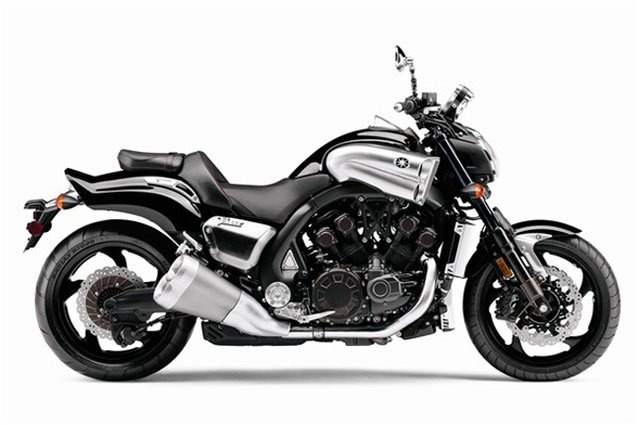 2009 Vmax
2015: Completely renovated YZF-R1 released. R25-based naked MT-25 was offered. Tracer 900 has been added to the Sport Touring class. The Racer version of the XV 950 is available.
2016: MT-10 for the Hyper Naked class, SCR 950, XSR 900 and XSR 700 for the Sport Heritage class, and Tracer 700 for the Sport Touring class.
2017: Renewed YZF-R6 with R1 inspired. The YS 125 is the renewed version of the YBR 125.
2018: Renewed YZF-R1M released.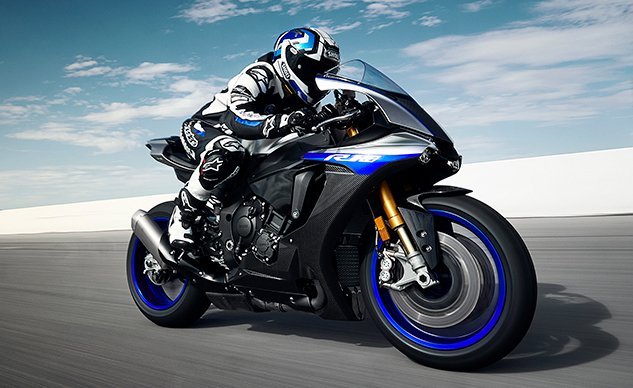 I am thinking about creating more content about motorcycle companies' history.
Hope you fellow Steemers liked it.
Thanks for reading!