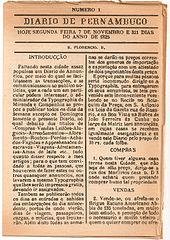 Diario de Pernambuco , founded in November 1825 is the second oldest circulating newspaper in South America, after El Peruano , founded in October of that same year.
In Boston in 1690, Benjamin Harris published Publick Occurrences Both Forreign and Domestick. This is considered the first newspaper in the American colonies even though only one edition was published before the paper was suppressed by the government. In 1704, the governor allowed The Boston News-Letter to be published and it became the first continuously published newspaper in the colonies. Soon after, weekly papers began publishing in New York and Philadelphia. These early newspapers followed the British format and were usually four pages long. They mostly carried news from Britain and content depended on the editor's interests. In 1783, the Pennsylvania Evening Post became the first American daily. [17] Yet, paper during this time was a scarce textile to come by. As a result, many newspapers were published using old rags, thus coining the term "colonial rags" as a nickname. [18]
In 1752, John Bushell published the Halifax Gazette , which claims to be "Canada's first newspaper." However, its official descendant, the Royal Gazette , is a government publication for legal notices and proclamations rather than a proper newspaper; In 1764, the Quebec Gazette was first printed 21 June 1764 and remains the oldest continuously published newspaper in North America as the Quebec Chronicle-Telegraph . It is currently published as an English-language weekly from its offices at 1040 Belvédère, suite 218, Quebec City, Quebec, Canada. In 1808, the Gazeta do Rio de Janeiro [19] had its first edition, printed in devices brought from England , publishing news favourable for the government of the
United Kingdom of Portugal, Brazil and the Algarves since it was produced by the official press service of the Portuguese crown.
In 1821, after the ending of the ban of private newspaper circulation, appears the first non-imperial printed publication, Diário do Rio de Janeiro , though there existed already the Correio Braziliense , published by Hipólito José da Costa at the same time as the Gazeta , but from London and with forcefully advocated political and critical ideas, aiming to expose the administration's flaws. The first newspaper in Peru was El Peruano , established in October 1825 and still published today, but with several name changes.


@mrshahriar