Just imagine, coins that you use in many ways, that you never pay your attention and have taken for granted, may one day cost million dollars. United States has more than 200 rare coins and each valued at more than $1 million.  The estimated total cost of all these historic coins is around $550 million.  At present, fifty percent hike in the value of these rare coins has been recorded in couple of years.
The value of the coin depends on its rarity.  So, here goes a list of ten coins that are rarely found in the world.
1. Double Eagle 1849 – $20 million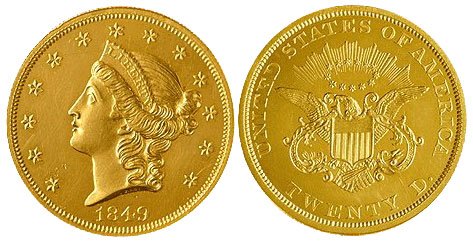 Credit: imgur.com
The United States Mint, which is located in Philadelphia, made this exceptional coin in 1849 during the beginning of the California gold rush.  The face value of this rare coin was $20 when it was released. Just a few years ago, it was valued at around $15 million. And just after a year, its price has increased by a third.  This rare coin can be available at the Smithsonian Institute's National Numismatic Collection. 
2. Half Union 1877 – $15 million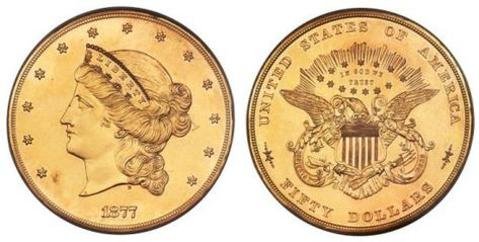 Credit: imgur.com
The Half Union, gold pattern coin, was created in 1877 in denomination of $50. A few years ago, its price was estimated to be at $10 million each. Since then, it has hiked by 50 percent. 
3. Saint Gaudens 1907 – $8.5 million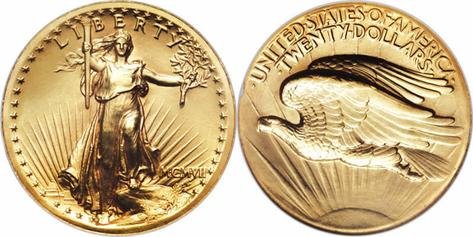 Credit: imgur.com
Saint Gaudens coin was produced in 1907 in denominations of $20. The Smithsonian holds two copies of this rare coin.  
4. Silver Dollar 1794 – $7.85 million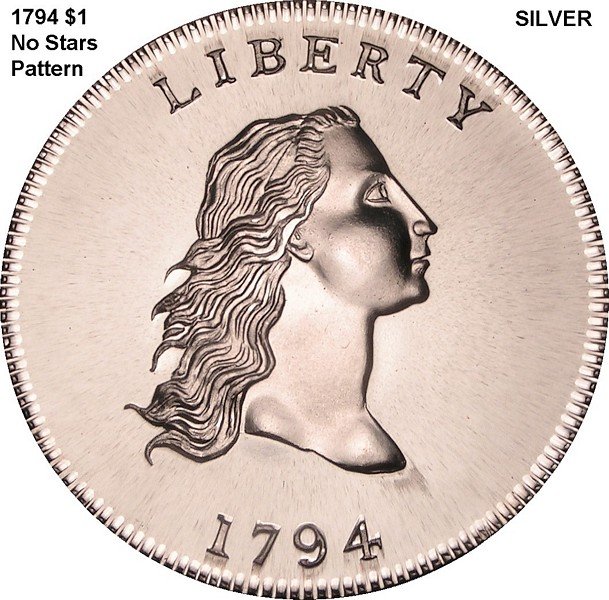 Credit: imgur.com
This coin is supposed to be the first Silver Dollar coin which was created by the United States Mint in 1794. It is also recognized as the flowing hair dollar. A private collector holds this most expensive and extremely rare coin.  It is also considered to be a veritable national treasure. 
5. Double Eagle 1933 - $7.59 million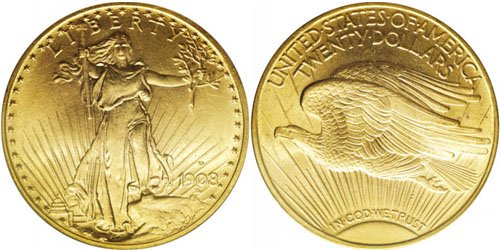 Credit: imgur.com
4,45,000 specimens of the Saint Gaudens gold double eagle coin was produced in 1933. This coin was also created the last year. Unfortunately, the circulation of 1933 double eagle coin was stopped after government decided to end the use of gold standard coin in that year and almost all coins were melted down. Some coins may have been saved. And one of those coins was sold for $7.59 million in an auction.  
6. Silver Dollar 1804 - $7.5 million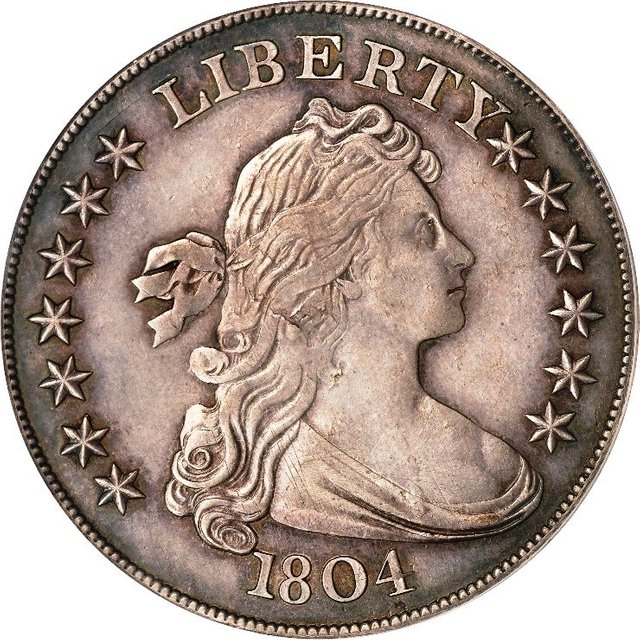 Credit: imgur.com
Only 15 specimens of this silver dollar were ever produced in 1834. In 1836, the Sultan of Muscat got a diplomatic gift, which was original or A Class I silver dollar, from the American ambassador in behalf of then U.S. President Andrew Jackson. This coin is currently estimated to be $7.5 million with proof 68. A similar coin, which belonged to the same class and the same batch of gift to the Sultan and produced in the same year, is now valued at $6.5 million with proof 67.
7. Half Eagle 1822 - $6 million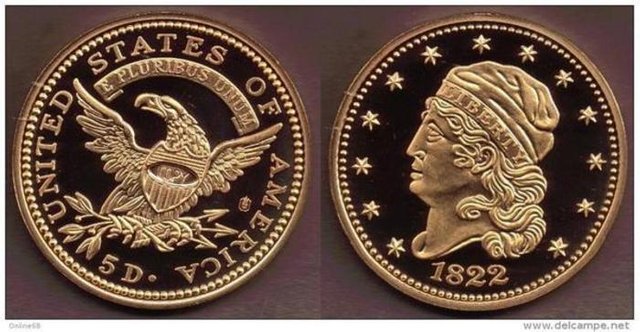 Credit: imgur.com
This Half Eagle coin, which has an estimated grade of 45, was minted in $5 denomination in 1822. Only three gold coins among 17,796 specimens are known in the numismatic world.  The Smithsonian has two of those three gold coins.    
8. Liberty Head 1913 - $4.5 million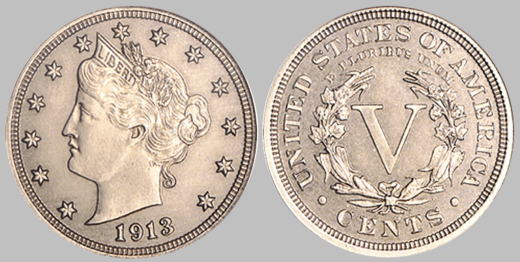 Credit: imgur.com
The Liberty Head coin was minted in 1913. It is actually a 5-cent coin and was ever created a limited quantity. Reports prove that it was minted without the approval and authorization of the United States mint.  In 1972, this coin was valued at more than 100 thousand dollar. Just after 24 years, it was estimated to be at $1.485 million in 1996. It is believed that there are only five Liberty Head coin to be in existence. Two coins are kept in a museum and the other three are held by private collector. In 2010, one of five coins was sold for $3.7 million dollar in an auction. And the same coin is now valued at $4.5 million.    
9. Queen Elizabeth II Million Dollar Coin 2007 - $4 million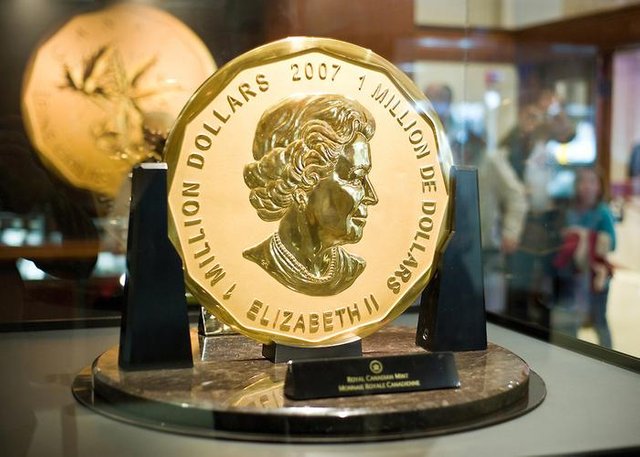 Credit: imgur.com
Queen Elizabeth II Million Dollar coin was created by the Royal Canadian Mint in 2007. The face value of this coin is one million dollar, which is below the value of the coin's material. That's because it is produced using the finest, purest and refined gold at 999.99/1000 gold. The coin needs two fairly built men to lift it up due to its heaviness. Its diameter is 53 centimeters and weight is 100 kilos. The coin has the image of Queen Elizabeth II and three maple leaves at the back, which is known as the national symbol of the North American Country.
10. Brasher Doubloon EB on Wing 1787 - $2.415 million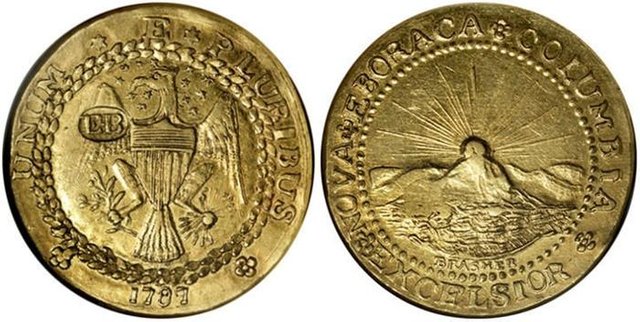 Credit: imgur.com
This gold coin is created by the goldsmith Ephraim Brasher. The coin displayed an eagle, including the goldsmith's signature printed on its wings. 
If you find my article informative, then follow me: @mgibson
#history     #story    #life    #beyondbitcoin    #cryptocurrency