The United States Camel Corps, and the Wild Arizona Camels
For years my extended family from Arizona have talked about the rumor that wild camels live in the desert near their home. When asked where those camels came from they don't really have anything more specific to say than 'years ago someone tried to import them to work in the U.S. desert'.
While their details aren't spot on, they are not entirely wrong. The U.S. Camel Corps was an experiment of the U.S. Army to try to adapt camels for use in the deserts of the south west United States. The first record of camels being imported that I can find was a shipment to the U.S. in 1855-1856. It appears, given the news headline below, that a number of the camels escaped within just a few years of arriving.
The Weekly Arizonian Apr 14, 1859
"A Lot of camels belonging to the United States Government, lately strayed away from Beale's Ranche, on the Colorado, and at last accounts had not been recovered. There were over twenty in the herd, and it is feared they have fallen into the hands of the Mohave Indians."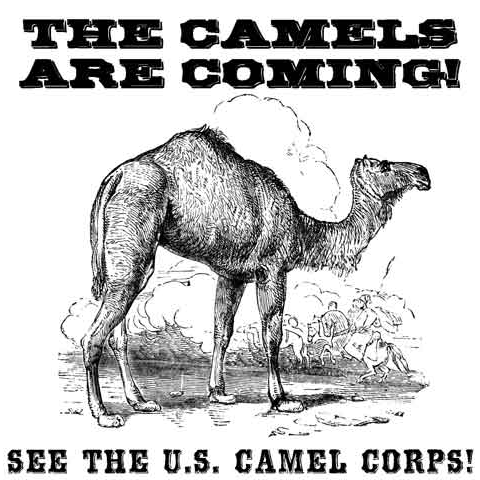 The Camel Corps was ended around the time of the outbreak of the U.S. Civil war, and it appears that the remaining camels were sold to private citizens. Camel sightings were reported throughout the 20th century, and some people swore that they had seen the creatures as recently as the 1970's. It is unlikely that any of the remaining escaped camels offspring are still living in the south west United States, but whenever I'm driving through Arizona I look out into the desert hoping to see one loping along.