Mystery of the Gawai in Ancient Painting, Evidence of Time Explorers?
Hallo steemian lovers...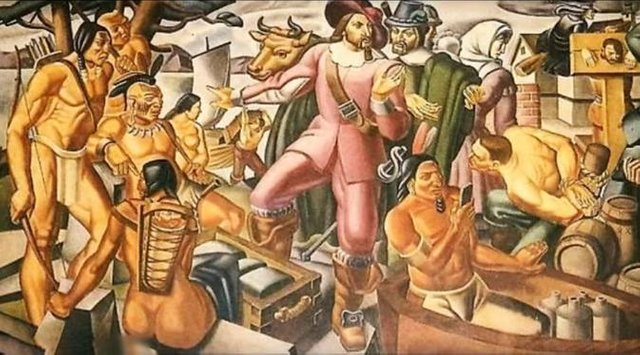 The painting is entitled "Mr. Pynchon and Settling of Springfield," which was made by Italian artist Umberto Romano in 1937. The painting always sparked public debate over the passage of time.
If we look closely, we will see a native American holding what seems like a device. The appearance of the object and the way the man held it showed that it was indeed a device.
The Painting Set in the 17th Century
The painting depicts a scene from the 17th century, when William Pynchon, who was the founder of Springfield, Massachusetts, was surrounded by Native Americans.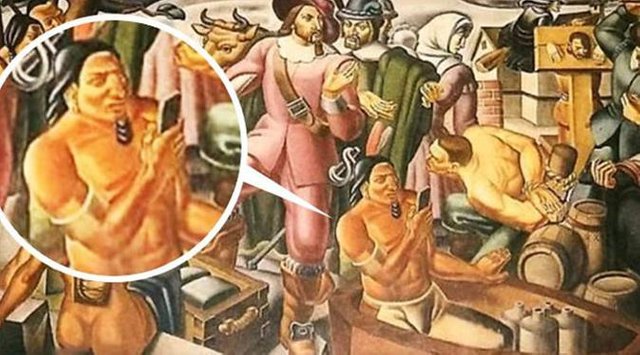 The painting is set 400 years ago, if calculated from the year Romano painted the work or 480 years from the current year. While the mobile phone was discovered in 1973. This certainly makes us confused, because in the year Romano paint has not found a mobile phone or a device.
However, historian Daniel Crown believes that Native Americans are only interested in a "mirror", one of the property of Pynchon's possessions.
"For Native Americans, a mirror is a symbol of riches and pride," said Edwin L Wade, an indigenous cultural specialist, quoted by Beyond Buckskin. So it can be said what the native Americans held is a mirror.
Unfortunately, Romano died in 1982. He has left behind a painting full of mystery and confuses many people.
---
Upvote, comment, and reestem
---