Howdy folks and greetings from the Great Plains of North Texas!
We're in a series about one of the best Texas Rangers to ever wear the badge, the great Frank Hamer, who was brought out of retirement to take down Bonnie and Clyde.
Recap
In the last post Frank and Gee McMeans or McUgly as I call him, finished their fight with McMeans himself being finished. Frank was badly shot up though and in excruciating pain from being shot in the leg and shoulder.
McUgly's henchman, Red, was running down the sidewalk away from Frank when we ended the post.
Today's story
When Frank's brother, Harrison, heard all the shootin he ran back to the garage as fast as he could. He arrived just in time to see Red running away so he grabbed his Winchester rifle from the car and took dead aim at Red's back.
Frank says, "Don't! Not in the back." Red ducked into a restaurant and Harrison gave chase but couldn't find him. Later when he was asked why he didn't shoot Red in the back Frank just said, "I couldn't shoot the damned coward in the back."
Red was lucky it was Frank
Even in the heat of battle and full of fury he had honor. The Sheriff arrived a few minutes later and arrested Frank, Harrison, Gladys, and Rocky. Rocky?!
I don't know why they would arrest Rocky but then we have no photos of her, maybe she looked like a killer. lol. (Rocky was Gladys's sister-in-law).
The Sheriff confiscated all the guns too: Seven revolvers, three rifles, two shotguns, and two semi-automatic pistols!
They all went to jail except Frank who was carried to the courthouse where a doctor treated him but couldn't get alot of the metal out of his shoulder. Then they sent him to jail too.
Quite the medical treatment they gave huh? With wounds that serious they didn't even get him to a hospital! That was pathetic.
Too late and a dollar short
Later that day another hired gunman by the name of Higdon arrived in Sweetwater by train. He was supposed to meet up with McUgly to help ambush Frank.
This job was NOT well planned!
Sweetwater, TX, 1917:

source
When he saw a covered body being taken into the funeral parlor he loudly proclaimed, "that he'd planned to kill Frank Hamer and that McMeans hadn't the decency to wait for him."
A bystander told him that the job was still open, Frank was injured in the shootout but was still alive and that McMeans hadn't hogged all the glory after all.
A shocked Higdon grumbled that "it wouldn't do to take on a wounded man, not a decent thing at all." He hopped on the next train out of town! Big talkers usually fade fast when faced with real danger but he shows back up later in the story.
The sad part
McMeans was mean and ugly actin but he was also married and had an 11 yr old son. They shipped his body back home to them the next day.
I feel sorry for them because he's the one that made the really disastrous decision to try and murder Frank, not them.

This story continues in the next post.
Thanks for reading folks, God bless you all!
-jonboy
Texas
PS- Now on a lighter note, I found a dream of a vending machine. It's not just an ice cream vending machine, it's an ice cream MAKING vending machine!
MooBella ice cream came out with this thing. It has 14 different flavors and you can choose your combination with a total of 96 variations, all in 40 seconds.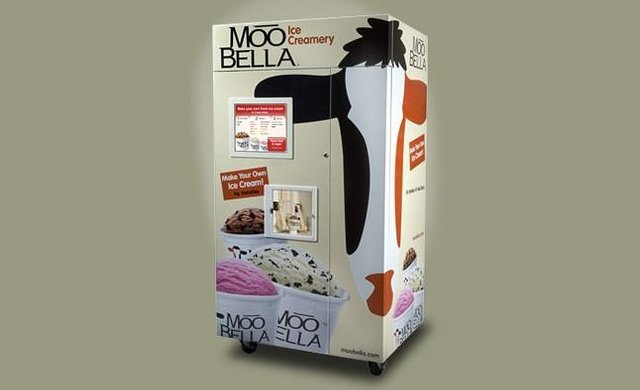 source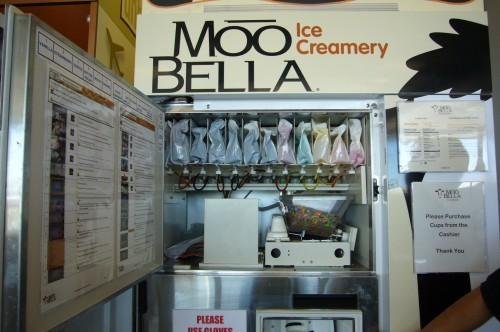 source
Check out this cool video:
They're rollin 'em out this year but only in New England, unfortunately. They need to put them where it's hot. Texas needs you MooBella!