The Blinding of Prithviraj
The story of Prithiviraj does not end here. As a prisoner in Ghor he was presented before Mahmud, where he looked Ghori straight into the eye.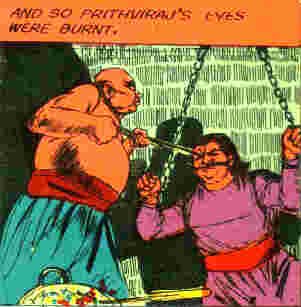 Ghori ordered him to lower his eyes, whereupon a defiant Prithiviraj scornfully told him how he had treated Ghori as a prisoner and said that the eyelids of a Rajputs eyes are lowered only in death.On hearing this, Ghori flew into a rage and ordered that Prithviraj's eyes be burnt with red hot iron rods
This heinous deed being done, Prithiviraj was regularly brought to the court to be taunted by Ghori and his courtiers. In those days Prithiviraj was joined by his former biographer Chand Bardai, who had composed a ballad-biography on Pritiviraj in the name of Prithviraj Raso (Songs of Prithviraj). Chand Bardai told Prithiviraj, that he should avenge Ghori's betrayal and daily insults.