The Blind Prithviraj Avenges the Injustice done to him
The two got an opportunity when Ghori announced a game of Archery. On the advice of Chand Bardai, Prithviraj, who was then at court said he would also like to participate. On hearing his suggestion, the courtiers guffawed at him and he was taunted by Ghori as to how he could participate when he could not see. Whereupon, Prithiviraj told Mahmud Ghori to order him to shoot, and he would reach his target.
Ghori became suspicious and asked Prithviraj why he wanted Ghori himself to order and not anyone else. On behlaf of Prithiviraj, Chand Bardai told Ghori that he as a king would not accept orders from anyone other than a king. His ego satisfied, Mahmud Ghori agreed.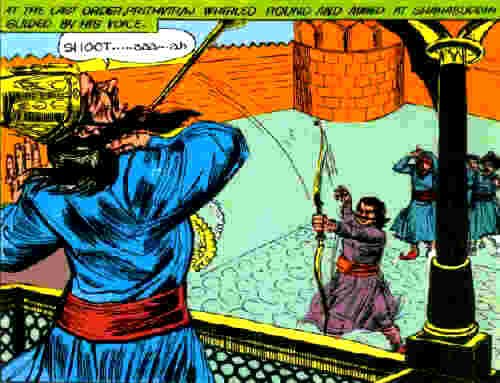 On the said day, Ghori sitting in his royal enclosure had Prithiviraj brought to the ground and had him unchained for the event. On Ghori's ordering Prithviraj to shoot, we are told Prithiviraj turned in the direction from where he heard Ghori speak and struck Ghori dead with his arrow. This event is described by Chand Bardai in the couplet, "Dus kadam aggey, bees kadam daey, baitha hai Sultan. Ab mat chuko Chouhan, chala do apna baan." (Ten feet ahead of you and twenty feet to your right, is seated the Sultan, do not now miss him Chouhan, release your baan - arrow).
Thus ended the story of the brave but unrealistic Prithviraj Chouhan - the last Hindu ruler of Delhi. Delhi was to remain under Muslim rule for the next 700 years till 1857 and under British rule till 1947. Those few Hindus who came close to liberating Delhi during the seven centuries of Muslim rule were Rana Sanga in 1527, Raja (Hemu) Vikramaditya in around 1565 (2nd battle of Panipat), and Shrimant Vishwas Rao who was the Peshwa's son and was co-commander of the Maratha forces in the 3rd battle of Panipat in 1761. Metaphorically speaking, the next Hindu ruler to actually preside over Delhi was to be Dr. Rajendra Prasad, the first President of Independent India (and Jawarharlal Nehru - who was the President's first Minister).