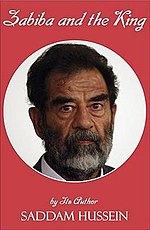 Isn't funny to know that the Late Saddam Hussein wrote a romance novel that was published in Iraq in the year 2000. Saddam Hussein is nobody stranger he was known for countless terrible act during his lifetime before his death in 2003, three years after the book was published.
He was a former president of Iraq whose exact no of death attributed to him is still unknown long after his death. The estimate of death range as high as over 500,000 lives with over 250 mass burials in his records.
Despite his cruel attitude and abuse of power during his time, he was still able to write something romantic titled ZABIBAH AND THE KING. The book was a best seller in Iraq when it was originally published for one thousand five hundred dinars which US 0.50 dollar. It was estimated that over one million copies were sold. Royalties, according to the back cover, were to go to the poor, the orphan, the miserable, the needy and other charities.
Saddam Hussein was nicknamed the BUTCHER OF BAGHDAD for killing numerous lives in Baghdad during his reign. I ask myself for a man of this deadly character, how he managed to come up with a romantic novel. Till date the US CIA hasn't agreed till date that he wrote it. They believe it was a ghostwriter wrote the novel ZAZIBAH AND THE KING.
I believe there is always a bit of good in the so called deadly people but their obsession for power destroys them completely.
Follow @captain-tom for more interesting facts and history from around the world.