Volcano Update: Alert Level has been reduce - Update Gunung: turun ke level siaga
After more than 37 days of high level alert, and people around 12 Km from the crater has been evacuated, yesterday officially the alert level has been reduce into level III. The closed zone is reduce into 7 Km from the crater. The evacuees which come from above 7 Km radius has to return home. eventhough the volcanic activities has been greatly reduce in the past week, but the flume and the tremor quake is still happen, and that make some kind of hesitation among the evacuee to go home or not to go home.
​
setelah lebih dari 37 dalam level awas, dan masyarakat disekitar radius 12 Km dari kawah diungsikan, kemarin secara resmi levelnya telah diturunkan menjadi level siaga. zona yang tertutup di kurangi menjadi 7 km dari pusat kawah. Para pengungsi yang berasal dari radius diatas 7 Km harus kembali ke rumah. meskipun aktivitas vulkanik sangat berkurang minggu terakhir, tapi asap kawah dan gempa tremor masih terjadi, dan itu membuat sedikit keraguan diantara para pengungsi untuk pulang atau tidak pulang kerumah masing-masing
​
Politician Sucks
​
But before the official statement that reduce the level alert of the volcano, one of the Minister and also the Governor of Bali said that the level alert have to be reduce, even though Center for Volcanology and Geological Hazard Mitigation, Badan Geologi, Geological Agency, Department , said that they will not reduce the alert level until further investigation. And what the sad thing is that the Governor said that the Bali government has loss about 2 Trilions Rupiahs i handling the crisis. Can you Imagine, that the live of the people are measured by money? That make me hate politician even more. Bali which get a lot of income from years of tourism couldn't not even have money to feed its own people in needs. Shame on you Politician!!!! hopely it is not because of the pressure from upper hand they reduce the alert level.
​
Tapi sebelum pernyataan resmi yang menurunkan status awas ke siaga, Salah satu mentri dan juga Gubernur Bali mengatakan level gunung harus diturunkan, meskipun BVMBG mengatakan merekan tidak akan menurunkan status awas sampai investigasi selanjutnya. Dan yang lebih menyedihkan beliau mengatakan bahwa pemerintah BAli telah rugi 2 triluin rupiah dalam penanganan krisis ini. Bisa dibayangkan, nyawa manusia diukur dengan uang? itu semakin membuat saya semakin benci politikus. Bali yang mendapatkan banyak pemasukan selama bertahun-tahuun dari pariwisata bahkan tidak dapat membantu masyarakatnya yang sedang membutuhkan. saya harap mereka tidak menurunkan statusnya karena tekanan dari atas.
​
**check out the news **here but it is in Bahasa.
​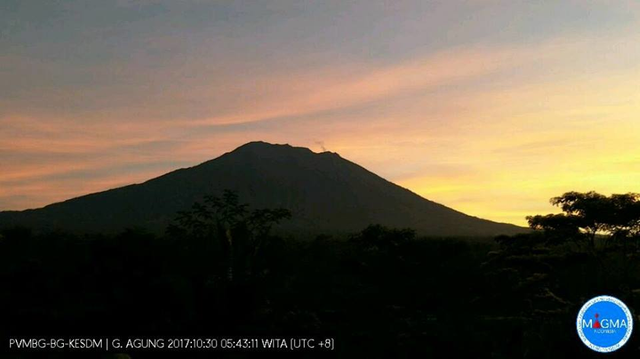 ​
the Volcano this morning - Gunung Agung pagi ini
​
If any of you wanted to help Balinese evacuess, plese check on the @charitysteemit initiated by @samstonehill and 50% of this payout will goes into that account.
​