This one is about Smog.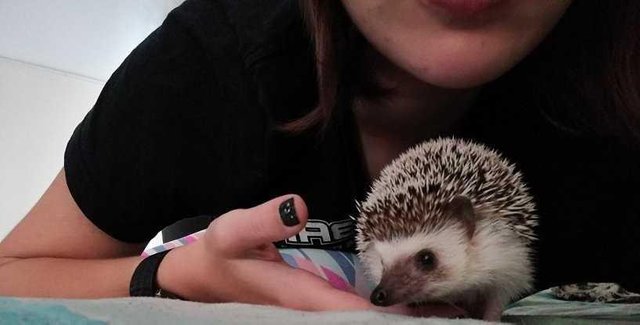 I bought Smog on the 24th of December 2017. She was born on the 05th of November, so she's still a baby. She enjoys bathing and running around on moms bed. She is awake from around 19h00 until 01h00, I often wonder if she gets bored while she's running like a Tasmanian devil. For an animal that is so small, she can run like it's no one's business. She is super sweet and loving, when she wants to be. Don't expect anything from her if you've just woken her up, she is the definition of "Grumpy Grouch."
She enjoys eating biltong, spaghetti, meal worms and occasionally, Damien's finger.
She is the first hedgehog I have owned, and I would definitely recommend them as pets. She is a pet that is happy to be on her own or with her owners, she isn't very friendly to new people though so approach with caution so you don't give her a fright because then she will curl up into a little spike ball and start to hiss.
She always brings a smile to my face when I watch her running around, sometimes she's quite a dummy.
I'm adopting 2 kittens soon, so she will have 2 new friends. I'm hoping everyone will get along. If not, then we will just have to divide the house in half.
Both Damien and I are super excited to start our new journey together with our 3 furbabies.
10 days until we move into our new house!