The language of ivrit ( עברית ) Genesis 34, Post #4
Welcome to my Hebrew reading & language series.
Genesis 34:18-24
Today is the day that an entire city goes under the knife. What a wretched request. What a painful proposal we saw last week.
So now, Shechem is giving the hard sell to all the men of the city. I guess they are being asked to put some skin in the game - pun intended.
In reality, God always said that one could be circumcised if he wanted to live among the Jews or sojourn with them. Essentially, one could convert by accepting the surgery required and then they would have all the rights and requirements under the law, though they could never become Levites (Levi-yim) or priests.
Since Jacob had set up camp and bought the land next to Shechem, the city was not really sojourning with Israel. I think that is why Genesis says that the brothers dealt deceitfully with Shechem.

The passage for today is a bit longer than I usually make it, but it covers the sales pitch, pros and cons, and the act itself. I guess they all agreed because they went through with the deed. This entire chapter is difficult to imagine in real life and it is also difficult to accept what comes next...
Today's reading
English
Their words pleased Hamor and Hamor's son Shechem. And the young man did not delay to do the thing, because he delighted in Jacob's daughter. Now he was the most honored of all his father's house. So Hamor and his son Shechem came to the gate of their city and spoke to the men of their city, saying, "These men are at peace with us; let them dwell in the land and trade in it, for behold, the land is large enough for them. Let us take their daughters as wives, and let us give them our daughters. Only on this condition will the men agree to dwell with us to become one people— when every male among us is circumcised as they are circumcised. Will not their livestock, their property and all their beasts be ours? Only let us agree with them, and they will dwell with us." And all who went out of the gate of his city listened to Hamor and his son Shechem, and every male was circumcised, all who went out of the gate of his city.
---
Hebrew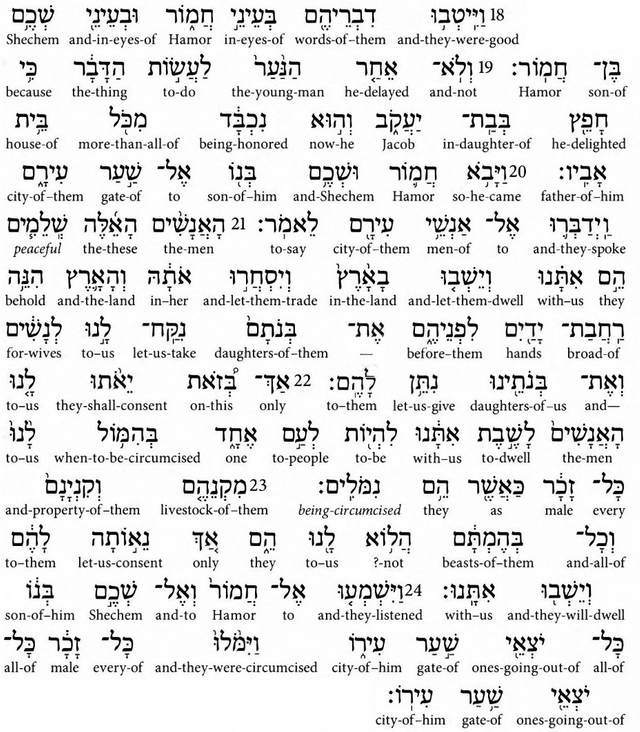 The story continues next week with a shift to war...
---
Info on each letter starting at the beginning
If you are just starting, my lessons are all here starting at Alef, adding vowels (the dots and lines) as we go. I explain the meaning of each letter and its numerical value. Just go to my blog and scroll to the bottom or click here
Get your Hebrew Bible now!
Click here to obtain the book we are using. It is a free download or browser usable.
Thanks for reading.
Shabbat Shalom