The ancient language of ivrit ( עברית ) Genesis 1 - Part 3
hebrew reading language tanakh
The full study is now on line covering
the Alef - Beyt in detail @hebrew on Steemit.com. The vowels are marked in this bible and are designed to help avoid confusion on what a word is and how it is pronounced, as if there is not already enough of that in the interpretations globally. In modern spoken Hebrew, only children need the niqqud until they have the pronunciation memorized.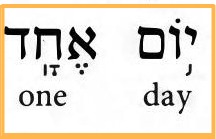 This is a very late start to my Shabbat reading because I have been sick with a cold. Yesterday I tried to sing a Hebrew song and made over 15 takes with none coming out well. Today I tried to print the next few verses so that I could easily point with a pen in stead of holding one up on the screen. Then I tried reading the next few verses and had forgotten to press record. This has been one of the most time consuming posts I have made ever.
Last reading we left off with God telling us the light was good. Let's continue...
---
▶️ DTube
▶️ IPFS
Please understand that I am sick, dehydrated, and got out of bed several times to make this post. Nothing seemed to work.
This one was short but took many hours of effort.
Get your Hebrew Bible now!
Click here to obtain the book we are using. It is a free download - or browser usable.
Thanks for taking the time to watch and read.