Welcome back to my DTube Hebrew reading & language series.
The full study is now on line covering the Alef-Beyt here in my blog. This is a beginners program to teach letters, vowels, and reading. The vowels are marked in this bible and are designed to help avoid confusion on what a word is and how it is pronounced. The confusion is obvious in the hundreds of interpretations globally. In modern Hebrew, only children need a niqqud or vowel marking for each letter. Old manuscripts also usually have vowels marked.
This week's reading is from Genesis 1:17 and onward.
When you got to the DTube video, you will find the words covered in this lesson in their context.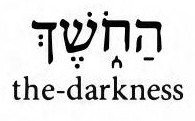 We are mid-sentence as God put the stars in the expanse and went on to make a separation between light and darkness. These are the vocabulary words for today. I really try to keep the lessons short so we can learn just a few things, not too much, each time we read.
By now, you should start to recognize that what looks like one Hebrew word, is a group of English words or a construct in some cases. Various forms of the letter vav mean and or on or in at the beginning. Many many sentences begin with and, which is the vav (or the interpretation of it).
Why so many interpretations?
English has over a hundred and fifty prepositions, but Latin languages have much fewer, about fifteen, and Hebrew has roughly fifty if you try not to count the ones that repeat while trying to match the English meaning or vice versa. For now, we are not memorizing lists, but running across things as we go.
Below, if I have my lines straight and in the right colors, you will see that the beyt is interpreted as over in both cases though it is pronounced "bah" in the first case and "vah" in the second. The vav means "and" even though it has an "ooh" sound as in "voodoo". The reason is similar to our reason for saying "an apple" instead of A Apple. Get used to it. Vav is a versatile letter.
Did you notice that the interpretor of this Tanakh, has added the word "the" to both "day" and "night". The familiar hey in the Hebrew is not present or needed here. The English sounds better as "over the day" so it is there. Hebrew sounds better without it. This is all part of learning a language.
Darkness and Light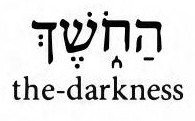 Here we have "the" at the beginning of each word, "the light" and "the darkness" because it sounds better that way in both languages. Note also that the vowel is different under each Hebrew letter 'hey', even so the both signify the definite article, "the". Again, there really are no "translations" because everything needs to be interpreted, and they all have translator's bias in the mix. As a trilingual person, I make translation decisions all day every day. Should I use phrase-A which works, or phrase-B which also works? I have to choose which one works as I speak or write in daily life.
Note: My explanations of how and why may seem disrespectful and analytical in nature. I must stress that after the teaching is done, I have my time to read my Tanakh. In my studies, I admire and relish the history and dedication with which Hebrew script was copied by hand, meticulously making every "jot and tittle" as Yeshua says. He takes every letter very seriously. For that reason, I do too.
Here are the links
Please click over to DTube and read the above passage with me in Hebrew.
---
▶️ DTube
▶️ IPFS
Get your Hebrew Bible now!
Click here to obtain the book we are using. It is a free download - or browser usable.
Thanks for taking the time to watch and read.
Shabbat Shalom
I give no opinion, but yours are welcome below