Meet the Management Team of Medipedia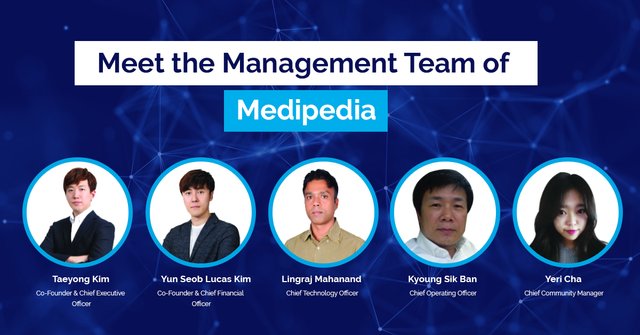 Medipedia is a medical tourism platform which offers healthcare and information exchange services to users via online. It is based on the blockchain technology which provides factual medical data of patients records to render impressive and authentic medical services specifically to foreign medical consumers.
Here is the list of Management Team of Medipedia:
Taeyong Kim
Taeyong Kim is a Co-Founder & Chief Executive Officer (CEO) of Medipedia. Before becoming a member of CEO in Medipedia, he had gained vast experience by working in renowned companies like Citibank, Amazon, WeissBeerger. He gained a double a degree in Masters, M.B.A from University of Michigan and M.S in Business Analytics from Purdue University. He had completed his graduation as B.A (Bachelor in Arts) in Applied Statistics from Yonsei University Seoul, South Korea.
Yun Seob Lucas Kim
He has been currently working in Medipedia as Co-Founder & Chief Financial Officer since last 9 months. He previously worked in KPMG for around one year. He had completed his Masters in Finance from the University of Melbourne in Australia and Bachelors degree in B.Com as Accounting and Finance from the University of Melbourne in Australia.
Lingraj Mahanand
Lingraj Mahanand is currently working as Medipedia's Chief Technology Officer. He has been working in software and blockchain development industry for more than 9 years. He has worked on various projects including, RESTful architectures and scalable, Developed Distributed systems, low-latency systems that render the enormous amount of applications to investment banks like Barclays Capital, The Bank of New York (BNY) Mellon, HSBC and more. He had completed his Master's Degree in M.Sc in Information Technology and Management from Symbiosis International University and Bachelors Degree in B.Sc in Information Technology from Ravenshaw University.
Kyoung Sik Ban
Kyoung Sik Ban has been working in TSMED & TSBIO as Chief Operating Officer (COO). He has vast experience in the Medical industry and he previously worked in renowned medical companies including Medison, Hanbyul Medi Tech, BHL, KMH, Celltrap. He completed his Bachelor's Degree in Arts (B.A) in Architectures from Hanyang University in South Korea.
Yeri Cha
Yeri Cha is currently handling the role of Chief Community Manager in Medipedia. She has great knowledge in community management and business development projects and worked on various projects. She previously worked for DSME in Business management department and Samsung.
For more information about Medipedia team, check here: https://medipedia.io/team