Advantages for Patients at Medipedia Platform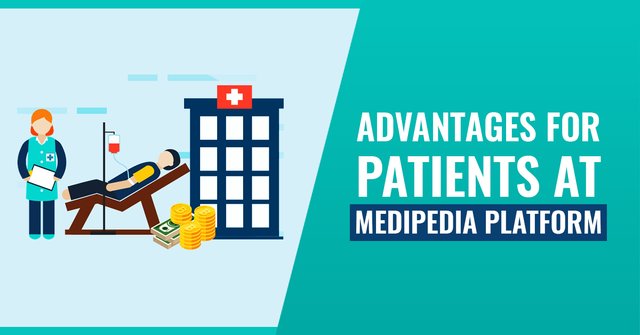 Medipedia is a blockchain ecosystem that ensures peer to peer decentralized network for healthcare service providers, patients, and third party. While it primarily eliminates the role that middlemen, agents or centralized networks have long misused in the healthcare sector, it also brings in a host of new advantages for the medical tourists and patients alike. In this blog, we highlight some of the Advantages for Patients at Medipedia Platform.
Affordable HealthCare
The current healthcare system suffers from two primary problems:
Lack of verified information on the services offered by healthcare institutes (including hospitals, private practitioners, healthcare units etc.)
Foul Play by unqualified middlemen or agents who charge hefty service fees for arranging medical services for tourists
Medipedia eliminates both of the above. The Blockchain network enables a secure decentralized peer to peer network where service requests from patients are sent directly to healthcare service providers on the network. The response made to the inquiry is shared directly with the patients. And from the multiple responses received, the patient can choose the best service.
This process eliminates the medical costs by a huge fraction and also additional support on the platform like video consultation and diagnosis report sharing eliminates the need of a personal visit to the doctor.
Furthermore, the patient information is cryptographically secured which means no one other then your medical service provider can access the information. Hence any possibility of information manipulation is nipped in the bud.
Prompt Services
Medipedia patients can directly choose the services of their choice. Patients can even reserve services or consultancy in foreign countries. In case the reservations are full they can opt for the same healthcare services in other similar standard hospitals. Further, foreign referrals are easy, prompt and cost friendly.
High-Quality Medical Services
Credibility is paramount in the Healthcare Sector. The Medical Institutes always ensure that patient feedback is always positive or else it could seriously hamper their image and credibility. To ensure this all medical service provider on the Medipedia platform strive to always stay up with global standards. Further, Medipedia also ensures to check standards using its own quality check process. Hence, the patient can be assured of verifies services on the Medipedia Platform.
Last but not the least, as they say prevention is better than cure, Medipedia Platform also promotes promotional medical bloggers as well as researchers to ensure that platform users are updated with preventive measures for communicable/viral diseases and also made aware of the new breakthroughs in medicines and healthcare services, so that they are not duped easily by those looking to profit from ignorant patients.
Want to know more? Check out the Medipedia. The Pre-ICO continues from 20 August. Grab your seats (registrations) now!