Hello my dear ginger flowers :)
I discovered this ginger meatball soup recipe today and I am so excited to share it with you and I want you to try it mediately. It is a little bit time consuming but for me, fun to work with.
---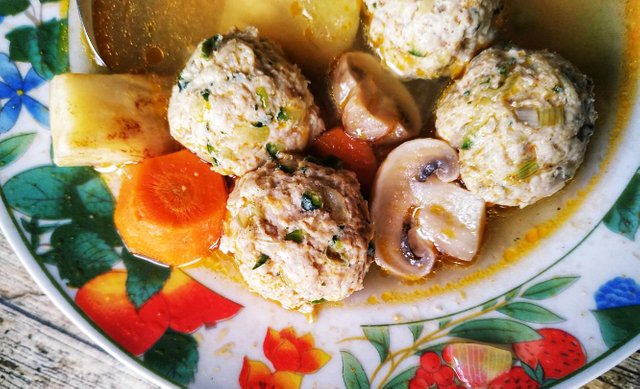 ---
I chose something from which I can have fulfilled meal and for me, that is soup, meat, and vegetables. I must admit that I like every taste/food I stumbled upon so far so it is not so hard for me to find tasty food but this... This got me excited.
I will first tell you something about why I even made this dish. Then a little bit of recipe, ingredients and time of preparation. And for the end, a question, of course. You know how I like to talk to you especially regarding creativity, in this situation of the dish.
Let us start with this neat recipe.
---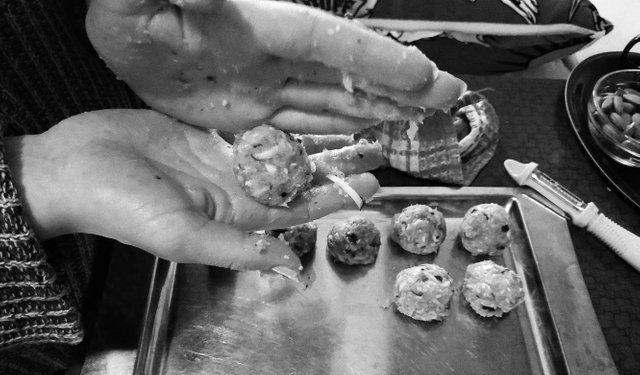 ---
Ok, I love meatballs. I love them and I think I am in love with them. You can make meatballs from almost every type of meat and you can add at least several dozen flavors. This is my first time experimenting with ginger and incorporating them together. I sure will have more of these soon.
Another idea was to eat whole meal which is rich in nutrients and therefore very healthy but easy to cook.
I also wanted to expand my cooking experience and be better at it. What better way is there to do it except to practice. As you maybe know, I love to cook but my cuisine has become a little bit boring. So I had to try something new.
Let us start with the ingredients, instructions and time of preparation.
---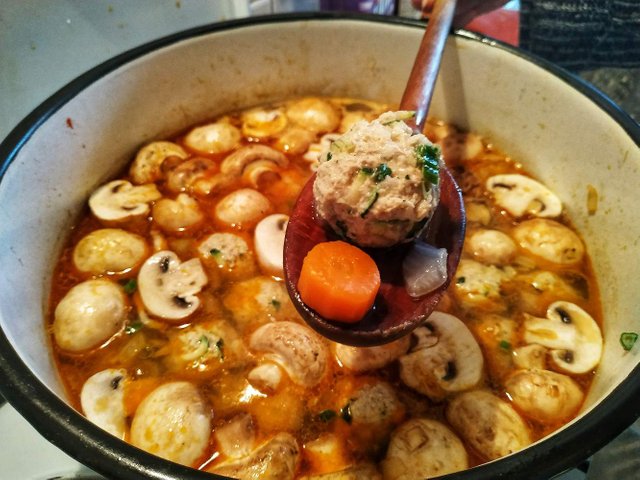 ---
INGREDIENTS
FOR MEATBALLS
1/2 kg of minced meat ( I used turkey)
1 minced medium onion
2 cloves of finely chopped garlic
2 spoons of grated parmesan
1 tbs of minced ginger
1 tbs of ground psyllium
1 egg
1/2 grated zucchini
1 spoon of freshly chopped parsley
Salt and pepper at will
FOR SOUP
3 L water (or more if you like)
1 spoon of pork fat or cooking oil
2 chopped onions
2 chopped cloves of garlic
2 big roughly chopped carrots
15 portobello mushrooms cut in half
6 medium slices of ginger
1 tbs of chili flakes
1 tbs of hot ground paprika
Salt and pepper at will
---
---
INSTRUCTIONS
Mix everything from the "meatballs" ingredients. You want to leave it in the fridge at least for a half an hour or more in order for juices to combine.

Heat oil or fat in the pot and put chopped onion and garlic till it starts to lose color and catch crust at the edge.

Ad 3 l of water, salt, and pepper it. Put roughly chopped carrots (2 cm) and slices of ginger to boiling for about 10 minutes.

After 10 minutes, make balls out of spiced minced meat, ad it into the water and boil for 5 minutes.

Ad portobello mushrooms along with the rest of the spices and cook for another 20 minutes or so.

Enjoy! Yum yum yum :)))
---
---
TIME OF PREPARATION
meatballs 10 minutes
Soup 35 minutes
All together 45 min
---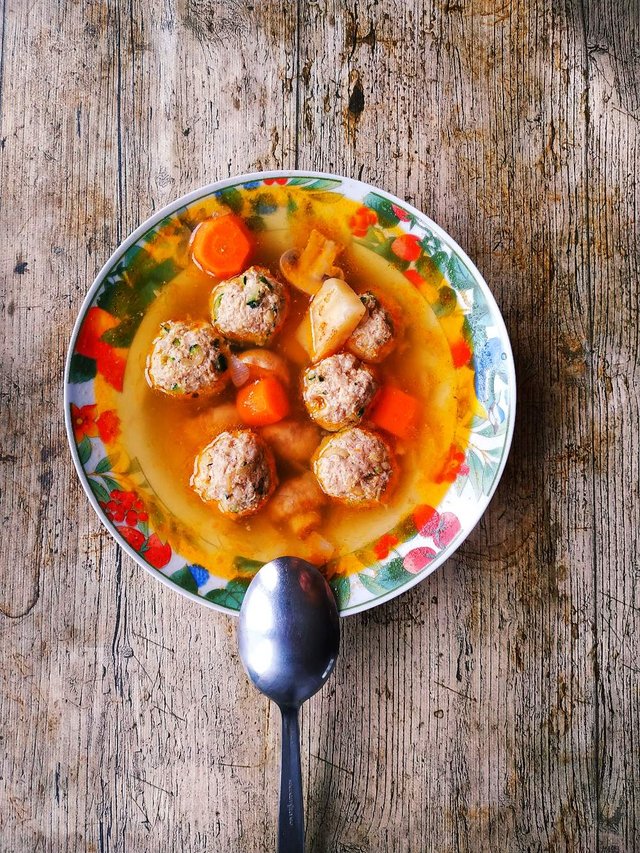 ---
Well, this was pretty delicious! I love it and I will surely incorporate ginger in my cousine for now on. Please let me know if you did this recipe and tell me how it was for you.
---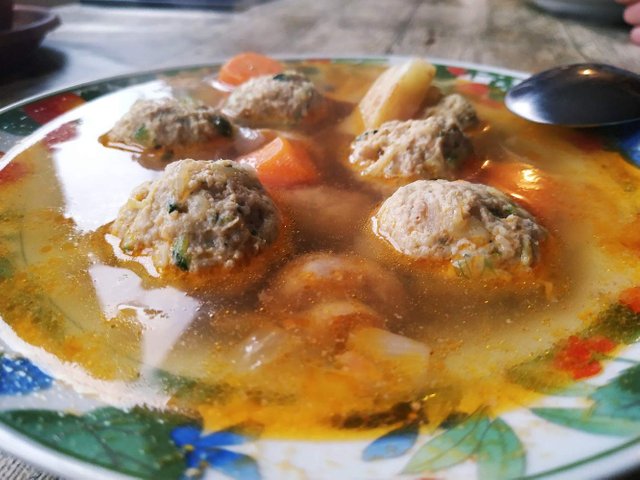 ---
Of course, I have to ask a question. Almost every post of mine will have it but you don't need to be obligated to answer it.
QUESTION
What is the weirdest meal you ate that included ginger?
---
Thank you for stopping by and for your time. I hope this was at least half as interesting it was to me. As I said, I am new with ginger and this was an awesome introduction with it to me. People, I want you to have a nice day.
Steem on! Cheers :)
Posted using Partiko Android