Several Key Cannabis Trends For 2018
Here is what you need to know about the current trends taking place in the cannabis industry and what it means going into 2018.
The world is finally changing its view about Cannabis, and it's about time they learn the truth. Since cannabis prohibition started, the media, government and their agencies have cast a negative light on cannabis, provided misinformation and made it illegal for people to participate in the cannabis trade. Well, that is all about to change as gov'ts are finally moving towards legalization and accepting medical cannabis use by patients. We can clearly see the tides are changing and the gov'ts negative narrative is becoming old in the tooth, people are now more aware than ever of the benefits that cannabis can offer.
The industry is growing rapidly and cannabis will go mainstream in 2018, here are some top trends in the sector:
The Marijuana Sector Is One Of The Fastest Growing Sectors In The Economy.
Outside of Cryptocurrencies and Blockchain solutions, the cannabis sector is gearing up to be one of the fastest growing sectors of the economy. Arcview Market Research reports that the number of marijuana sales in North America grew to $6.7 billion in 2017, representing a 30 percent increase from the previous year.
Another cannabis data collection company, New Frontier Data predicts the cannabis sector will be $24 Billion by 2025, with a compound annual growth rate of 15%.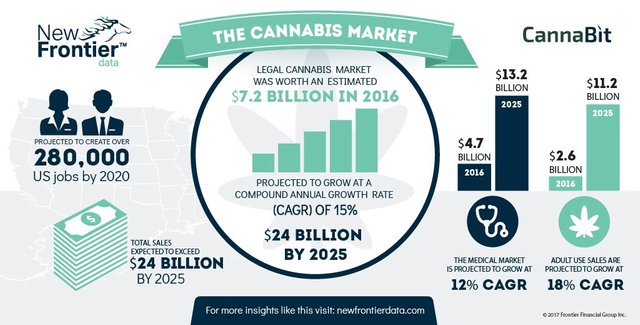 While sector growth projections can vary from research reports, we can all agree that the world is moving towards legalization of medical marijuana, and the growth of the industry will continue for many years to come. With an emerging sector like cannabis, it will create new jobs (280,000 US jobs by 2020 from the chart above), have a wealth effect for early entrepreneurs and investors, growth of ancillary businesses and generate tax revenues for bankrupt governments (not that I am happy about giving more tax revenues to the gov't).
Cannabis is moving from an underground/grey market industry to one that is being recognized as legitimate and legal… this trend will continue in 2018 and probably gain more Steem in the years to come. One day the world will accept medical cannabis as normal, and we will look back and say "Why did the Government make it illegal in the first place and deny the citizens a natural plant for use as medicine, what were they thinking".
Increased Funding For Medicinal Research.
The truth is out there and history tells us that the cannabis plant has been used for 1000's of years as medicine. It's only been in the last century that government has put the interest of a few lobby groups and companies ahead of its citizen's interest. While gov't agencies keep saying that cannabis has no medicinal properties, they have banned all research around the plant unless you get special permission from them, run through their hoops and comply with their rules and regulations.
Now with companies entering the legal cannabis industry, many of them are funding and focusing on medical research, isolating the various cannabinoids and performing trials and studies on the use of these individual cannabinoids for treating various ailments. Canada's cannabis industry has attracted many doctors and experts from the pharmaceutical industry, some of them are leading the way in examining the medical science behind the cannabis plant.
Cannabidiol (CBD) is the part of the cannabis plant that doesn't cause the familiar effects associated with marijuana use (CBD won't get you high like THC does); as a result, it's often used to treat pain or the symptoms associated with chemotherapy. CBD taken from the Hemp plant is becoming a huge industry in itself, this can be sold anywhere in the US without prescription and legalities, it contains only a slight amount of THC, nothing to get high off of.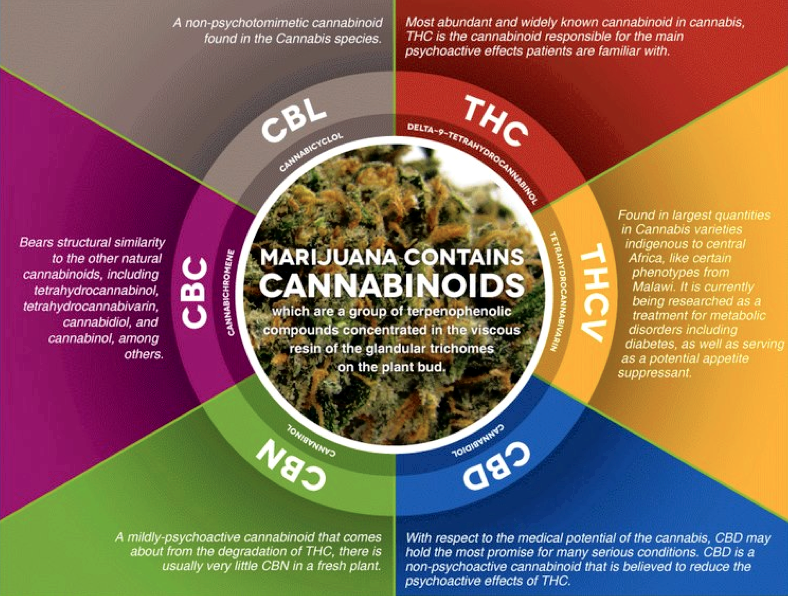 While the plant has been studied for the last few decades, with a movement towards legalizing medical marijuana, we expect the funding and research to expand in 2018 and beyond.
Building A Cannabis Brand.
In the past, marketing and branding marijuana were done by the local street dealer, it is now becoming a serious business in the cannabis industry. Just like any product, brand recognition is key to acquiring and retaining customers, marketing and branding will be just as important as growing quality cannabis. While there are many regulations around marketing for the industry, building the company brand and image will be paramount to the success of any canna business… celebrity endorsements can also go a long way for brand recognition. With the recreation market coming to California in a few weeks, we can expect to see many new brands come to market, some with high profile celebrities or names attached to them.
In the US, companies may find it difficult to build an international brand, since the cannabis they grow can't cross State lines, so most of the branding and marketing will take place within the State, with the possibility of brand licensing with growers in other States. With a legal framework, Canada will move ahead in the international markets when it comes to building an international brand, several of the licensed producers are already exporting their medical cannabis to other countries around the world.

We will soon see the day when a cannabis company will be easily recognized like Coke or Starbucks, maybe that day could come in 2018, but I think it's too early to say which one will be a leader just yet.
Smoking Out, Vaping In
About a year and a half ago, I quit smoking cigarettes and switched over to vaping and I am so glad I did. After a weekend of partying and smoking cigarettes at a friend's cottage, I felt like SH*T on my way home… the beers didn't take as much of a toll on me as the smoking did. Enough was enough, I knew I had to quit the cigarettes (I still have the odd cig once and awhile with a friend) and I switched over to vaping. I haven't looked back since and I am so glad I quit smoking cigarettes, I feel so much better and healthier even though I vape.
One the newest trends and a fast-growing segment in the cannabis and tobacco industry is moving away from smoking and starting to vape.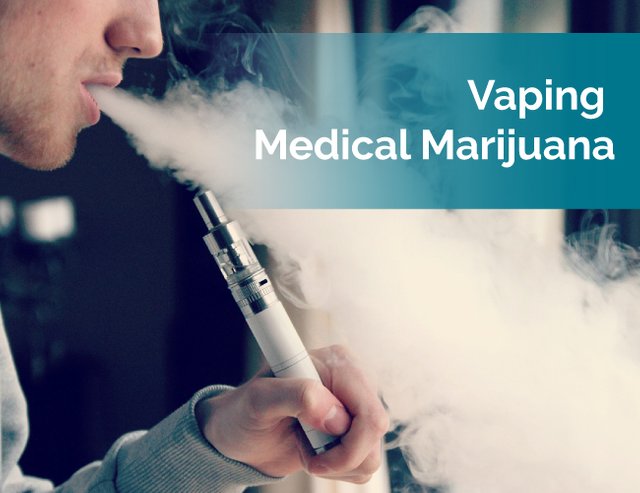 Business Intelligence and Strategy Research's, a global market intelligence and advisory firm, main area of interest are any emerging technological advances that may influence the dynamics of the global market. They recently published a market intelligence report, "Global E-cigarette and Vape market 2017-2025", which offers some interesting forecasts and predictions about the future of the vaping industry.
"The global e-cigarette market was estimated to be worth $8 billion in 2015, and is expected to grow at a CAGR of 19.34% throughout the forecast period to become a $46.9 billion industry by 2025." predicts the report.
For the cannabis industry, there have been some amazing innovations in vape devices, ones that can vape dry herbs, oils or concentrations, a few devices can do them all. Here are some interesting facts, flower sales went down over the few years in California and vape cartridges with cannabis oils grew significantly. With the growth of 6% in 2015, vape cartridge sales increased to 24% of the market in 2016, that's a 400% annual increase, and we can expect the trend to continue to increase in favor of vaping cannabis versus smoking. In my opinion, it's a healthier option.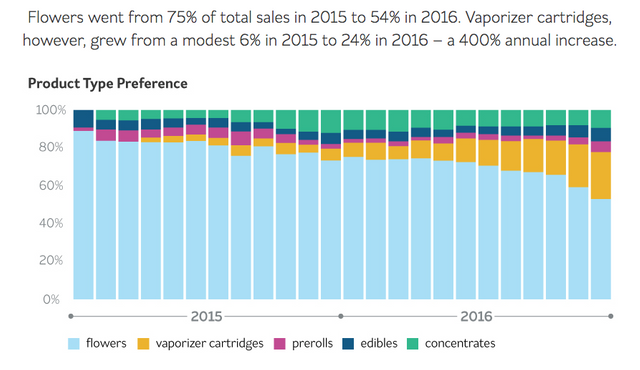 There many other trends in the cannabis industry that are also worth discussing, the ones mentioned above are just a few, but it's hard to write about all of them in one blog post. I will share my thoughts on other cannabis related trends in future blogs on the subject
Feel free to share your thought on these or any other trend you find emerging in the cannabis sector.
Here is a couple of our most recent blog posts on Steemit:
Cannabis Industry News and Updates - Dec 18 2017
World Health Organization declares Medical marijuana has NO public health risks.
Vin Maru,
Editor at www.InvestInMJ.com