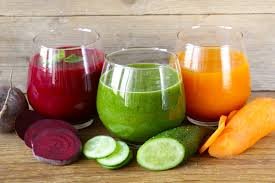 Nie znam zdrowszego i bardziej skutecznego lekarstwa na wszelakie dolegliwości jak picie soków. Przykład z ostatnich kilku tygodni: Od grudnia męczyłam się z zapaleniem uszu, od grzybicy po zapalenie i zakażenia bakteryjne, świąd ból - odwiedziłam z 6 laryngologów, miałam kilkanaście wizyt i przyjęłam chyba kilkadziesiąt lekarstw. I wiecie co? Nadal miałam ogromny problem.
Z polecenia mojej siostry, która dzięki diecie wegańskiej wyleczyła tarczyce, hashimoto, cukrzyce i nadwagę postanowiłam, że spróbuję oczyszczania na sokach. Byłam pewna, że nie dam rady, ale po takiej walce o zdrowie motywacja mnie nie opuszczała.
Zaczęłam z dnia na dzień. Nawet nie szukałam przepisów tylko wkładałam do wyciskarki co miałam pod ręką: marchewki, buraki, jabłka, seler naciowy, ogórki, szpinak, jarmuż itp. I nagle wow ! Po kilku dniach coraz mniejszy ból uszu...a po tygodniu czy dwóch problem całkiem ustąpił. WOW ! Nawet nie wiecie jaka byłam szczęśliwa: Zdrowe uszy, minus 4 kg i lepsze samopoczucie.
Polecam !
I do not know a healthier and more effective cure for all kinds of ailments like drinking juices. An example from the last few weeks: From December I was tired of ear inflammation, from mycosis to inflammation and bacterial infections, pruritus pain - I visited 6 laryngologists, I had several visits and I accepted several dozen medications. And you know what? I still had a huge problem.
On the recommendation of my sister who, thanks to a vegan diet, healed thyroid, hashimoto, diabetes and overweight, I decided that I would try purification on juices. I was sure I could not do it, but after such a struggle for health, my motivation did not leave me.
I started from day to day. I did not even look for recipes, I just put in a squeezer I had on hand: carrots, beets, apples, celery, cucumbers, spinach, kale, etc. And suddenly, wow! After a few days less and less pain in the ears ... and after a week or two the problem completely subsided. WOW! You do not even know how happy I was: Healthy ears, minus 4 kg and better mood.
I recommend it!