There is something about the whole healthy eating thing that just makes me more and more positive every single day.
It's true what they say, "You are what you eat". It takes great motivation to start such a journey and to stay put because our brain just opposes the shit out of anything new, but, once you make it into a habit that you start seeing all the goodness that comes with it. Believe me, I am the laziest most inconsistent person ever an so if I can manage this so can you. For me, it was high time, I could see my body deteriorating away and I just had to make a major lifestyle change.
In the spirit of that, it is always my effort to come up with delicious healthy meals so that I do not wander from my path. Oats are one of the healthiest breakfasts/grains ever. First things first it is gluten-free and a great source of important vitamins, minerals, fiber and antioxidants. They can help with weight loss, lower blood sugar levels and reduce risk of heart disease (Source).
Many of you who are trying to lose weight might not feel good about eating carbs but that is silly talk. Best time to eat carbs is for breakfast. When you start your day with healthy carbs like oatmeal you feel full for longer periods of time and you do not find yourself reaching for cookies or something like that.
So let's get into it, shall we?
Plum-Blueberry Oat Bowl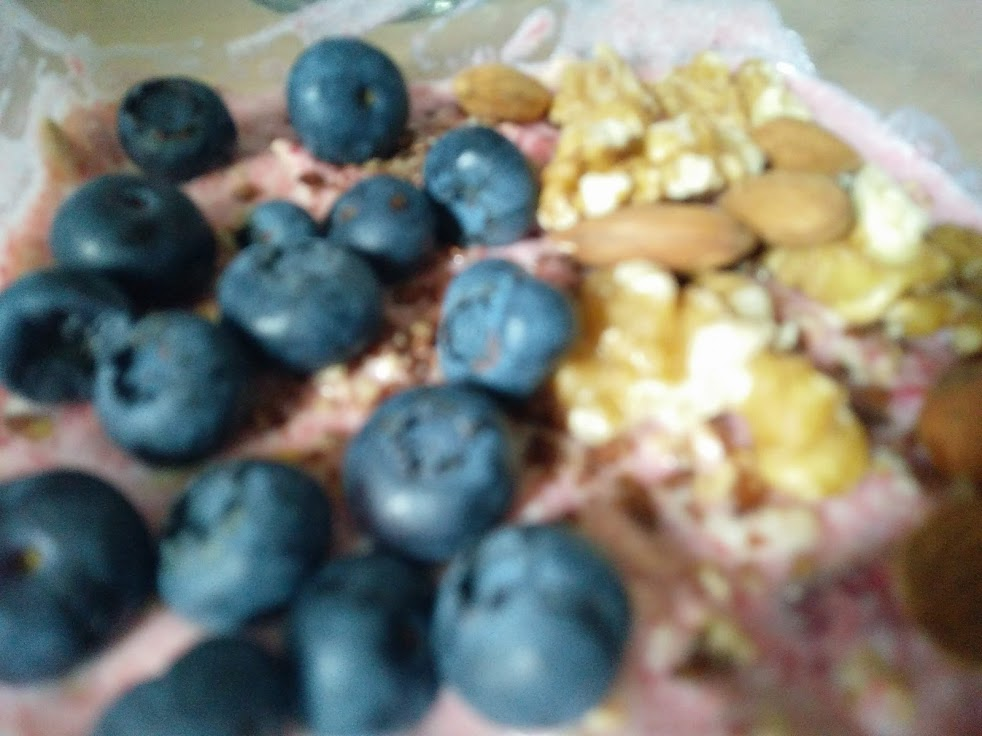 Please do not hate me for the awful picture, I was in a crazy rush, in reality it looked really nice and tasted even better.
Ingredients:
Oatmeal
Plums
Blueberries
Yogurt
Coconut water
Cinnamon powder
Almonds
Walnuts
Flax seeds
Recipe:
In a bowl, add a little oatmeal (according to your breakfast appetite). To this add 3-4 ripe plums after removing their sin as well as seeds. Now add some yogurt and cinnamon powder and mix all of this together. At the end add around 50 ml of coconut water to it and stir it once. Keep this mixture overnight in refrigerator. Keeping it overnight makes the oats go soft and gives it a really creamy texture. Finally, before you are ready to eat it, add some blueberries, almonds, walnuts and flax seeds for that extra nutrition.
It is so delicious I cannot put into words! Try it at home and let me know if you enjoyed it.
---
Written by @things, 2018. All rights reserved.
---