Just like any other post of mine, I'd like to start this one with words that inspire, words that are the essence of a life, a person who wrote them.
"To keep the body in good health is a duty, for otherwise we shall not be able to trim the lamp of wisdom, and keep our mind strong and clear. Water surrounds the lotus flower, but does not wet its petals."
~Buddha
I have always tried to live by these words. Of course there have been those occasional slip ups but its good to not let go like crazy. However, many a times people find it difficult to maintain such a lifestyle. This is why I am always trying to come up with new healthy recipes which are actually delicious. In that process I came up with delicious omelette that I like to call 'Eggs with Everything'. It is named that way because I literally every single vegetable that I can find in this recipe. It is an excellent way to disguise some of your immensely hated ones as well. Following are the required ingredients and recipe:
Eggs with Everything
Ingredients:
Eggs (4-5)
Tomatoes ( 1 big tomato)
Onions (1 big onion)
Yellow bell pepper (1)
Baby spinach (1 cup)
Mushrooms (3-4 medium sized mushrooms)
Black olives (3-4)
Ginger (I used a very small piece)
Salt
Black Pepper
Curry Powder
Garlic powder
Black cumin seeds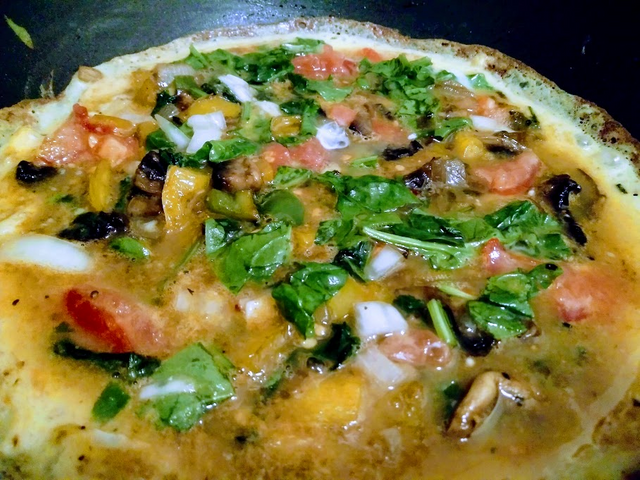 Recipe:
In a pan heat up some oil and fry some onions in it till they become golden. To this, add the baby spinach and the finely chopped ginger. Meanwhile, beat 4-5 eggs thoroughly and, to it, add all the above mentioned vegetables to it and add all the above mentioned spices as well. I am not specifying amounts because different people like different concentration of spices in their food. Then, add this mixture to the the pan containing onions and baby spinach evenly. Cook the omelette on a very slow flame because the layer is generally thick and you want it to be cooked all the way and not just the surface. Slow flame will prevent the burning. Cook both sides, and voila, there you have it! It is super easy, quick and delicious.
For more such recipes, check out my older posts on healthy recipes.
Have a great day y'all.
---
Written by @things, 2018. All rights reserved.
---