I'vealways wondered why vegetarians live longer and look healthier.
Aside from exercise, i believe its what they eat and the amount of water they drink.
My theory is this, eat the right food and the right fruits or naturally occuring stuffs and you will be fine.
If the source of nin-vegetarian diets come from veggies, i mean the cow eats grass to remain alive and the other ecosystem stuff.
If that's the case, that means there is a depletion of actual nutrients right from the primary consumers. When it gets to us the secindary consumers, the nutrients has gone through double depletion. Which is futher put through nutrient depleting cooking rituals.
No wonder we have lots of ailments these days. Majorly because our bodies lack what they need.
I will be sharing with you on a series of post to come, the magic fruits and herbs you body need, that will do three things to your body:
It will renew
It will revive
And restore.
Today, lets start with the Acerola.
A little info on the power of this tiny cherry.
The full post is coming soon.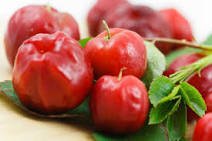 Source
FACT!
Do you know the Acerola cherry has 65times more vitamin C than oranges and also rich in vitamin B, anthocyanins,antioxidant-packed carotenoid and flavonoids, Vitamin A (a potent Antioxidant),calcium,magnesium,folate,potassium and phosphorus.