Bayer, banking, heroin and oil wars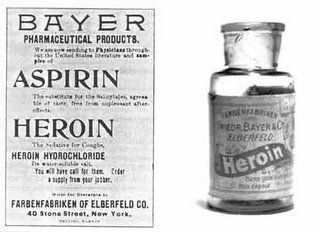 Bayer, inventor and seller of aspirin and heroin is rebranded IG Farben, inventor of Sarin, a potent poison gas used in chemical warfare, among other chemicals.
IG Farben has also had ties with David Rockefeller, banker, trader of oil, founder and funder (thus, the 'philanthropist' tag) of compulsory education in the USA.
I ensure you, I don't envy him because he was rich.