Calm down, calm down. I'm fine.
Missed me? I have been doing pretty well but last night I had a bit of a relapse with this seizure thingy no one knows much about. I know what it is though;
It is another page in my origin story.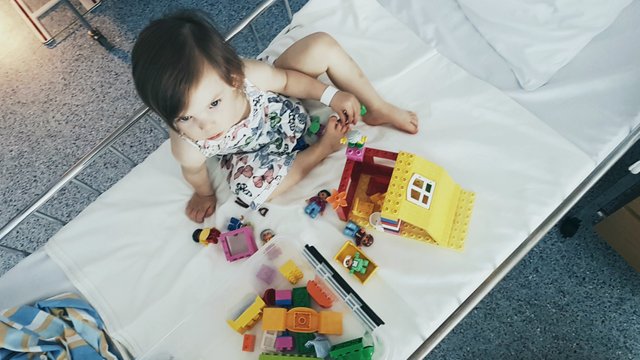 I woke up last night with daddy asking me silly questions like, "how do you feel?" Then not long after two people in red came into my room. I don't know who they were but it was weird. Mummy and Daddy acted like this was a normal everyday occurrence. Weird.
I am a pretty heavy sleeper, but I don't think this is normal.
Anyway, we ended up at the hospital again and I met an old friend there who was having an asthma attack. We played together until 2am and good times were had by all.
I was pretty lucky I didn't need too many tests this time but I wasn't a huge fan of middle of the night blood tests. I did get a dinosaur sticker from the nurse though. She tried to offer a moose sticker - My dinosaur ate her moose for dinner.
Mummy and I stayed the night in and hospitals aren't really set up for parents, so Mummy slept on the floor next to me to keep me company since Daddy went home. I was just there for observation as I had a high fever too and they needed to monitor it.
They don't know if I was having seizures because of the fever or whatever the weird thing is, but I will see a neurologist again soon for a check up. I like neurologists, they are always making me do easy tests.
I am home now however and having a nap as last night I only slept 2 hours in total and need a bit of a rest. Naughty Daddy called in to work and cancelled his sessions to be here with me and a tired Mummy.
I hope these don't happen too often because the timing is always terrible. Today has perfect weather and it was meabtbto be a, Mummy Daughter day playing outside in the sun and, even maybe getting our feet wet in the lake. Stupid seizures.
Well, there is always tomorrow. Or perhaps after my nap today. If I am allowed. The odds are slim on that though.
Thank you for the messages sent through Daddy and I even got some pictures and drawings to cheer me up!
Steemians are great. ❤️
<3
Smallsteps