Evening smoothie
I was hungry tonight, I didn't know what to eat, and I want to eat healthily. A great idea came to my mind, anyone can do this, and the taste is unbelievable and really refreshing when the days are hot. I decided to make a smoothie my way. The smoothie consists of bananas, cherries, and water. Very simple and tasty and healthy.
For smoothie you need:
1 banana
4-5 cherries
100ml of water
How delicious these cherries look mmmmm ... I would defrost and eat them all, they make me feel better and give me energy, their color describes spring and I can't wait for this time to stabilize so I can pick fresh cherries.
I don't like to eat with pits, I think who else likes them, that hard useless part inside the cherry makes it more inconvenient to eat, but just as interesting. While I was peeling them, I sprayed them with their juice, but fortunately it is an old wardrobe, and I tried to remove the stone with light and gentle movements.
It was my brother's favorite fruit, the banana. Everyone loves a banana because what is hidden under that delicious yellow peel is, as my brother says, the most beautiful thing on the entire planet. I think he could only live on bananas. Sometimes I wonder if he needs liana...
I take a banana out of that yellow peel and tear it into pieces with my fingers. I put the shredded banana together with the cherries in a blender to play a little because they will need to be played in my mouth later :D
Then I pour water over bananas and cherries to bathe a bit, who knows maybe they will play water polo. Water is healthier than milk, water can't get acne on my face while milk can, also the older we are, the less enzymes we have that digest milk that is not good for our stomach.
I don't think cherries and bananas know what's next for them. It's a crazy ride on a roller coaster.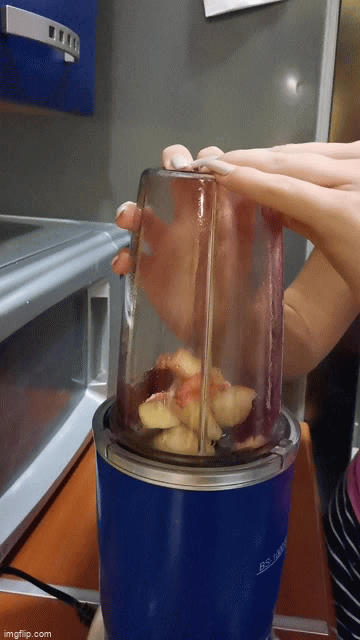 Mmmmm ... yum looks delicious, and the color is beautiful, but I don't think it's the color that matters, but the taste, and I think this will be a little bit for me, so I'll do more.
I'm going to open a healthy food restaurant, this is beautiful. You are all invited :D
Enjoy
With love, Sarah❤️