A glass of water is enough to reduce fat in your stomach !!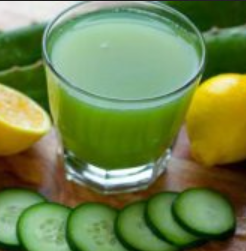 What do you drink before going to sleep at night? Milk or water, is it? Many people drink a glass of milk before going to sleep at night. Because warm milk is beneficial for your health, so it helps to sleep quickly. Want to reduce stomach fat? For doing exercises or diet? The end of the day of the end, drink before going to bed at night, reduce the drink further! This drink also regulates high blood pressure, diabetes and cholesterol as well as reducing fat in the stomach. Let's know the formation of the system.
Whatever it takes:
1 cucumber
A handful of parsley or coriander leaves
1 lemon
1 tablespoon ginger grinder
1 tablespoon aloe vera juice or aloe vera gel
1/2 glass water
How to create:
Blend the blender with cucumber, coriander and ginger paste.

Then blender in the blender with aloe vera gel, water. Keep in mind that it is not too thin.

Drink a glass of it every night before going to bed.

Keep this drink refrigerated to save.
How it works:
Cucumbers are quite effective in reducing belly fat. The amount of calories is very low, the amount of water is high. There is only 45 calories in a grinder!
Parsley and Dhanepata both contain lots of antioxidants, vitamins and minerals. Which prevents the flow of the stomach to keep the flow of water in the body.
Lemon removes toxic body fat and increases metabolism. Besides, lemon helps in excess fat in the stomach.
Gada removes constipation by increasing metabolism. Grained antioxidant material keeps the stomach prolonged and helps in excess stomach fat.
Aloe vera juice is much more effective in reducing fat in the stomach. The antioxidant material inhibits the body's internal radicals. Increasing the rate of metabolism gives the strength of the body.