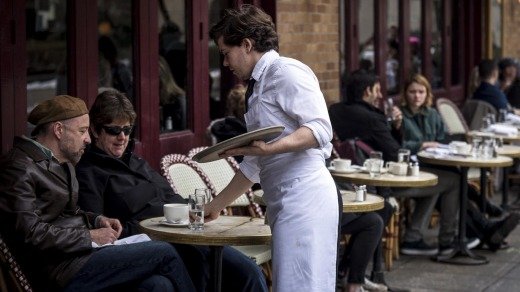 I'm serious. Many of you underestimate the benefits of a lot of  working hours, but I'm not  talking about normal ones, I'm talking about those in a row for days and days  with very few pauses.

Those who work as me in a restaurant world can well understand. Do you know the periods full of lunches and dinners? Hours and hours of work extra?

I have call them  the marathons! And here I am to illustrate their advantages!
The benefits of marathon hours.

Let's talk about the benefits of marathon hours. Starting in the morning, the morning has gold in the mouth, so why not waste time sleeping?

So the routine is this, no matter what you do now, at seven o'clock you have  to be back in the kitchen, because the chef, ingratible, adorable  despo needs help.

So start off with a healthy wristwatch, wake you up to the end, get up, take a healthy drink and run.

Here's the first benefit, the whole health ride!

Get to work and for a moment you see mirror with your tired face in the glass, here's another good thing you would never expect!

You do not need makeup, your outline make up look panda style eyes are trendy, the bags under your eyes return to fashion, assures cosmopolitan!

Farewell pencil and eyeliner! The smelly, white and emaciated look is beautiful, the goth is in the right now!

Start preparing everything you need for lunch. If you have dry eyes for the previous night, do not be afraid to dampen them by playing a lot of onions!

Want to put the emotion on? Your eyes are getting wetter and you can not have a damn dry eye.

And the beautician? Who needs it? You open the washing machine and you already have the facial treatment  with the steam, but remember to take off your glasses, to those not  good!

Then affect, play, and cuts, mix and mix in this way you exercise your  wrists (abstain from the mischievous jokes!  For these things  there is no time, you have to work!).

After exercising well with his wrists and fingers, after playing all  the "Let's avoid a fire or a cut " comes the long-awaited coffee break.

The virtues of caffeine are well-known, because they do not absorb large amounts of it?

So you arrive one night, do you see your partner already in the  sleeping bed hard and you have the heartbeat, love or tachycardia  matter, the body not mind right?

And coffee is fine.
The morning, however, continues, no burns or cuts, it's all right.

Lunch is coming, now where your body draws maximum benefit, because we  multitasking women can do everything and turn us into waitresses.

On two floors, with a steep stairway.

And go for a step! Up is down, down and up!

My buttocks thank you, your forearms thank you and the wallet thank you, other than gym, bring dishes firm and toned! And what are your thighs? From cover!

And then, do you want to put the important social aspect of overwork?

Man is a social animal no? So if some people behave more than animals than men is the same.

No matter if your mood is nervous, they are only eighty covered, they will certainly be all educated and very nice people!

And besides the buttocks, he trains the zen art of patience.

"THIS PASTA MAKES  ME WANNA VOMIT"

OOOOOOOMMMMMMM

"When does the fillet come in? I'm waiting for five seconds!"

OOOOOOMMMM

And let 's run the old man looking at you lasciviously, the effect of the step leaves no one indifferent!

"What a beautiful ass cutie !"

OOOOOOOOOOMMMMMM

Do not believe in charlatans who propose meditation courses and you, here we apply meditation daily !

At closing service, eat something, here's another unexpected benefit,  eat a lot and in small doses and you do it always, spill it here and it,  giving you a sober meal, sitting.

So keep yourself  slim ! With a balanced diet!

And then again workout! Recharge and clean, move your arms, legs and basin, better than an aerobics course!

Then again, home-run, heart and legs, go home, take a shower and run back to work, there is a dinner to prepare! Better run than late!

And it starts to get up to the night, fond, healthy, workout and with the vaporous face. Scented hair of food that makes appetizing and a hot  buttocks!

Five hours of healthy sleep and it's back tomorrow.

Another day full of health!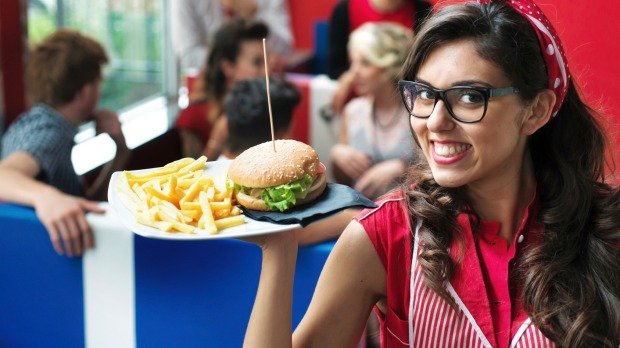 images source : : http://www.traveller.com.au/restaurant-tipping-in-the-us-how-not-to-be-a-bad-tipper-gp1orz