Ice cubes are usually only used as a complementary drink that makes the dish increasingly feels fresh, cool and delicious.
In fact, ice cubes save a million extraordinary benefits for health.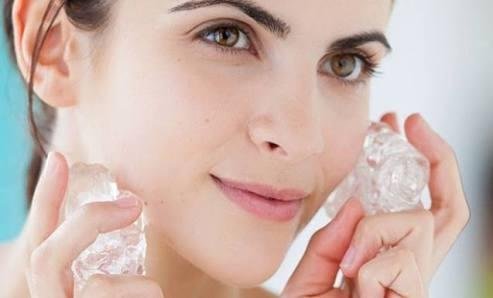 One of them is the benefit of ice cubes to overcome the stiffness in the neck and for people with migraine.
You simply attach ice cubes to the neck after a tired activity, some migrant sufferers have even felt the benefits of doing therapy using ice cubes compared with taking drugs.
This method is part of China and gives amazing results, put ice cube on the neck for 10-20 minutes, this method can make the body become energetic again.
Not only can relieve stiffness, it turns out ice cubes also save other benefits :
Overcoming the effects of PMS
The ice-cube method is the easiest and most natural method to relieve pain in the neck, since the base point of the skull has a direct relationship with the female reproductive system.

Reduce thyroid problems
The Feng Fu method is known to have a positive effect associated with the thyroid, this method helps a number of other health problems.

Improve digestion
Using the Feng Fu method can handle problems such as abdominal pain, bloating and indigestion, and can reduce the gas contained in the digestive system.

Helps asthma
People who have asthma should do this method that provides long-term asthma relief.

Improving reproductive health
Sticking ice cubes in the neck can improve menstrual health and maintain infertility by helping to keep the endocrine gland.

Reduce cellulite
Laying ice cubes on the skin is believed the easiest and natural way to reduce fat cells in the body that can help reduce cellulite in the body.

Eliminate the flu
Placing ice cubes at the base of the neck can help fight the flu and prevent the coming of fever.